Outdoors
Freediver Extraordinaire
From Spearfishing to Recovery Vests, Terry Maas Talks About Life Underwater Without a Tank
Ventura-based freediver and spearfisherman Terry Maas has been holding his breath for the past 56 years.
His diving adventures — which he will discuss on July 9, at 7:30 p.m. in the Santa Barbara Harbor's classroom — have taken him as far as South Africa, Spain, and New Zealand, often as a member of the United States Spearfishing Team. An accomplished author and videographer, Maas has published two books on freediving and shot several informational videos on the sport. His work has been featured on PBS, and in such publications as Sports Illustrated and the Los Angeles Times.
Freediving, or breath-hold diving, is when divers hold their breath for long periods of time underwater rather than using breathing equipment such as a scuba tank. Spearfishing, in which divers use a speargun to catch their prey, often goes hand in hand with breath-hold diving, as it did when Maas first immersed himself in the sport.
Maas's earliest exposures to the world of diving include watching episodes of Sea Hunt in the late '50s and early '60s in his Bay Area hometown of Saratoga. The series followed Lloyd Bridges as a scuba diver who goes on various adventures in the perilous deep blue. His interests piqued, Maas first learned how to use a scuba tank at the early age of 14 and would practice diving at Stan's Skin Diving Shop, a fixture of downtown San Jose for 52 years before closing it's doors in late 2009.
Months after his first foray into diving, Maas saw one of his first mentors come out of the water carrying a large fish he had caught through freediving. "By then I'd realized that the fish, especially in Northern California, are pretty easy to approach when you've got an hour of air," recalled Maas, "but not so easy when you've got a minute. So being a sportsman, and loving to fish and hunt, I gravitated to the breath-hold spearfishing part of our sport."
Maas's career path has seen many interesting changes. After studying marine biology at UC Berkeley, he gained advanced degrees in dentistry and oral surgery. After practicing oral surgery for 25 years, Maas retired from dentistry in 1996 to work in real estate after receiving his MBA from Pepperdine University. He now splits his time between his home in Ventura and his work for a real estate company in the San Jose area, spending most of his time in Ventura and flying up to San Jose three days a week.
He recalls one of his most interesting adventures off the coast of Guadalupe Island, about 150 miles off the coast of Baja California in Mexico. It is here where, in 1982, Maas shot a world record-breaking 398-pound Pacific blue fin tuna, a record that still stands today. "Nobody had ever taken a fish that big before," said Maas. "Nobody even thought that was possible."
A photo of Maas holding the massive tuna while underwater graces the cover of his first book, BlueWater Hunting and Freediving, published in 1995. The book opens with the story of Maas's best friend, who was killed by a white shark in 1972, in the very same area where Maas will catch the record-setting tuna 10 years later.
But of the many dangers the ocean presents, of particular concern to Maas is the threat of blacking out underwater. Usually, deep water blackouts involve the brain being significantly deprived of oxygen, leading to loss of consciousness.
"It is so insidious," said Maas, who's suffered from such blackouts as have many of his friends. "There's no warning. You basically just hold your breath one minute and the next minute you're unconscious."
So Maas developed and is now marketing the patented Freedivers Recovery Vest. The fully automatic recovery vest inflates after exceeding certain predetermined depth and/or time parameters, floating the diver to the surface in a face-up, rescue-ready position. The goal is to prevent deadly blackout scenarios that are likely to occur if a diver becomes incapacitated after diving too deep or spending too much time underwater.
About 10 years ago, a speargun manufacturer from Florida who was a good friend of Maas suggested creating a recovery vest with a "dead man's switch" that the diver would hold in their hand. Once the diver loses consciousness, they'd let go and the vest would inflate. The problem with this concept, Maas discovered, is that the diver would typically go into spasm if they were to run out of breath, which would likely cause them to grip the switch more tightly instead of letting it go. The other problem is that an active participant in the water, especially spearfishermen, would not want to occupy their hand with an unpractical switch.
Then "a little proverbial flashbulb went off in" Maas's head to build an automatic mechanism. Initially planned as a simple timed device, he began to take depth into account, causing the process to become a more complicated. A couple pressure sensors and circuit boards later, and Maas had created a viable alternative to conventional automatic life vests. The setback of most automatic life vests, according to Maas, is that they use a dissolvable pill that trigger inflation. The pill is susceptible to waves and high humidity, while the patented mechanism in Maas's vest is designed to only fire in the water since the mechanism can detect the pressure changes.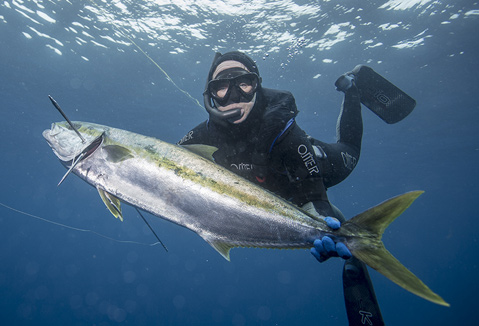 Currently, the U.S. military, particularly the Navy SEALs, are considering the technology, and Maas is developing a specialized version of the vest for use in the military.
As well, Maas is rewriting his popular book — which has sold more than 20,000 copies since its initial release — and planning to offer it in a new digital format. By embedding high-resolution images, video, and slideshows, the digital format would allow readers to engage with the subject in ways they couldn't before. But don't hold your breath quite yet, as Maas said that project is still in the early stages.
Freediving and spearfishing are still very active sports in coastal communities, and popular spots include our very own Channel Islands. According to Truth Aquatics, which runs dive trips that are popular with underwater hunters, the spring and summer seasons are usually the beginning of white seabass and halibut season, while summer can also be a good time for yellowtail.