East Beach Tacos
(226 S. Milpas St., 770-2761)
Nestled in tight next to the batting cages at the ocean end of Milpas Street, East Beach Tacos serves up what they describe as "Gourmet-Style Beach Tacos." Ranging from $4-$6 a taco, their fusion menu goes well beyond typical taquería fare, offering, among others, bánh-mì-pulled-pork-and-shredded-cabbage tacos, Gangnam Korean short-rib tacos, battered and grilled cod tacos, and spicy tempura shrimp. Their ahi poke tacos are both mouthwatering and belly-busting, and best of all, East Beach offers a three-taco combo (of your choice) for $9 that also comes with a token for a round of swings in the cages next door.
La Super-Rica Taquería
(622 N. Milpas St., 963-4940)
Welcome to the taco joint that Julia Child introduced to the world. This now legendary restaurant, with its building's trademark teal trim, chevron-inspired roofline, and daily line stretching out the door down Alphonse Street, is worlds beyond a straight-ahead taquería, though any discussion of taco spots in S.B. would be incomplete without mention of Isidoro Gonzalez's place. Their handmade tortillas are light and fluffy, just the right amount of chewy, and as addictive as a strong narcotic, providing the bar by which all other tortillas in the 805 are measured. And then there are their rajas tacos, which are a world-class eating experience not to be missed. Want to dig in at La Super-Rica without the wait? Go at off-hours on a weeknight.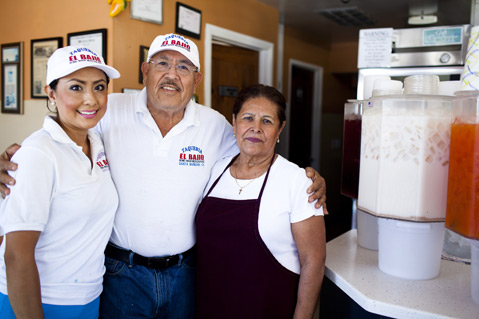 By Caitlin Fitch