There's allure to the idea of a six-day backpack trek through the wilderness, particularly the chance to trade my unending barrage of emails and deadlines for the simple-sounding goal of walking from quaint camp to quaint camp through unspoiled nature.
But then ​— ​at least when joining eight friends on a brutal expedition down the ferociously wild, nearly impassable Sespe Gorge ​— ​there's the reality: leaping from wet boulder to wet boulder with 60 pounds on your back, scaling crumbling cliffs where one slip would spell disaster, hunching along game trails through jungle-like foliage, scrambling over landslides of sharp rocks, swimming fully clothed into head-high pools with your pack getting drenched.
You move at the maddeningly slow pace of a half mile per hour, careful not to twist an ankle or break your leg so far from civilization, and relish those five- or 10-foot stretches of flat sand where you can ever-so-briefly move your legs in the normal fashion. Your feet get chapped and blistered, your bones and muscles ache to the point of immobility, your limbs are devoured by small black flies, your knees get scraped, your chin might split, and your mind ​— ​which must constantly scan the landscape for the most doable route because there is no trail whatsoever and be on the lookout for rattlesnakes, black bears, and hornets ​— ​gets exasperated, confused, and even angry at the utter exhaustion.
Photo Gallery
May 2015 Sespe Death March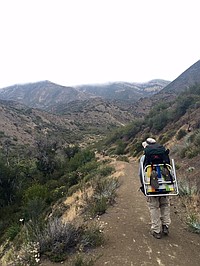 "Just a mile, mile and a half more," says your friend Coyote Dave, a leader of the trek, some of which he undertook when 7 years old, which doesn't seem possible. "It gets easier around this bend, I think." But it always seems longer, and it never does ease up, and you realize that, more than enjoying the great outdoors, this trip is about the excitement of exploration, about battling nature, about surviving. This is the 11th year in a row that my friends have embarked on what they call the Death March, which is always through the Los Padres National Forest and always on Memorial Day weekend. But never before had it been so difficult, never before coming so close to its name.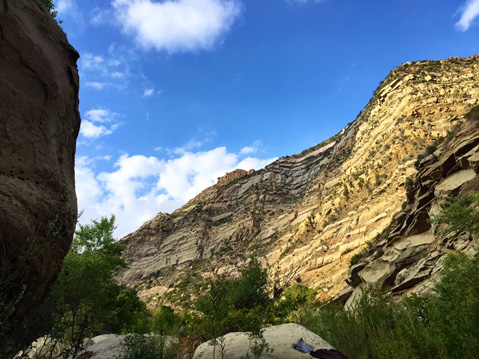 By Matt Kettmann