Though not quite as ancient as architectural monuments from the Old World, the Santa Barbara County Courthouse is just as visually striking to passersby as the world's most famous chapels and castles. But the nearly 90-year-old building's real treasures require a slightly deeper look, for inside are the eclectically diverse yet classically traditional touches that make this functioning hall of justice a museum unto itself.
From the 30 copper plates on the Hall of Records door and plants from more than two dozen countries decorating the grounds to the floor mosaic of St. Barbara and the gallery-esque offerings of the Daniel Sayre Groesbeck's Mural Room and Theodore Van Cina hallway paintings, there's a little something to interest all types of people — art buffs to historians, palm-tree lovers to design freaks.
There's no better way to learn all of this than by taking one of the daily tours offered by docents, which more than 6,500 people enjoyed last year out of the 125,000 people from 60 different countries that visited the courthouse. The tours happen every day at 2 p.m., as well as Monday-Friday at 10:30 a.m., and that doesn't count the special tours of school groups and busloads of tourists.
Better yet, for those who have at least one day a month to spare, now is the chance to become a docent, which can also involve non-touring duties at the front booth. "The courthouse gets visitors from all over the world, and the docents are really just the ambassadors," explained docent Dana Machalleck, who said the 60-or-so volunteer docents bring their own unique twist to the courthouse. "Everyone can personalize their tour, but they have to keep it to an hour. Some really like the history and give lots of dates, while others like the art and focus on that. I like the architecture myself," she explained, while pointing to one of the many asymmetrical elements common to the Spanish Colonial Revival motif.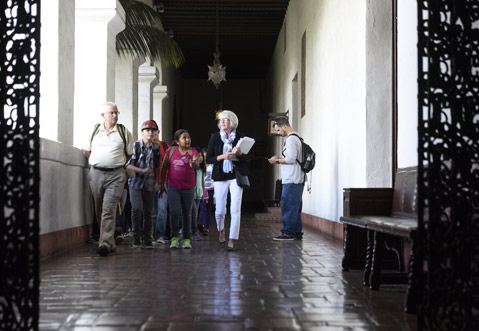 By Paul Wellman