The best time of year to visit the most popular trail in the epic Kings Canyon National Park might be the fall. In October and November, before the end of the road closes down for the winter, the vast canyon is quiet and hushed with the sound of whispering aspens and the low-flowing but still mighty Kings River. While visitors are still guaranteed on a weekend, you will be among the few wanderers in that rock cathedral as the darkening season slowly shuts its doors.
Besides its quietude, there is no need to reserve a permit in advance at that time of year, unlike during the busier summer months when you will be in stiff competition with many other travelers. And with good reason: with a manageable mileage and largely level trail, the unspeakably beautiful way up to the alpine meadow of Paradise Valley along Woods Creek is perfect for beginners and seasoned adventurers alike. Named by none other than John Muir, Paradise Valley is a place of profound peace, even at its most crowded. Many use the trail as the first leg of longer journeys into Kings Canyon's immense and rugged wild lands, where majestic and at times menacing massifs tower over you in all directions, particularly the popular Rae Lakes Loop, which intersects with the John Muir Trail and PCT. So while you may likely see a soul along this stroll, not a thousand could make you feel any less small beneath the high walls surrounding.
The trail begins at the Woods and Bubbs Creek Trailheads in the shadow of the Grand Sentinel, a prominent rock wall topping out at 8518 feet – over 3,000 feet above you. For the first two miles, the trail is as easygoing as it gets, with a wide, sandy path maintaining levelly just above the banks of the Kings River. You walk here through a canyon floor meadow dense with ponderosas and incense cedars, illuminated by the orange leaves of black oaks and cottonwoods.
At two miles, the trail reaches the junction of Woods and Bubbs Creek. A bridge leads you further east to Sphinx Creek on the Bubbs Creek Trail; instead, head left up the hill, towards Mist Falls. It's here that the trail begins to increase in elevation and in difficulty. You rise 600 feet in elevation as you head towards Mist Falls, which is still thundering even in autumn but without the wall of water preventing close access earlier in the year. It's a quick climb over a mile, making the misty rainbow-spray of Mist Falls a lovely resting spot. In fact, this is where many people stop, then turn around.
Keep climbing up switchbacks. The going is slightly tough, but the views behind you are incredible. The behemoth rock formation known as the Sphinx lords over the piney valley between its fellow gigantic glaciated granite walls, while strands of autumnal trees streak across the valley in vibrant color.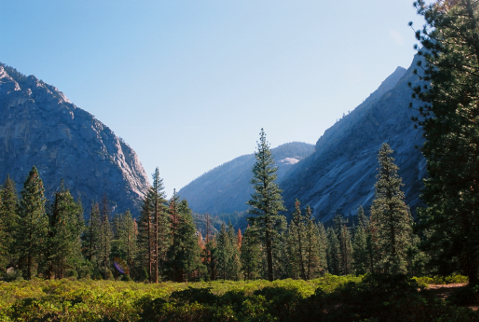 By Richie DeMaria