There is a long row of purple salvia in front of my neighbor's house. Recently, the hummingbirds have been abundantly buzzing around it, three or four at a time. They are really amazing to watch. This morning, I stared at one and he stared back. When he tilted his head just a tad, his black feathers changed into a rainbow of brilliant colors gleaming in the sunshine. I love watching the hummingbirds, and I go out of my way to admire them, but that is about the extent of my bird-watching habit.
"Los Colibrís" means "The Hummingbirds" in Spanish, and that's the name of the beautiful property for sale at 2708 Puesta del Sol. This estate consists of a charming two-story main residence plus four other structures of various styles and sizes, all sitting on almost an acre of land in Mission Canyon's Glendessary neighborhood.
The property was once owned by William Leon Dawson, an ornithologist who specialized in oology, the study of birds' eggs. In about 1914, Dawson built two buildings on his property to further his studies and house his large collection of eggs. Known as the Museum of Comparative Oology, the museum broadened its scope after only a few years and moved down the street to become the Santa Barbara Museum of Natural History.
On the day that I visited, birds were certainly singing, and dappled sunlight shone through the branches of the huge oak trees as I walked up the pebbled pathway towards the house. A short set of stairs set on a diagonal corner invited me up onto the covered porch running the length of the house. White wood siding, double-high casement windows, and the jutting angles of the second-story roofline all hint at the home's pre-turn-of-the-century pedigree. Devoid of any frilly Victorian-era details, it exudes instead a more utilitarian air and a friendly, farmhouse feel.
Through a covered front entry with exposed wood beams sit the living and dining rooms, connected by an oversized doorway and pass-through shelves. A fireplace graces the corner of the light-filled dining room, which boasts period details such as wainscoting, crown molding, and its original pendant light fixture.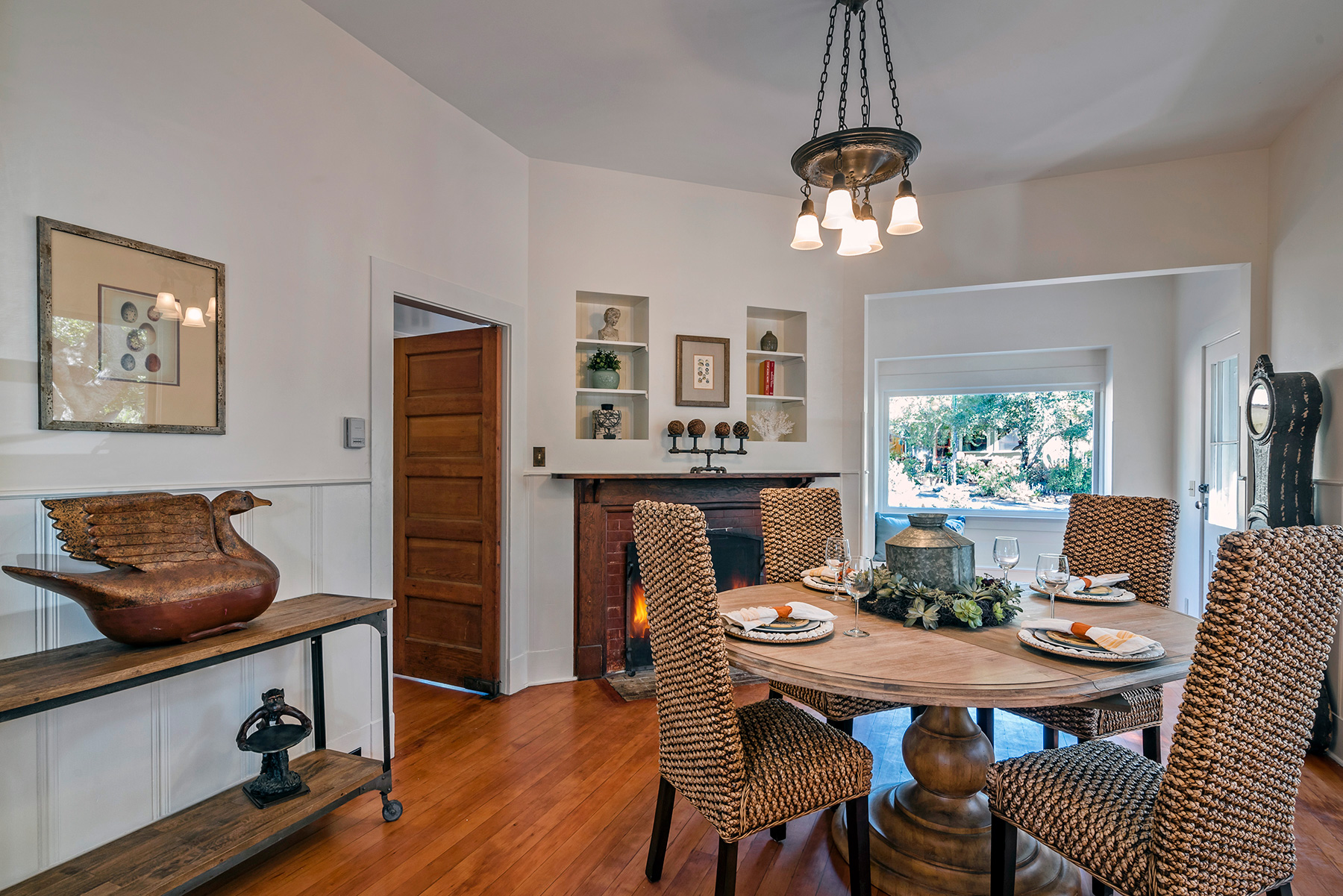 Courtesy Photo