What a weekend. On Saturday night, I watched two UCSB teams continue their season-long winless streaks — the men's soccer team losing 3-1 to Akron, the women's volleyball team falling 3-2 to Arkansas. On Sunday, I watched the team with the best record in major league baseball, the L.A. Dodgers, lose their 10th consecutive game. Only one of those events left me with a bad taste in my mouth — like the $14 beer that was warm by the third inning.
The Dodgers, who had been so formidable in winning series after series through late August, appeared very ordinary in an 8-1 loss to the Colorado Rockies. Their offense was inert — too many huge swings resulting in strikeouts — and after starting pitcher Rich Hill allowed two runs in five innings, Colorado's Mark Reynolds blew the game up by crushing a grand slam against rookie Walker Buehler.
L.A.'s lead over the Arizona Diamondbacks in the National League West was reduced to nine games with 19 to play. It had shrunk by 11 games in 16 outings, 15 of them losses. If this regression continues, it is conceivable that the Dodgers could be caught at the wire and relegated to a wild-card playoff; and then the ghost of Bobby Thomson arises from the horrors of 1951. Dodger fans would consider that a ridiculous scenario, but their optimism must be dimmed by the club's recent doldrums.
Meanwhile, there was progress at UCSB despite the Gauchos' struggles.
PROMISE ON THE PITCH: A classy Akron team returned to Harder Stadium, where the Zips won the College Cup in 2010, and rolled to a 2-0 halftime lead on two marvelous goals by Marcel Zajac. The Gauchos (0-2-2), who had played two scoreless ties in their previous home matches, made it 2-1 in the 73rd minute on first-year forward Rodney Michael's first college goal. He sneaked into the six-yard box and headed Brandon Magpayo's free kick past Akron's 66 German goalkeeper.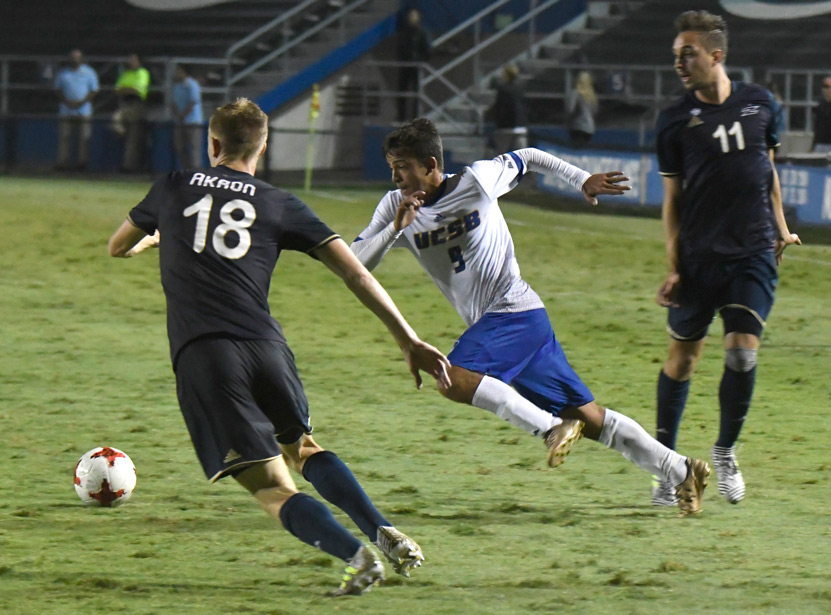 By Paul Wellman