Sports
UCSB Men's Soccer and Women's Volleyball
Both Teams Continue Season-Long Winless Streaks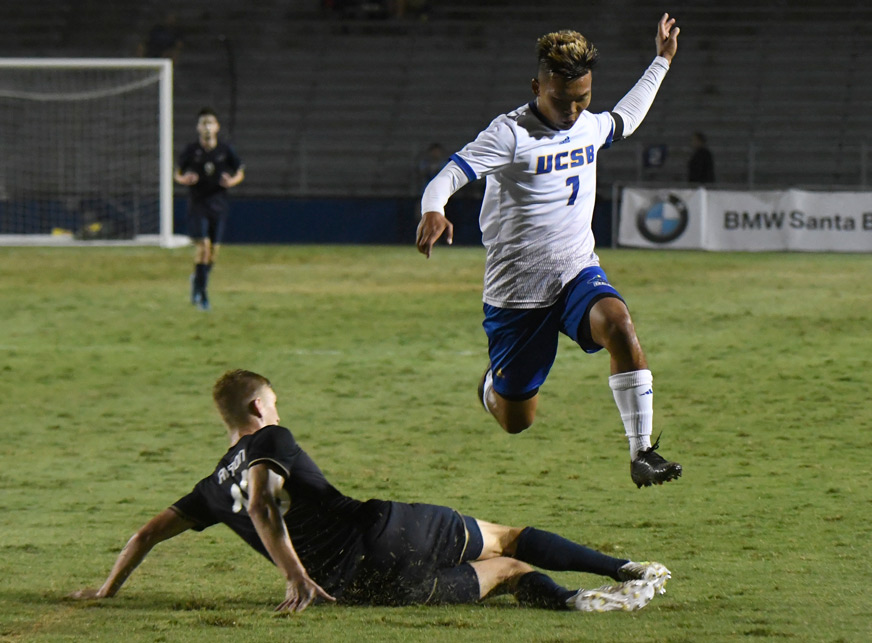 What a weekend. On Saturday night, I watched two UCSB teams continue their season-long winless streaks — the men's soccer team losing 3-1 to Akron, the women's volleyball team falling 3-2 to Arkansas. On Sunday, I watched the team with the best record in major league baseball, the L.A. Dodgers, lose their 10th consecutive game. Only one of those events left me with a bad taste in my mouth — like the $14 beer that was warm by the third inning.
The Dodgers, who had been so formidable in winning series after series through late August, appeared very ordinary in an 8-1 loss to the Colorado Rockies. Their offense was inert — too many huge swings resulting in strikeouts — and after starting pitcher Rich Hill allowed two runs in five innings, Colorado's Mark Reynolds blew the game up by crushing a grand slam against rookie Walker Buehler.
L.A.'s lead over the Arizona Diamondbacks in the National League West was reduced to nine games with 19 to play. It had shrunk by 11 games in 16 outings, 15 of them losses. If this regression continues, it is conceivable that the Dodgers could be caught at the wire and relegated to a wild-card playoff; and then the ghost of Bobby Thomson arises from the horrors of 1951. Dodger fans would consider that a ridiculous scenario, but their optimism must be dimmed by the club's recent doldrums.
Meanwhile, there was progress at UCSB despite the Gauchos' struggles.
PROMISE ON THE PITCH: A classy Akron team returned to Harder Stadium, where the Zips won the College Cup in 2010, and rolled to a 2-0 halftime lead on two marvelous goals by Marcel Zajac. The Gauchos (0-2-2), who had played two scoreless ties in their previous home matches, made it 2-1 in the 73rd minute on first-year forward Rodney Michael's first college goal. He sneaked into the six-yard box and headed Brandon Magpayo's free kick past Akron's 66 German goalkeeper.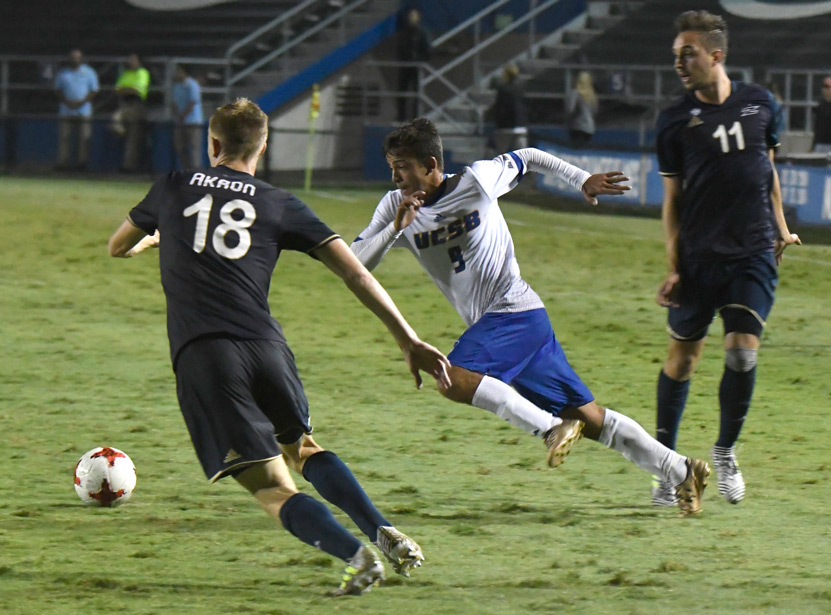 Michael was the California Gatorade Player of the Year at Dunn School. He scored 74 goals at the school after coming to America from a soccer academy in his native Sierra Leone. "The high school level of play is very low compared to [college]," Michael said. "This is top level. Everything has to be quick. Everything has to be sharp."
Actually, there's a higher level that the Gauchos will be aiming at on Sunday, September 17. They will host a noon exhibition match against the Under-20 team of Mexico's Club América. "It's an exciting challenge to play against a professional-level team," Michael said.
"It's one more opportunity to get better," UCSB coach Tim Vom Steeg said. "Every time we play a game, our team gives me something that I hadn't seen before."
After watching three of last year's starters choose to sign pro contracts rather than return to school, Vom Steeg said he adjusted his approach to recruiting. "This is a four-year project," he said. "We host the College Cup in '18, and we host it in '20. Our recruiting class was based on the question: Who are the guys who will be here four years? You stay away from the more high-end guys because of that. But we're very confident with the guys we have here. If we weren't talented, we wouldn't be 2-1 with 15 minutes left against Akron."
Senior midfielder Kevin Feucht was expected to be the linchpin this season, but he will sit it out after going down with an ACL injury the first day of practice. UCSB's lack of experienced midfielders was to be addressed this week — in games at St. John's on Tuesday and home against Pacific on Friday — by the debut of junior transfer Joseph Ammer.
Most of UCSB's players are first-years and sophomores. "We need a little more time to glue everything together," Michael said. "We have 15, 16 new players. I believe by the time we get into conference, we should be good."
UCSB will open its Big West Conference campaign at home on September 28 against Cal State Fullerton, the team that knocked the Gauchos out of the postseason last year.
NET GAINS: UCSB coach Nicole Lantagne Welch said she's never seen anything like the spate of injuries that have sidelined several of her volleyball team's top players. "Achilles, ankle, foot, back, shoulder — every part of the body," she said. Before practice even started, the team's incumbent setter Hannah Juley retired because of injuries.
The Gaucho women went 0-6 at tournaments in Texas and Utah but hoped to find some relief on the home floor during their Thunderdome Classic last weekend. But it was not to be. They lost in four sets to Yale, were swept by USC, and came up short in five sets against Arkansas.
They were down four starters against USC. Among the missing were Chloe Allen, a sophomore outside hitter out of San Marcos High who was producing double-digit kills in recent matches, and sophomore Lindsey Ruddins, who entered the week ranked no. 7 in kills average (5.06 per game).
Yet against Arkansas, which had a 7-2 record and a powerful senior hitter in Pilar Victoria, the Gauchos kept their spirits up throughout a marathon match. The Razorbacks prevailed by scores of 16-25, 25-20, 25-19, 21-25, and 15-11. Ruddins returned to record 24 kills. Several first-year players made big contributions, including middle blockers Kija Rivers and Nicole Omwanghe, and defensive specialist Kobie Jimenez.
Like the soccer team, the Gauchos aim to be ready to play their best volleyball in the Big West. Their last preseason matches will be at the Pitt Panther Challenge this weekend. "We scheduled really tough, not knowing we were going to be short of players," Lantagne Welch said. "Our big focus is to improve each time out on the court."
Game of the Week
9/16: High School Football: Lompoc at Santa Barbara The mighty Lompoc Braves
(3-0), ranked No. 2 in CIF Division 3, make their only South Coast appearance in this Saturday-night special. They pounded the Dons last year, 64-0, but Santa Barbara (2-1) hopes to make it closer this time with a revived offense. Quarterback Frankie Gamberdella has passed for 10 touchdowns in the last two games. Lompoc's Toa Taua is a destructive force on both sides of the ball. With long, flowing hair over his No. 35, the 5'10", 210-pound senior is averaging 16 yards a carry. Against San Marcos last week, Taua carried the ball just three times and stormed 169 yards, scoring three touchdowns. 7 p.m. La Playa Stadium, S.B. City College, 721 Cliff Dr. $3-$8. Call 966-9101/ ext. 5010.
S.B. Athletic Round Table Athletes of the Week
(Aug. 27-Sept. 2)
Tiffany Costello, SBCC cross-country
A first-year who played soccer in high school, she set a 5K course record of 19:46 in winning her first race at Moorpark.
Luis Mesino, San Marcos football
The senior receiver caught two TD passes and scored on an 85-yard kickoff return as the Royals defeated Morro Bay, 35-19.
(Sept. 3-9)
Laurel Kujan, Laguna Blanca volleyball
Recruited by USC to play sand volleyball, she had 40 kills and 26 digs at the Dave Mohs Tournament in Orange County.

Frankie Gamberdella, SBHS football
The junior quarterback aired out the ball for 288 yards and five touchdowns in the Dons' 47-0 victory over Channel Islands.