Opinion
The Truth Business
by Jerry Roberts
In his public forum speech, Roberts explains his decision to walk out of the News-Press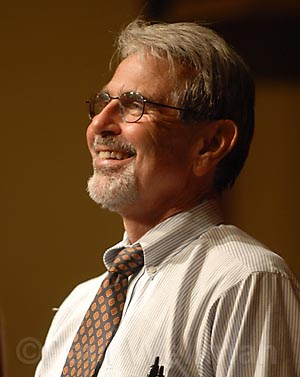 A former publisher of mine at the San Francisco Chronicle once
defined working for a newspaper this way:
"We're in the truth business," he said.
In five words, the publisher summed up, not only the public
interest, journalistic mission of a newspaper, but also a key
element of the financial side.
This statement, keep in mind, came not from some dewy-eyed
reporter in the newsroom – but from a gimlet-eyed business
executive, a bottom-line guy whose job was to maximize profit.
What he was saying is that the single most important asset of
any newspaper is its credibility.
A newspaper's credibility is the measure of trust that its
customers place in what they read every day.
Readers rightfully expect their news to be as true, accurate,
fair, balanced, complete, unbiased, and without fear or favor for
special interests as is possible in a deadline-driven business.
This credibility is important, both to readers and to
advertisers, who place ads in the paper, not only for its audience
and its distribution system, but also for the benefit of implied
trust that derives from credibility.
But if credibility is the key to success, how do newspapers
achieve it? What are the criteria and the means for attaining
credibility?
THE SPJ CODE OF ETHICS
Simply put, credibility derives from ethical newsgathering and
reporting practices.
Fortunately for journalists, we don't have to guess about what
those are. The ethics of journalism are written down and plainly
stated by the Society of Professional Journalists, in its Code of
Ethics.
This code, which I encourage you all to read for yourself at
www.spj.org, is used by many newspapers across America as the
framework for ethical practices.
And it's a big reason why newspapers are different than any
other manufactured product. Cereal makers have to follow health and
safety codes – but there's no ethical test for Cheerios.
The code has been a guiding light for the news business since
1926, and has been revised four times since then, most recently in
September 1996.
During my tenure at the News-Press, we referred to it
frequently, in helping us to clarify and to make the kinds of
difficult decisions that often confront editors. We gave copies to
staff members, and to our interns, and from time to time we had
discussions and brown bags and notes from the editors referring to
it, particularly when knotty ethical problems presented
themselves.
Day to day, it served as a road map for the practice of ethical
journalism, in deciding such issues as the use of anonymous
sources; the relevance of a person's race or ethnicity to a story;
or whether or when to publish names or images of juveniles in news
stories.
There has been considerable reporting, discussion and debate
about ethics at the Santa Barbara News-Press in the past several
weeks.
It is surprising, however, that few of the many stories referred
to the Code of Ethics in examining and analyzing the issues that
brought us here tonight.
I was invited here to speak about journalistic ethics, and in
doing so, I want to talk in some detail about the SPJ code, and
walk you through what I view as the connections between some of its
tenets and recent events.
Before doing so, however, I want to make a few, brief personal
observations.
First, to me, what has happened to the paper and the people who
work, or who used to work there, since July 6 is extraordinarily
sad. It is the most heart-breaking experience in journalism in my
32 years in the business.
Second, as some of you may have read, several other journalists
and myself have been threatened with lawsuits for speaking publicly
about these issues. For this reason, I'm going to address my
comments only to upon incidents that have been widely reported on
in the public domain, as I have consistently done since leaving the
paper.
Finally, I want to say that I loved my job and I loved the
paper; I have great admiration and affection for all my colleagues
and great respect for their work and for their work ethic.
So I'm not here to attack or to bash the News-Press, or anyone
associated with it. And I'm not a spokesman for anyone but myself
or any agenda except ethical, quality journalism.
Ethical, quality journalism, as articulated in the SPJ Code of
Ethics, is the reason that nine professional journalists, most of
them with decades in the business, left the paper within days of
each other.
I can tell you that it's not an easy
thing for people with kids or mortgages, or both, to go home and
tell your family you've done that, and I can assure you nine people
didn't choose to do so lightly.
Now the factual incidents underlying this dispute – a drunk
driving case, a zoning hearing involving a celebrity and a
management shuffle at a local paper – at first glance may seem
insignificant. This is especially true at a time when national
papers are involved in sweeping First Amendment battles involving
war, secrecy and patriotism.
But if the back stories of the News-Press controversy are
small-caliber stuff, the journalistic principles underlying it are
anything but. I believe this case has generated so much passionate
community reaction and attracted national attention because of the
fundamental importance of these values.
WHAT THE CODE SAYS
The SPJ Code of Ethics outlines the principles of professional
journalism in clear, simple, plain language that fits on two
pages.
The preamble of the code says this: "Professional integrity is
the cornerstone of a journalist's credibility. Members of the
society share a dedication to ethical behavior and adopt this code
to declare the society's principles and standards of practice."
The code states a few fundamental principles, and a series of
specific guidelines that offer pathways for journalists to achieve
these aims.
I no longer work at the News-Press because I believed that a
series of decisions, with which I disagreed, ran counter to the
Code of Ethics in a way that was untenable.
These concerns boil down to three key issues: the church-state
divide, double standards and public accountability. Let me touch on
each of them in turn, and tell you specifically how they relate to
guidelines in the Code of Ethics.
CHURCH AND STATE
American newspapers operate under a so-called "church-state"
structure in which newsgathering and reporting operations function
separately and independently from the editorial and opinion
pages.
This structure reflects a guideline of the first section of the
Code of Ethics that states newspapers should "distinguish between
advocacy and news reporting."
This notion circles back to credibility: readers should be able
to trust that reporting in the news sections is free from
reflecting any bias, slant or agenda, including the editorial page,
the section of the paper that rightfully reflects the views of a
newspaper's owner.
When I returned to Santa Barbara from vacation a few weeks ago,
I learned, as has been widely reported, that in my absence, the
editorial page editor was given authority over the news-gathering
operation, with control over the selection, placement, content and
editing of news stories.
To me, and to others, this change meant that the line between
church and state had not only been crossed but obliterated. It
seemed clear that the Code of Ethics guideline to "distinguish
between advocacy and news reporting" was being breached.
As a practical matter, what does that mean?
When 150 news organizations around the world, from Hindustan,
India, to Jackson, Mississippi, published or broadcast stories on
July 7 about the departure of senior editors and the star columnist
at the paper, the Santa Barbara News-Press was not among them.
Instead, as first reported by the Los Angeles Times, a news
story prepared by a reporter was spiked, as we say in the business.
In its place, prominently displayed on the front page, the paper
ran an opinion piece from the "acting publisher," who nevertheless
was identified on the masthead as the editorial page editor.
There are two other guidelines of the code that seem relevant to
this issue: The first says, a newspaper should "support the open
exchange of views, even views they find repugnant."
The second says a paper should "clarify and explain news
coverage and invite dialogue with the public over journalistic
conduct."
I will leave it to your judgment whether the News-Press met
those tests in the days after July 6.
ACCOUNTABILITY TO THE PUBLIC
Turning to the issue of accountability, the Code of Ethics calls
on journalists to "be accountable to their readers, listeners,
viewers and each other."
One of the specific guidelines for doing that says that
journalists should, "Abide by the same high standards to which they
hold others."
Since my days at the Chronicle when we reported in detail and
depth on the controversial sale of our own paper, one thing that
has always meant to me is that a newspaper ought to cover itself
with the same standards that it uses in covering everyone else.
Among other things, that says to me that there should not be
special treatment for public figures who work at the paper that
differs from that afforded a public official or any other public
figure who does not.
Yet, as reported by the Associated Press on July 6, the
News-Press spiked a story about the drunk driving case of perhaps
its highest profile executive, although such stories ran in the
past about public officials in similar brushes with the law.
I strongly disagreed with that action, because I did not believe
that the paper in doing so was abiding by "the same high standards"
to which it holds others.
DOUBLE STANDARDS
Finally on the issue of double standards, the Code of Ethics
says that "journalists should be free of obligations to any
interest other than the public's right to know."
It also says that newspapers should, "deny favored treatment to
advertisers and special interests, and resist their pressure to
influence news coverage."
When News-Press editors decided to publish the address of a lot
in Montecito, where a celebrity actor wants to build his "dream
house," they were serving the primary interest called for in their
ethics code: the public's right to know.
That address was clearly a matter of public record, identified
on public documents relating to the project, referred to repeatedly
by citizens and public officials throughout a long public hearing,
and even broadcast on a television station that covered that
hearing.
By contrast, the addresses of properties owned by lesser known
people who become involved in development controversies had often
been printed by the paper.
But, as the Associated Press reported July 6, when the celebrity
actor complained about the paper publishing the address in a news
story about the hearing, four journalists involved with the story
were punished for doing so, and their professional credentials
impugned.
Now the question of whether to print an address may be seen as a
trivial matter, a judgment call of little account. But when such
decisions, no matter how small, are removed from the newsroom –
where the only interest that matters is "the public's right to
know" – and placed into the front office, it puts the paper on a
slippery slope in defining exactly what other interests should
influence news judgments.
THE DUTY OF STEWARDSHIP
So after 32 years in the newspaper business, I felt forced to
leave the best job I've ever had because I felt that the clear
ethical principles guiding our work and our judgment in the
newsroom had been serially compromised, and I couldn't live with
that.
Since the day I was suddenly hustled out of the newsroom without
a chance to say goodbye to my colleagues of four years, I've been
accused in print of a variety of motives for my action.
I've read, variously, that I had a vendetta, that I disagreed
with an unspecified new direction of the paper, that I wanted to
publish biased news stories, that I had violated journalistic
policies and, my favorite, that I didn't want to cover local
news.
Tonight, I am here to tell you that I, and I believe the others,
left for one, fundamental reason: journalistic ethics. I invite
everyone in this audience to read the news coverage and the Code of
Ethics of the Society of Professional Journalists and decide for
yourself.
The News-Press is a great and historic institution that was here
long before any of us arrived and that hopefully will be here long
after we're gone.
I have been privileged over the last four years to act as a
steward of that institution, and I have tried throughout to protect
and to nurture it, both as a private enterprise and as a public
trust, first and foremost by strengthening its credibility.
I am grateful for that opportunity of stewardship and I am
grateful to this community.
Thank you for your readership, for your support – and your
criticism – of the paper during my tenure and, most of all, for
caring so deeply about quality journalism.
Thank you very much.