Opinion
Return of the Shrew
Fresh off a month's sabbatical as "Acting Publisher," Travis Armstrong broke his silence ...
It's nice to see Travis hasn't lost his touch.
Fresh off a month's sabbatical as "Acting Publisher," Travis
Armstrong broke his silence with four editorial topics covered in
two days, once again anointed as "Editorial Page Editor." I sorely
underestimated the stamina of our intrepid News-Press editorialist,
figuring he'd be exhausted after flinging gasoline all throughout
the newsroom and De La Guerra Plaza since the morning of July
7.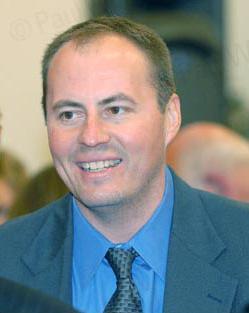 But Friday morning's top of the page Opinion piece is another
Molotov cocktail for those folks still subscribing and following
this NewsPressMess. Sayeth the valiant Armstrong,
"A cabal aims to silence us while rival media exploit," setting
the stage for the unmasking of the dark forces who "tried mightily
over the last month to silence the
independent voices on these pages."
Arms flailing in all directions, Armstrong seems to have run
into a spider
web – half defense, the rest attack.
Who is this cabal? Let me give you the names per Armstrong's
column: High density development interests, Mary Blum, Susan Rose,
"SBCANT," KEYT, Clear Channel radio, the
LA Times, a local
freebie, Channel 17, LA
Times writers James Rainey, Catherine Saillant, Steven Chawkins,
Jane Hulse, LA Times Assistant Managing Editor John Arthur, Steven
Amerikaner, Lois Capps, the Coastal Housing Partnership, the
Coastal Housing
Coalition, Bud Laurent, Janet Wolf, Mickey Flacks, Mary
O'Gorman, David Pritchett, Cathy Murillo.
I can't help but think he's left someone off the list
For those folks who wondered if it was Travis peering down from
the
News-Press tower (and taking notes) during the demonstrations
of early July, we may have our answer.
Beyond the unhinged finger pointing what of the substance of the

article? Armstrong says "the cabal latched onto the
resignations of some News-Press editors as a pretext to try to
stifle community
debate." One of the pervasive raps on Armstrong's reign over
the Editorial pages is his common practice of not printing letters
contrary to News-Press editorial opinion This allegation will never
be proved one way or the other, but perception is reality in this
instance, and it don't look good for my man T.
But no matter, for two paragraphs later Armstrong vaguely
threatens to call for an end to community debate on cable access
Channel 17 because they had the temerity to broadcast a forum in
which the dust-up at the News-Press was discussed. Hypocrisy
alert!
The rest of the column remains vintage Armstrong, heavy on the
lurid affiliations and bilious personal snipes and light on the
actual facts. Armstrong rests the bulk of his argument on the
premise that any involvement with a subject taints the commentator
– sort of an Uncertainty Principle of Politics. Because
Rose/Wolf/Capps knows Laurent/Flacks/Amerikaner, they must forever
still their tongue. Please read the article to get the true
gist.
I now believe, however, since Mr. Armstrong is a "member of a
federally recognized Indian tribe in Minnesota," he must recuse
himself from any Indian related commentary, lest we think ill of
him.