Opinion
News-Press Quisling Announces Suit of Independent
Was It Something We Said?
This evening, reading our
Media Blog, I ran across the following post in our comments:
"N-P Sues SB Independent for Copyright
Infringement
October 26, 2006 08:13 PM Eastern Time
"Ampersand Publishing Initiates Legal Action against The Santa
Barbara Independent
"SANTA BARBARA, Calif.–(BUSINESS WIRE)–Ampersand Publishing,
LLC, owner and operator of the Santa Barbara News-Press, filed a
complaint in U.S. District Court against The Santa Barbara
Independent. The filing charges The Independent with copyright
infringement, misappropriation of trade secrets, unfair business
competition, and intentional and negligent interference with
prospective economic advantage and contract.
"According to the complaint, The Independent obtained two
different confidential unpublished articles belonging to the
News-Press and published one of them, in violation of the copyright
laws. The Independent was not authorized to possess or publish
either article. The News-Press has alleged that these articles
constituted trade secrets that were misappropriated by The
Independent.
"It is the intent of Ampersand Publishing to protect its
confidential materials and trade secrets. Ampersand is seeking
unspecified actual and punitive damages, injunctive relief and
attorneys' fees.
"Contacts
Ágnes Huff Communications Group, LLC Ágnes Huff, PhD,
310-641-2525
Posted by Sue Happy | October 26, 2006 06:05 PM"
My first inclination was to consider this an online prank; I
have subsequently verified that the
Business Wire release is indeed a valid posting from
News-Press flak Agnes
Huff.
Our company has not been served a complaint on this matter —
yet. That the release comes before informing us of the intended
suit speaks to me of both a strategic as well as legal intent. No
surprise, considering with
whom we are dealing. I would like to assure the powers that be
at the News-Press, as well as the community, that it will
take more than specious bullying tactics to silence us at the
Independent.
Also, as we are recently steeled in occupying a place within a
media flurry, interested parties may direct any questions to me at
805-965-5205 x132 on behalf of The Independent. The rest
of our staff
will be busy producing our online and weekly print editions. I will
be tied up tomorrow, from 10am to 4pm, but will be available
thereafter.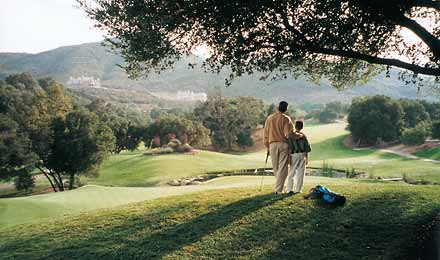 Should the News-Press wish
to serve me papers, if that is the next step, I will be available
in my office after a round of golf with my friends.