Arts & Entertainment
Nobody Is Cooler Than the Bass Player
The Ray Brown Tribute Band; Christian McBride, Benny Green, and Greg Hutchinson
A Tribute to Ray Brown, with Christian McBride, Benny Green,
and Greg Hutchinson. At the Lobero Theatre, Thursday, January
18.
Pianists are cool; so are drummers, but nobody is cooler than
the bass player. That's the inescapable conclusion to be drawn from
the concert that Christian McBride gave with Benny Green on piano
and Greg Hutchinson on drums Thursday night at the Lobero. I have
rarely seen a group take the stage with more confidence — and the
Juilliard Quartet played here last month — but this trio walked on
and took over. Coolness reigned supreme.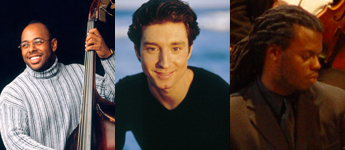 McBride, trained in both jazz and
classical styles, has an easy way with the bass — he plays as if he
were just thinking out loud. Most bass players are fortunate if
they can stay on time and in tune, but McBride has about a hundred
different ways to pluck the string, from a clear "pop" to a soft
"throom," and all of them are exactly right for the occasion. In
this case, the occasion was to pay tribute to Ray Brown, one of the
greatest bass players, songwriters, and band leaders of all time.
McBride showed us how much he had learned from the master with
stellar performances of some of Brown's most famous songs and
arrangements. "Buhaina Buhaina," for instance, came across as
clever and as funny as always, and the "Tenderly / Love Me Tender"
medley broke our hearts when McBride took out his bow and made the
bass sound like a jazz version of Elvis.
McBride told stories about Ray Brown, too, including his advice
not to marry a singer — which McBride wisely ignored — and his
friendships with other jazz luminaries. He introduced one song by
saying, "The politically correct explanation of this song
('F.S.R.') is 'For Sonny Rollins.'" It took a second, but everyone
got it, including Mrs. Brown, who was in attendance, and graciously
took a bow. When the set ended, McBride told the audience he would
stay around to answer questions, but I didn't have any, except
"When can you come back?"