Arts & Entertainment
SBIFF 2007 Goes East
A Primer on the 22nd Annual S.B. International Film Festival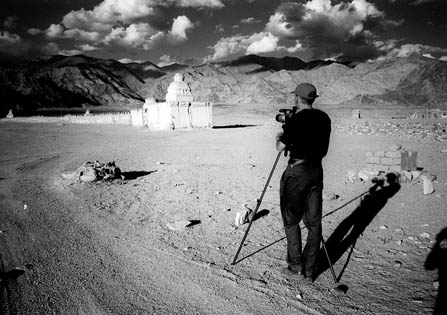 A chilly wind is whipping around Chapala Street, and Roger
Durling — the well-known and charismatic director of the Santa
Barbara International Film Festival — is dodging distractions in
the office by walking briskly to a nearby coffeehouse while trying
to explain the latest twists in the organism he heads. Part of his
challenge in this, his fourth year at the helm, was to respond to
the twin sisters of huge acclaim and street-level dissonance
regarding last year's festival.
On one hand, the festival, kicking off its 22nd anniversary
event tonight with a screening of Factory
Girl, could rightfully glow and gloat by last year's
festival, which was one of its strongest showings yet. On the other
hand, word on the street was less ecstatic, with complaints about
catering to the industry and elitism, all at the expense of the
Santa Barbara community. Long lines, restricted access for those
without VIP passes, and other problems boiled over into the public
discourse. There was even a venting spot set up on the Web,
santabarbarafilmfestivalsucks.com
(since appropriated by SBIFF).
Of course, any cultural entity worth its salt has to accept
discord and controversy, almost as a sign of being taken seriously.
It is also an inherent problem, and growing pain, faced by
successful film festivals. But as Durling said of last year's
chorus of boos beneath the kudos, "I took it to heart. It really
bothered me that there were these complaints, and we've taken steps
to work on those problems." Among the steps taken are a more
flexible program grid, the use of more theaters, and the hiring of
a managing director to specifically wrestle with problems arising
during the festival.
"It's a real high-wire act," Durling admitted, "trying to
balance the local and the national aspects of this festival." As he
has said in the past, Durling is interested in making SBIFF a
festival with something for everybody. "You should not be elitist,"
he said. "Any tastes should be addressed somehow." He paused and
added, "I want this to be the Target of film festivals."
To that end, one could say SBIFF is a diversified mosaic of many
festivals: Separate sections are devoted to feature films,
documentaries, and short films.
But the programming grid also extends to specialty zones
including nature films (Reel Nature, programmed by
Mike DeGruy), sports films (To the
Maxxx, programmed by Russ Spencer), and
the work of homegrown filmmakers. Tonight's gala opener,
Factory Girl, in fact, has a strong local angle in that
its subject, Warholian tragic legend Edie Sedgwick (as in the
Sedgwick Reserve in Santa Ynez), was born and died in Santa
Barbara. The festival's closer, Gray
Matters, is an offbeat romantic comedy with
Heather Graham, and the Centerpiece screening is
of Michael Apted's new Amazing
Grace, with Apted — director of 49 Up and
the festival's first "guest director" — hanging around for one of
the festival's several "Conversation with …" evenings.
As Durling speaks about the upcoming SBIFF, which he called "the
strongest festival yet," he dons his shades in a Starbucks right by
the Arlington, pressing flesh and exchanging greetings with those
who recognize him. Durling is the most public and approachable of
the several directors in SBIFF's history, following the extended
tenures of Phyllis dePicciotto and Renee Missell, and a fleeting
one-year fling with John Fitzgerald. In a sense, Durling was what
the festival needed to bump up a level or three in its reputation,
bringing both a newcomer's passion and increasing administrative
savvy to the gig, not to mention an amiable approach that allows
him to work well with others.
It has long since been established that the SBIFF is the plum
cultural festival in Santa Barbara. From its first year, with Jimmy
Stewart in town for a tribute, it has been a festival happy to "go
Hollywood," while also firmly acknowledging the importance of
foreign and art cinema. This year's model includes tributes to Will
(The Pursuit of Happyness) Smith, Helen (The
Queen) Mirren, Forest (Last King of Scotland)
Whitaker, Bill (Dreamgirls) Condon, and Al Gore and David
Guggenheim, of An Inconvenient Truth fame.
But for its 2007 edition, SBIFF might be said to have gone
eastward, getting valuable nods of attention, approval, and actual
patronage from stalwart East Coast sources. On December 15 of last
year, readers of the New York Times might have been
surprised to find a photograph of the Arlington Theatre in a story
on strong up-and-comers in the film festival scene, bubbling under
the reigning domestic festivals Sundance, New York, and Telluride.
Of the several mentioned in the article, SBIFF was considered a
festival with which to reckon. To boot, the festival has been given
official sponsorship by the august New Yorker — a k a the
only-magazine-that-matters, for many.
The New Yorker nod of approval came after earlier
negotiations with Vanity Fair and with the help of Gene
Montesano, the head of well-known Lucky Brand Jeans, in-town
restaurateur, and an avid supporter and boardmember of the
festival. While the Vanity Fair sponsorship never came to
pass, a contingent from the New Yorker visited the
festival last year and was sufficiently impressed to sign on this
year.
Part of Durling's strategy during his time at the helm has been
to capitalize on timing. By moving the festival up in the year to
late January/early February, it's become a magnet for Oscar
contenders, who happily head up the coast to Santa Barbara. It's a
win-win situation.
In addition, SBIFF's new calendar position, just following the
Sundance Festival, also basks in the afterglow of that event. "You
can't go against Sundance," Durling said. He has sought to get
better American films — always the weakest link in the festival
programming throughout the years — by luring American films
screened at Sundance to then make the trip to Santa Barbara, the
next festival on the calendar. Twenty of this year's films will be
making the trip directly from Sundance.
Back in his office at the buzzing festival's HQ, Durling is
surrounded by awards, framed press clips, and a huge poster for the
great Jacques Tati film Mr. Hulot's Holiday, his favorite
film. On his desktop computer, Durling calls up the new festival
trailer, which will run before each screening during the 11-day
affair. In it, a redheaded woman dances and writhes, clad in
slithering celluloid, and — unlike earlier festival trailers — with
nary a palm tree in sight. It is sleek, titillating, and smart,
qualities to which the festival itself aspires.
"I used to go into a depression after each festival," Durling
confessed, "feeling like I had to build it all over again. After
four years of this, I know there's a strong foundation and that it
will continue. Continuity is the key word."
• Why Will Smith Is a Modern Master by Starshine Roshell
• A Preview of the Panels by Josef Woodard
• A Conversation with Bill Condon, director of
Dreamgirls by Charles Donelan
• Helen Mirren Wins SBIFF's Outstanding Performance Award by Charles Donelan
• The Legacy of Spanish Film by Felicia M. Tomasko
• Conversations With … Evenings by Josef Woodard
• An Interview with Michael Apted by Josef Woodard
• To the Maxxx Films by Ethan Stewart
• Reel Nature – The Ultimate Reality Show by Felicia M. Tomasko
• A Look at Santa Barbara-based Filmmakers by Hannah Tennant-Moore
• Reality Film-making by Matt Kettman
• Films We'll See for the First Time by D.J. Palladino