Living
Michael Aaron May, 1981-2006
Michael was born in Santa Barbara to Rod
and Crystal May. He grew up and lived most of his life in Santa
Barbara, where he became a skilled craftsman in the construction
industry. With his gentle, patient, sweet, and thoughtful way, to
know Michael was truly to love him. Even with moviestar good looks,
he was content to let others take the spotlight while he cheered
from the sidelines.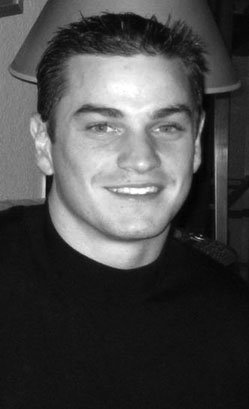 Michael was troubled at times throughout the years, but seemed
to have turned a corner. He had worked very hard to restore his
physical and spiritual health with the help of the recovery
community. The past year, Michael was actively reaching out for
life, love, and family. It was a particularly joyful time, seeing
Michael become the man he was always meant to be — healthy,
hopeful, loving, and happy. He seemed elated to see himself
reflected in the eyes of those who had waited so long for this
"rebirth." Sadly, he impulsively chose to step backward "just one
more time."
Michael will forever be loved and missed by his family and
friends. He is survived by his parents, brother Daniel, nephews,
aunts, uncles, and grandmother. Michael is also survived by his
girlfriend, Wendi White, and their beautiful son, Michael William
May, born October 4, 2006.
Rest in peace, sweet darling boy.