Arts & Entertainment
And Tamayo Makes Four
Mexican Artist Rufino Tamayo Achieves Immortality in Santa Barbara
Tamayo: A Modern Icon Reinterpreted, opening at the
Santa Barbara Museum of Art on Saturday, February 17, represents a
triumph against odds and expectations. Due to his complex and
sometimes adversarial role within the culture of Mexican art,
Rufino Tamayo was the last of the great 20th-century Mexican
artists to achieve his rightful place in the international
pantheon. This show, and its accompanying catalogue, both of which
were created here in Santa Barbara by SBMA curator Diana C. du
Pont, will provide a compelling new account of how it was that this
happened. Until very recently, historians of 20th-century Mexican
art tended to speak of the "Three Great Ones." Well, now there are
four.
Alongside the original three — Diego Rivera, David Alfaro
Siqueiros, and José Clemente Orozco — Tamayo is unquestionably the
most controversial. This was part of what attracted du Pont, who
admitted she loves "taking on something problematic like Tamayo,"
because she feels he has not been sufficiently understood. Du Pont
said one important reason she embarked on this study and exhibition
of Tamayo's work now is that "he needed to be interpreted with a
greater scope now that we have more avenues to understand modern
Mexican art."
Tamayo Nuevo
Before du Pont's recent efforts at
reinterpreting him, Tamayo was commonly considered an outsider to
the mainstream of Mexican painting. He is still described by
The Bulfinch Guide to Art History as "politically neutral
and opposing the muralists' commitment to a public, popular art."
Although Tamayo was clearly inspired by Mexican subjects and folk
art, until now he has primarily been known as an advocate of arte
puro, and a dedicated formalist who was overly dependent on
European Cubism.
In du Pont's new version of the story, we see Tamayo was
profoundly engaged by both Mexican art and international modern art
as a whole. From this viewpoint, Tamayo's context includes
virtually every major international artist from Monet to Pollock,
with special emphases on the surrealists, all phases of Picasso's
career, and the abstract expressionists. Recent developments in the
understanding of these movements have re-politicized both formalism
and the entire history of abstraction in European painting,
rendering Tamayo's interest in them a part of, rather than distinct
from, the overall political tendency of Mexican art in the 20th
century.
Du Pont has dubbed this most distinctive, central period of
Tamayo's works "fusion modernism." Successful fusion modernism
requires that a monumental intelligence constantly be at work,
assimilating and translating the various movements of 20th-century
art. As a result of this extraordinary and sustained effort on
Tamayo's part, it is impossible to walk away from the SBMA show
without a better understanding not only of Mexican art, but also of
virtually all the important modern art of the Americas and of
Europe. In works such as "Claustrofobia" and "Danza de la Alegria,"
lucid colors and significant gestures are at once eloquent and
primal. Tamayo's large-scale nudes are among the most significant
such figures in 20th-century art, and serve both to elaborate a
compelling individual aesthetic and to explore the human condition,
which is nearly always Tamayo's true subject.
It is also clear that, far from being indifferent to politics
and national identity, Tamayo skillfully engaged both, even if he
did so in ways contrary to the ideology of the dominant school in
Mexico at the time. Looking at a piece like "Dos Personajes
Atacados por Perros" ("Two Characters Attacked by Dogs"), a
mixografia collaboration with fellow artist Lea Remba, it
is difficult to imagine how this man's work could ever have been
perceived as apolitical. In his art, Tamayo seems to have
constantly asked, "What does this artistic technique look like when
applied to a Mexican subject?" Or, "What does this aesthetic
concept look like from a Mexican point of view?"
The Regional Museum That Could
Tamayo is the kind of ambitious
traveling exhibition that usually originates at a national
museum — one with a large staff and a history of launching major
retrospectives. In fact, the majority of traveling exhibitions that
appear in Santa Barbara were put together elsewhere by other,
larger institutions. As du Pont freely admitted, "When you are in a
regional museum, the assumption is that perhaps a show of this
scale is not something you need to take on." But du Pont insisted
"size has no bearing on quality — it's the will and the vision of
the institution to participate in an engaging dialogue" that
matters.
In fact, SBMA did more than just put this important exhibition
together — it put it on the fast track. "We grabbed this
opportunity, " du Pont said. "All the players with whom we had
established relationships in the cultural sphere in Mexico,
specifically in the government, were likely to change or leave
their posts with the election of a new president there in 2007.
Many times I said, 'Are you sure?' or, 'Can we do this in the
available time?' At the highest levels, there were discussions like
that. But the decision was always to proceed, [even] understanding
the challenges."
Du Pont sees the size of SBMA — and the limited specialization
and hierarchy that result — as advantages when speed and
flexibility are called for. "That's another nice thing about a
museum of this scale. You don't have a big meeting about every
little thing. A lot of the decisions were made on the spot, very
quickly and directly."
Although it did require the staff move
swiftly, in other ways SBMA has been working thoughtfully and
surely toward this show for years. To begin with, SBMA has been
building up its Latin American collection for more than a decade.
Acquisitions in the last 10 years alone include works by Tamayo,
Siqueiros, Roberto Matta, Rafael Perea de la Cabada, Joaquín
Torres-García, Fernando de Szyszlo, and Gunther Gerzso. During this
same time, SBMA has judiciously loaned out pieces to other
institutions, creating currency within museum culture, which runs
on reciprocity. The museum has also attracted attention through the
quality of the touring exhibitions it has hosted, including shows
focusing on Siqueiros, María Izquierdo, and Agustin Victor
Casasola. Furthermore, SBMA has promoted respect for Latin American
artists by emphasizing monographic exhibitions of their work at a
time when many are still ghettoized in group shows. In addition to
the single-artist shows mentioned above, SBMA curated a major
retrospective of Gunter Gerzso's works in 2003, which set the stage
for this year's exhibition, and a smaller show of Matta's works on
paper.
Importantly, SBMA has also gotten its financial house in order
and has kept its eye on its current mission, which is, in the words
of its director, Phillip Johnston, "to be recognized as a leading
museum on the West Coast." Johnston noted a number of important
recent traveling shows have landed in Santa Barbara — not in Los
Angeles or in San Francisco — as their only West Coast venue. "We
envision the personality of our museum will be so appealing that
the level of achievement cannot help but be recognized," he
said.
A Really Big Show
Tamayo will certainly help to
fulfill that aim. The show's scope is impressive by any standards.
A major retrospective (the first of Tamayo's work in the U.S. in
almost 30 years), it represents a high level of scholarly ambition
and expertise. It features 100 of the artist's strongest paintings,
and covers Tamayo's entire career, focusing on the iconic figural
works of the 1940s and '50s. The paintings come from four
continents. Some have not been exhibited for decades and others
have never been on public display. The show premieres in Santa
Barbara and will travel to Miami and Mexico City. The accompanying
catalogue is both a scholarly tour de force and a treasure trove of
large-scale reproductions, each individually corrected for color
balance by du Pont, who also edited the work.
It is remarkable that a museum in the United States was able to
take the lead in organizing an exhibition of works by such an
important Mexican artist. The show thus reflects a high level of
trust in SBMA on the part of institutional and individual donors in
Mexico, as well as on the part of the Tamayo family, which own his
archives and the rights to his works. Du Pont emphasized the
importance of having credibility in an undertaking like this.
"We're not calling up cold. When we say we're going to do it, we're
going to do it," she said. "We've shown we're not just a passing
moment."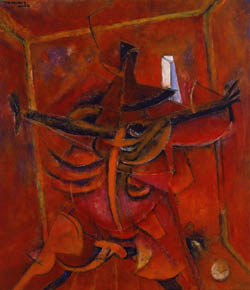 Despite his deliberate distance from the mainstream of
20th-century Mexican art as represented by Rivera and Siqueiros,
Tamayo has always been seen in this country as expressing a
quintessentially Mexican aesthetic. One of the things the SBMA show
helps us see is how much this reputation was a product of Tamayo's
own self-promotion. Research has revealed, for example, that Tamayo
himself promulgated the false belief that he was a Zapotec Indian.
According to du Pont, "He knew the U.S. had a penchant for the
exotic, so he played like he was an indigenous Mexican, the whole
'naïve' thing. But really, he was manipulating the situation. His
charm and his good looks — he also played on them."
At the same time he exploited his own perceived exoticism in
foreign lands, Tamayo remained deeply involved in imagining what
Mexican art could become in and for Mexico, continuing to work and
show there throughout his career. For Tamayo, Mexican art had to be
an international art, a position for which he was sometimes branded
a traitor to his country's cultural tradition. Du Pont explained
Tamayo "is an artist who was operating on the principle that in the
modern world, Mexico needed to be open, that there needed to be an
engagement with the United States and with Europe. Others, like
Siqueiros, were trying to define themselves against the colonial
experience and wanted an independent, autonomous Mexican art."
No Little Donkeys
Tamayo took on this controversy and used it to promote his
ideas. In an interview, for example, Tamayo insisted, "I'm very
Mexican and that's that. I have never had trouble expressing my
Mexican feeling. None of those little donkeys for me." Through
controversial statements such as this he became a household name in
Mexico. Indeed, toward the end of his life, Tamayo became a
self-appointed spokesperson for Mexican art and the shaper of his
own legacy, which included the creation of three museums. In this
late period, he began to be acknowledged as "The Fourth Great One,"
thus achieving and reveling in the kind of official status against
which he had defined himself in his youth. This exhibit continues
and consolidates Tamayo's acceptance into the main line of Mexican
art history, and offers up his unique contribution to a new
generation eager to transcend national aesthetic boundaries. For du
Pont, Tamayo's engagement with the international arena remains his
greatest legacy for Mexican artists. "Tamayo was presaging the way
contemporary artists work today. It is a borderless situation. They
shouldn't forget he was a model for them," du Pont said. As of this
week, the next wave of international artists will have a much
better and more complete view of the work of a man who is perhaps
their most important Mexican precursor.
4•1•1 Tamayo: A Modern Icon
Reinterpreted shows at the Santa Barbara Museum of Art from
February 17 through May 27.