Cover Story
The Big Dance Shuffle
How UCSB's Basketball Teams Figure into the Mania of March Madness
March Madness is heating up this week in Anaheim, where UCSB's Gauchos are among the college basketball teams facing a do-or-die scenario. It is the national pastime at this time of year-hundreds of teams striving to earn one of the 64 berths in the NCAA tournament that begins next Thursday, March 15. They will be seeded No. 1 through No. 16 in four regions, an orderly picture that will become mish-mashed in a matter of hours when the first upsets occur.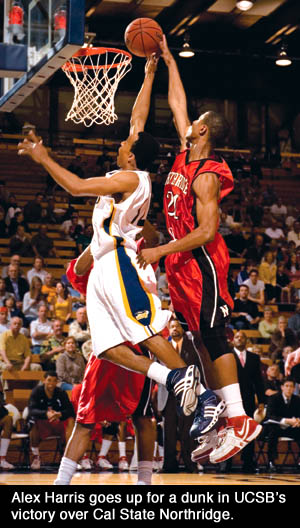 The college hoop fest, cheerily referred to as the Big Dance, is more like a three-week enactment of The Departed. But instead of fatal gunshots and splats on the street, the characters will be knocked off by basketballs that snap through nets and clank off rims. Some departures will be unexpected and shocking. Just one team will be left standing on April 2 after the men's championship game in Atlanta. The NCAA women's tournament, starting two days after the men's and ending April 3 in Cleveland, will follow the same pattern.
Trying to gain entry into the Big Dance can be a harrowing endeavor. Eight schools, including UCSB, are competing in the Big West Conference Tournament at the Anaheim Convention Center Arena. The men's and women's champions will be crowned Saturday, March 10, and besides a trophy, each will receive a berth in the NCAA tourneys. The others will leave the premises empty-handed and often in tears. The NCAA rarely invites more than one team from the Big West, and this year will likely be the same since the conference hasn't distinguished itself, other than staging a highly competitive season among its members.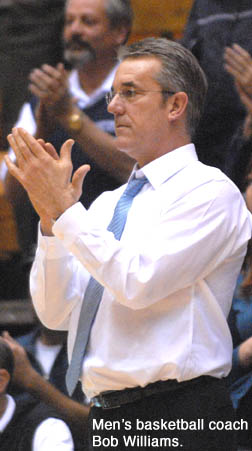 Multiple teams from elite conferences already are assured NCAA invitations. For instance, if UCLA's men were to be upset in the Pac-10 Tournament, the Bruins might slip a notch in the seedings, but they are at absolutely no risk of missing the show. So the only question for these powerhouse teams is where they will be seeded when the NCAA brackets are unveiled (the men's on Sunday afternoon and the women's on Monday evening). "Teams like North Carolina, Duke, Kansas, and UCLA know from the first day of the season they're going to the Big Dance," UCSB men's coach Bob Williams explained recently. "For us, it all comes down to the conference tournament."
UCSB Men's Team: Are They Gonna Party like It's 2002?
The Big West's regular season does count for something. Teams finishing at the top of the standings are rewarded with byes in the conference tournament. The bottom four teams were paired off in the first round Wednesday. To take the title, they would have to win four games in four days. UCSB's men have a berth in the quarterfinals and will swing into action at 8:30 p.m. tonight, Thursday, March 8, against the highest-seeded survivor of the first round. In the women's tournament, UCSB has earned a bye all the way to the semifinals at 2:30 p.m. Friday, March 9.
Since the Big West adopted the tournament's current format in 2004, teams seeded first or second have won all three men's championships. Fourth-seeded UC Riverside pulled a surprise in the women's final last year, stunning No. 1 UCSB, 59-58. It ended the Gaucho women's nine-year reign as champions.
Riverside has since proved its success was no fluke. The Highlanders broke another UCSB streak-11 straight regular-season championships-by beating the Gauchos twice more this year and going 19-10 overall, and 12-2 in the Big West. UCSB (17-12, 10-4) finished second, a game ahead of No. 3 Cal Poly and No. 4 Cal State Northridge.
In the men's Big West, Long Beach State (22-7, 12-2) sits at the top. Cal Poly (18-10, 9-5) drew the No. 2 seed, Cal State Fullerton (19-9, 9-5) No. 3, and UCSB (18-10, 9-5) No. 4. Coach Bob Williams is encouraged that the Gaucho men's position is much the same as it was five years ago, the only time they won the Big West Tournament. Seeded fourth, UCSB turned the tables on the top two teams in 2002, UC Irvine and Utah State. A 60-56 upset of the Aggies sent the Gaucho men to the NCAA tourney for the first time in 12 years.
Junior sharpshooter Mark Hull led that 2002 team. Arizona and Luke Walton barely survived Hull's tour de force in the NCAA opener at Albuquerque. Hull poured in eight 3-pointers and scored 32 points, but Arizona prevailed, 86-81.
This year's Gauchos have another deadly shooter in 6ʹ6Ê° junior Alex Harris, the Big West's leading scorer (21 points per game). He was selected to the all-conference first team. Two other UCSB players, 6ʹ4Ê° senior Cecil Brown and 6ʹ8Ê° junior Chris Devine, made the second team. Williams likes to call the trio, each a capable scorer, "our three-headed monster." Feeding the monster is a pair of freshmen who alternate at point guard, Justin Joyner and James Powell. UCSB also will be counting on 6ʹ9Ê° senior Glenn Turner and 6ʹ8Ê° junior Ivan Elliott to defend the paint and hit the boards.
The Gauchos do not want to hear any talk of upsets tonight. They went 6-0 during the season against their potential quarterfinal opponents, UC Irvine, Cal State Northridge, and Pacific. But if the Gauchos reach the semifinals Friday night, let the surprises begin. Both Long Beach State and Cal Poly have beaten them twice. Long Beach came away with a 68-67 victory at the Thunderdome after senior guard Aaron Nixon, the Big West Player of the Year, hit a floating jumper with less than a second to play. Nixon has a history of making big-time clutch baskets.
Cal Poly brings a seven-game winning streak into the tournament. Derek Stockalper, a 6ʹ5Ê° senior who is draining 50 percent of his three-point shots, leads the Mustangs. Williams said, "Cal Poly is the best offensive team in the league. Guys in every position can score."
UCSB won its last three regular-season games to pull out of a four-game slump. In preconference games, the Gauchos scored noteworthy victories over UNLV and Fresno State. They also went 10-4 on the road, which Williams attributes to fewer distractions than they face on weekends in Isla Vista. "I like our mentality going into the tournament," said Williams, 53, in his ninth year at UCSB. "We ended the season with a shot of confidence."
The Lady Gauchos: Can the Budding Riverside Rivalry Be Overcome?
UCSB's women used to ooze confidence while winning 26 consecutive Big West Tournament games. They were not content just to be conference champions-they went hunting for NCAA victories. In 2004, they advanced all the way to the Sweet 16 and took Connecticut down to the wire.
After the graduation of three great players-Mia Fisher, Kristen Mann, and Brandy Richardson-the Gauchos experienced some slippage last season, and a young UC Riverside team took advantage of it. The Highlanders staved off a furious UCSB rally in the 2006 tournament final, and they secured their upset victory when a last-ditch shot by UCSB's Jessica Wilson glanced off the rim.
The Highlanders appeared to be the more confident team when they visited the Thunderdome on February 24 for a late-season showdown against the Gaucho women. Their 62-54 victory was their fourth straight over the former champions. UCSB coach Mark French was so frustrated that he wondered whether the Riverside series amounted to a rivalry. "We've got to win a game or two to make it a rivalry," French said. "Rivalries imply give and take, wins and losses. Riverside has been dominating us. I'd like for us to turn it into a rivalry."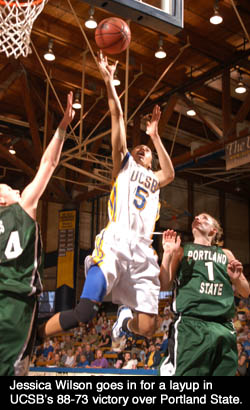 The Gaucho women ended the regular season on a positive note. They won a pressure-packed finale last Saturday, March 3, at Cal State Northridge, 90-79. Their leading scorer, 6ʹ4ʰ junior Jenna Green, was ailing with a cold. But six other Gauchos, led by Jessica Wilson (17 points), scored in double figures.
A loss would have dropped the Gauchos to the fourth seed in the conference tournament. Now they are just one game away-probably against Cal Poly or Northridge again-from earning, potentially, another shot at Riverside in Saturday's 1 p.m. championship game. But it won't be easy. Cal Poly has surged to nine wins in its last 10 games, including defeats of UCSB and UCR. Northridge has seven seniors, led by Ofa Tulikihihifo, who was selected to the all-conference first team for the fourth time.
Riverside's junior forward Kemie Nkele is the Big West women's player of the year. Although smaller than UCSB's Green at 6ʹ1Ê°, she has better mobility and a wider shooting range. She leads the league in blocked shots. "If Nkele was 6ʹ3Ê° or 6ʹ4Ê°, she'd be a national-level player," French said. "She has all the skills." Green, a two-time first team all-leaguer, is a consistent workhorse for the Gauchos. She has scored in double figures 25 times while averaging 16 points. And she leaves every game with her legs packed in ice because of the pounding she absorbs from defenders who try to restrain her.
There's no doubt this Gaucho team can put the ball into the basket: It has set two single-game shooting records in the course of the season: three-point baskets (14 for 18) and free throws (23 for 23). But it's imperative for UCSB to get production from streaky shooters like junior guards Wilson and Chisa Ononiwu to take the pressure off Green. The dynamic Wilson is a second-team all-league player. Ononiwu broke her nose in practice last week and has to wear a face mask for protection, but it did not affect her shooting eye at Northridge, where she made eight of 13 shots. Other scoring threats on the perimeter are sophomore guard LaShay Fears and Jordan Franey, whose 3-point accuracy helped her garner freshman of the year honors. Meagan Williams, another freshman, has also shown an offensive flair.
The Gauchos certainly have the coaching credentials to pull it off. Riverside's John Margaritis has been voted Big West coach of the year, but he said this week the honor should go to French, who has won 413 games in 20 seasons at UCSB. "His front line is missing some players," Margaritis said. "He has done a great job."
Margaritis was referring to a trio of post players-6ʹ4Ê° Kat Suderman, 6ʹ2Ê° Shantel Thomas, and 6ʹ1Ê° Emily Niemann-who were expected to bang the boards with Green this year. But Suderman has been sidelined by knee problems, Thomas is taking off a year, and Niemann has dropped out of college basketball altogether. Great things were expected of Niemann, who transferred from Baylor's 2005 NCAA championship team. But after her redshirt year at UCSB, she went off to Massachusetts, married her partner, and changed her name to Emily Nkosi.
That leaves 5ʹ8Ê° sophomore Whitney Warren as one of the Gauchos' post defenders. She is an accomplished hula dancer. Maybe she can help them get to the Big Dance.
4•1•1
To track the Big West tournaments, see bigwest.org. For more on the UCSB Gaucho teams, see ucsbgauchos.cstv.com. To hear the games live, tune into 91.9 FM KCSB (all games), AM 990 (men's games), and AM 1340 (women's games).