Theater
Like a Wedgie
Slanguage, presented by Universes. At Campbell Hall, Tuesday, February 27.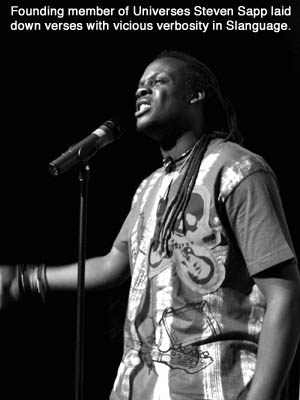 Even this company's name is defiant: If there's one noun in the English language that isn't ordinarily plural, it's "universes." Obviously, these guys don't play by the rules. Slanguage is an evening-long act of linguistic defiance-a celebratory if self-conscious blend of spoken word and music designed to challenge audiences with guerilla-style grammar.
Raised in the projects of the Lower East Side and the South Bronx, and educated at liberal arts colleges, these are performers who span worlds. "I have friends who deal drugs and friends who teach at universities," founding member Steven Sapp acknowledged in the post-show discussion. Universes's Slanguage aims to break down the boundary separating street slang from Standard American English, yet there's something exhausting about a show that constantly reminds its audience of what it is doing.
As part of his alphabetized prologue to the show, Sapp informed the audience that in Slanguage, "Kipling and Keats be kickin' it with Kool Keith and KRS-One," and referred to the show as a "nigger novella." The program even features a "Slanguage glossary," a slang-to-English dictionary for the hypothetical average middle-class audience member, which includes translations of doubtful value, such as "Aaight: all right," and "Bling bling: well-to-do."
In one section of the show, performers Mildred Ruiz and Ninja commiserate about their plight as first-generation New Yorkers from Puerto Rican families, lost in English literature classes yet failing Spanish as well. "We're caught between two worlds," Ninja lamented, "like a wedgie in a fat ass." Like so many of the show's bon mots, this is catchy wordplay, but it is also a telling analogy-Slanguage is similarly stuck in a crack.
Despite its persistently patronizing oversimplifications, Slanguage has some rich moments: among them Mtume Gant's monologue on being dissed for training in Asian martial arts rather than exploring his African heritage, Ninja's beat-boxing, and Ruiz's resounding, full-bodied vocal artistry. Sapp is best as an impersonator, whether he's capturing the sass of a teenage girl, the lopsided swagger of a gangster, or the spliff-toking shenanigans of a new-wave Beat poet. Less convincing are his moments of apparent insolence. "If you're an artist, and you're not scaring white people, then you're not doing your job," he growled into the microphone at one point.
Sapp is clearly having too much fun to scare anyone, so he might as well stop trying and get on with the show. But that's just this reviewer's opinion. And as Gant asserted, "Opinions are like an ass crack. Everybody's got one."