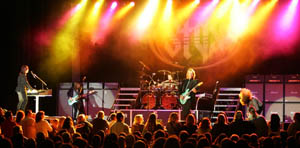 With more than 35 years of touring behind them, the mighty classic rock maniacs of Styx gave the greater Santa Barbara area a night of their best hits at the Chumash Casino on Thursday. Every song the five members played was accompanied by a crowd-sung chorus that filled the venue. The band members highlighted each moment with trademark '80s facial expressions and dancing, and turned all ages of women into schoolgirls and the men into fist-pumping rock 'n' rollers. The five showed that it is over-the-top dramatics coupled with their high vocals and heavy guitar that continue their touring success today.
As many blasts from the past revamp and set out to relive their touring days, crowds typically note the wear and tear of years gone by, not only on musicians' faces, but on their voices. But the four singers of Styx didn't skip a beat. Without a glass of water on the stage to sip and barely any pauses between songs, all four singers held out with crystal vocals that were the same high quality as their recorded music. And Lawrence Gowan, on the revolving keyboard, brought it home with the radio favorite "Come Sail Away," which he introduced with a dramatic tribute to Beethoven.
By the end of the show, an ocean of audience members had filled in the front of the stage, as the boys-or should I say men?-paid praise to their drummer, Todd Sucherman, who composed a compilation of clips of the band's singles. The top-drum styling of Sucherman hinted at some metal, but showed the band's willingness to change with the times and their musical range from folky-classic rock to synth-pop.
After the boys pretended to leave the stage without playing "Renegade," the crowd went into a jumping, shouting roar. But they quickly returned, with their hands full of Styx towels, beach balls, and decals that most of the crowd would have given away a big hunk of their chips for. And though the evening ended too soon, even with more than 90 minutes of non-stop singing and dancing-and the teasing ringing from the slot machines that awaited-it would have been impossible to leave disappointed.