Cover Story
The Big Orchid
The Seduction, Danger and History of Santa Barbara's Most Famous Flower
Whether you find them in the wild, gaze upon them in the cozy comfort of your living room, or stumble across them on your way into your friendly neighborhood Trader Joe's, it is hard not to react to an orchid. Their seductive curves reminiscent of the ultimate feminine form, their fragrance a subtle intoxicant, and the explosion of wild, LSD-like colors across their petals recall to our subconscious a forgotten notion of awe-inspiring beauty.
Growing in trees, clinging to barren rock faces, and sprouting up from forest floors, members of the Orchidaceae flowering plant family have been found everywhere from the Arctic Circle to remote tropical jungle islands. With more than 24,000 known species and countless hybrids, orchid blooms have captivated men and women from all corners of the globe for centuries. Their flowers run the gamut in size-from a pinhead to more than three feet in diameter-and are often awash in colors that defy description. Simply put, orchids are sex in flower form-exoticism defined.
Orchids have inspired songs, been the subject of best-selling books and big-budget Hollywood films, spurred age-old myths of immortality, and generated a multimillion dollar international industry. Remarkably, the latter has found its epicenter here on the South Coast for the past 50-some-odd years. Long before syrahs, chardonnays, or film festivals became Santa Barbara's most celebrated brand products, cymbidiums, cattleyas, and paphiopedilums grown in area nurseries by some of the most brilliant minds and sure hands in the orchid industry were being shipped all around the world. From recreational growers and cutting-edge hybridizers to famed pioneers and legendary orchid hunters, the fabric of the international orchid industry has long looked to the sandy shores of Santa Barbara for inspiration and innovation.
A Welcome Climate
While there may not be an exact start date of Santa Barbara's orchid love affair, there is certainly a time period when the courtship clearly began. Much like our seaside hamlet's long-suffering relationship with the rich and famous, the orchid-at least in the early years-enjoyed an almost symbiotic relationship with the financially well-endowed and their sprawling garden-filled estates.
Throughout the 1930s and '40s, wealthy Santa Barbarans such as Anna Dickinson, Eliot Rogers, and Edward and Emily Carpentier purchased orchids from distributors in England. Santa Barbara's room-temperature climate and welcoming growing conditions greeted the imported flowers with open arms, nourishing them and encouraging an industry to take hold, especially that of cymbidiums. It wasn't long before others joined in, like William Stribling who planted out the famous Riven Rock property; Elizabeth and Harold Chalifoux, also of Montecito; and delivery truck drivers turned orchid magnates Bob and Reg Peterson. Within a matter of years a patchwork of world-class cymbidium growing operations had taken hold-from Goleta to Carpinteria and on into Ojai-demanding the attention of the global orchid community. Thus, in 1945 the first Spring Cymbidium Orchid Show was organized by the Santa Barbara Horticultural Society. From a modest first year in Montecito's Grange Hall, the annual event, now held at Earl Warren Showgrounds, has since morphed into arguably the most prestigious orchid show in the entire world, the Annual Santa Barbara International Orchid Show.
As impressive as the initial stages of Santa Barbara's orchid story are, it wasn't until the early 1950s when oil tycoon Sam Mosher purchased Dos Pueblos Ranch that our region became the widely respected international orchid heavyweight that it remains today. With ungodly sums of money at his disposal and a background in the cut-flower business, Mosher turned the historic Gaviota ranch into the epicenter of the world's orchid community. Dropping an excess of $1.5 million, Mosher assembled one of the best breeding collections money could buy with flowers from all around the world. Throughout the 1950s and '60s the Dos Pueblos Orchid Company was hands down the largest orchid producer in the world with some two million plants-cared for over the years by well-known Santa Barbara growers like Joe Patarak, Robert Norton, and Knute Hernland-growing in their 22 acres of greenhouses. These were heady days for Mosher and company, and as much as hard work was the calling card of the operation, so was eccentric indulgence. Extravagantly landscaped with fountains, pools, fields of birds of paradise, and elaborate promenades, Mosher's kingdom was also home to a collection of exotic animals from all over the globe that occasionally served as the main course of wild and bacchanalian dinner parties. Though long since closed, rumor has it that the remnant of Mosher's orchid empire has recently closed escrow, and though it remains to be seen what the new owners do with it, the essential ingredients of a successful orchid operation remain.
Orchid Hunters Among Us
On a recent sun-soaked afternoon, in a booth at Goleta's International House of Pancakes, Lance Birk leaned back into the squishy vinyl embrace of his chair, a half-eaten bowl of chocolate ice cream in front of him. His cool blue eyes burning with a stern intensity, the 68-year-old former orchid hunter-looking as fit and muscular as many men half his age-flexed his arms behind his head and answered my question without a trace of braggadocio: "What the fuck do you think it was all about, man? I'm a competitive dude. You know, be the first and be the best."
I had just asked him why he-a father of two and one-time successful Santa Barbara restaurant owner-had risked life and limb so many times over the years, chasing rumors of undiscovered and long lost orchid species to the far reaches of the globe. "I always thought anybody could do the things I did. They just had to make up their minds and go," he said to me, but it was becoming clear that such a nondescript claim was actually the well-measured understatement of a supremely confident and accomplished man. After all, Birk spent the better part of three decades getting shot at in Central America, dodging deadly tropical diseases in Indonesia, hiding from pirates in Thailand, outrunning the Khmer Rouge in Cambodia, surviving an airplane crash in Malaysia, falling off cliffs on several continents, riding out a typhoon in the Gulf of Siam, and other such Indiana Jones-esque activities in the pursuit of wild orchids.
Life wasn't always this way for the Santa Barbara native. Before being turned on to the captivating world of orchids by lifelong friend Gary Gallup, Birk laughingly admitted that he "didn't know an orchid from a petunia." But that changed quickly in 1963 when his "adventurous life started." Setting out for the Yucatan peninsula with their eyes on an eventual final destination in Panama, Birk and Gallup hit the road "just to see what was there."
Though they never made it to Panama, they did discover a never-before-seen Mayan city, not to mention a bevy of spell-binding orchid species living in their natural habitat. The hook was set for Birk, and until his final orchid collecting mission in 1986, he would live a double life, la Indiana Jones, running his family-owned and ever-popular Copper Coffee Pot restaurant and jetting to remote locations in Mexico, South America, and Southeast Asia hunting orchids, bringing them home, and propagating them from seed in his own greenhouse along Las Canoas Road. He figures he was responsible for discovering at least "a few dozen" new species over the years, though he claimed he never really cared to keep track and never sold a single one for profit. By the mid 1980s, Birk was widely regarded as having one of the largest and most exotic private collections of orchids in the world until a mysterious fungus on an imported orchid from Thailand viciously destroyed his entire collection in less than three years.
Ironically, Birk is a self-described outsider in the current international landscape of orchid professionals and enthusiasts. Despite having written three books related to orchids-one about his adventures and two highly regarded growing guides, including the still-popular lady slipper bible The Paphiopedilum Growers Manual-Birk is, without any apparent remorse, not even a member of the Orchid Society. Disillusioned by the destruction of his orchid collection-he eventually had to bulldoze the greenhouse-and disheartened by the heavy crackdown on international orchid trading and hunting by the CITES (Convention on International Trade in Endangered Species of Wild Fauna and Flora) in the late 1980s, Birk left behind both the orchid and restaurant worlds, opting instead for a quiet career in the cut-flower industry and living, as he put it, "like a recluse." With a tone of bitterness, Birk followed up our interview with an email attacking the shortcomings of a world in which orchid hunting is illegal. "It just seems vacant now," he wrote. "We are unable to learn from orchids like we used to."
Birk has nevertheless slowly gravitated back toward the orchid community in recent years. Nudged along by friends, he has again begun building his own orchid collection, this time in a borrowed greenhouse-his Las Canoas property forever tainted with the mystery spores. And last summer he completed the aforementioned book about his adventures, The Last Orchid Hunter. With a table at this year's Santa Barbara International Orchid Show heralding him as "Doctor Orchid," it certainly seems Birk is experiencing a homecoming of sorts-something he enjoys but also admits to having mixed feelings about. Alluding to his illustrious history in both collecting and growing, Birk stated simply: "I am unique." But then added quickly, "There are definitely people with more expertise than me in certain areas : but I bow to no one in the orchid world."
Meet the Man
Revered by his peers for his insatiable interest in all kinds of orchids and described by Lance Birk as "the man" of the orchid industry, 73-year-old Paul Gripp prowls the flower-filled aisles of the famous Santa Barbara Orchid Estate he helped establish some 50 years ago. A renowned orchid collector, accomplished author, and celebrated grower, Gripp appears to have drunk from the fountain of youth, a certifiable lion of the orchid jungle. I caught up with Gripp recently at the Orchid Estate, which is now owned and operated by his children Alice and Parry.
With dirt under his fingernails and endless amounts of work still to do in preparation of this year's Orchid Show, Gripp walked me around the property, humbly recounting his adventures in orchid hunting while interjecting complex bits of orchid knowledge in simple, entertaining terms. Explaining the evolutionary wonder of orchid seeds and how they are incomplete-they require a fungus found only in their roots to germinate-Gripp began the botanical lesson as if it were some sort of fairy tale. "You see, orchid seeds don't have their lunch and you can't get too far without your lunch." Then, after wrapping up the explanation, he gestured to the plant-filled world around him, his whole face smiling as he commented, "There's just a jillion different types of orchids, and me, well, it's just what I'm into. I never get tired of them."
Originally from Topanga Canyon, Gripp came into the wide world of orchids in a serendipitous fashion. At the behest of one of his father's drinking buddies, Gripp and his brother made some failed first attempts at orchid growing during what he calls the "chinchilla-like craze" of cymbidium orchids shortly after World War II. Though they "did some of the dumbest things you could have ever done" with those orchids, invariably killing them all off, Gripp used the knowledge he gleaned from his early trials and errors to impress his future boss during an interview for a gardening job-an act of gumption that would determine the rest of his life. Orchid hobbyist Robert Chrisman was the vice president of Farmers Insurance when UCLA student Gripp came to his Los Angeles estate to apply for a $1.25-an-hour gardening job, kicking off a friendship and business partnership that lasted until Chrisman's death in 1965.
After graduating from UCLA in 1954 with a degree in horticulture and botany, Gripp joined the Navy. While stationed in Tokyo he received word that Chrisman had purchased five acres in Goleta to start an orchid business and wanted Gripp to join him. Remembering with fondness Chrisman's invitation and the significance it played for the rest of his life, Gripp said, "And then I never had another thing. I moved up here [after two years in the Navy] and it turned out to be a pretty happy life."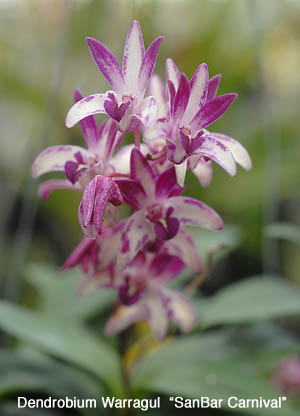 Managing and eventually owning the Santa Barbara Orchid Estate, Gripp became known for his informed and fun-to-read monthly column in the American Orchid Society Bulletin as well as his peerless collection of "outdoor" orchid species that are easy to grow in the Southern California climate. Further, though he might be the last person to brag about it, he traveled the world, often alone, seeking out new and rare orchid species in some of the most remote places imaginable. At a time when many Americans didn't own a passport, let alone venture to unknown Third World countries, Gripp was making regular visits to Central America, Brazil, the high Andes, India, Burma, New Guinea, and two trips to the Solomon Islands in 1969 and 1973 that the well-traveled Birk calls "legendary." Gripp dismissed these travels as being "never very risky" and summed up expeditions to exotic locales with a simple: "Orchids are really the weed of the tropics and I always liked those jungle flowers : so I just went to most of the places [where they grew]."
Showing pictures of flowers, rubbing dollar bills between his fingers, and relying on the knowledge and kindness of locals, Gripp made his way through mysterious faraway cultures-sometimes with miraculous results. During one of his trips to the Solomons, Gripp became deathly ill while living in the jungle with the islanders. He had been searching fruitlessly for a particularly rare type of lady slipper, but had given up and was preparing to begin the long journey home when a man came walking out of the mountains with two massive buckets full of blooming lady slippers-the very green and maroon varieties that Gripp was seeking. He bought them all for $25-a kingly ransom for the islander but a small price to pay for Gripp, who came home and sent more than 100 of the plants "all over the world" at $175 a pop. In his estimation, only one or two of these plants survive today outside of their native habitat.
Back at IHOP, recounting his own recollection of Gripp's adventures in the Solomons and the many articles Gripp has written over the years about orchids and orchid growing, Birk re-thought his earlier decree and told me, "Actually, if I were to bow to anybody, it would be Paul [Gripp]."
Orchid Epicenter
Though the biggest and baddest, the Dos Pueblos Orchid Company was far from the only game in town during the 1950s and '60s. In fact, while Sam Mosher's empire has long since closed down-its greenhouses overwhelmed by giant plants and years of disrepair-some of the other operations that sprang up during the Mosher era continue to thrive today. From the aforementioned Riven Rock estate gardens sprang the now world-famous Gallup and Stribling Orchids. Aleck Stribling, who grew up calling the orchid-laden Riven Rock gardens home, went on to cofound Gallup and Stribling around 1954 with Emmet Gallup and later Gary Gallup (Lance Birk's lifelong running buddy). Now located on 48 acres in Carpinteria, Gallup and Stribling has not only won more Santa Barbara Orchid Show grand champion awards than anyone else but remains one of the top breeders and distributors of cymbidiums and various hybrids in the world today.
Then of course there is the Gripp family's stunning Santa Barbara Orchid Estate on the backside of More Mesa in Goleta. Though being, as the elder Gripp put it, "collectors and growers, not mass producers," the Orchid Estate is one of the most respected and celebrated orchid operations in the world.
Also of note is the Orchid Estate's neighbor, Cal-Orchid. Run by James and Lauris Rose, Cal-Orchid, two short blocks from the Pacific Ocean, sits on the former site of the legendary Orchids by Rowe nursery. After working for years with the Gripp family, the Roses purchased Robert Rowe's old cymbidium operation in 1987 and have parlayed it into a family-run commercial operation of international regard.
More than a half century removed from Mosher's big splash, these businesses and many others like them continue to defend Santa Barbara's title as the commercial orchid capital of North America, if not the world.