Food & Drink
Steaks at Carpinteria's The Palms
Vegetarians Need Not Apply at This Carpinteria Cue-Your-Own-Slab-o-Cow Joint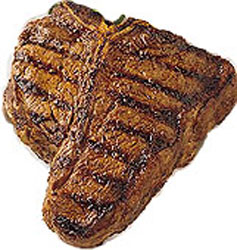 Last Saturday evening had me heading down the 101 towards Carp, with that stunner of a sunset in my rear-view mirror. The occasion was a recently relocated friend's birthday, and we were gathering at the Palms to celebrate. This would be my first time dining at the local mainstay, and I was definitely intrigued. I knew the upshot: Customers cook their own meat. What I didn't know was exactly how large said cuts of meat would be. And let me tell you, if you, like me, prefer to pretend that your steak was never a California Happy Cow, the Palms is not for you.
But, I'll start at the beginning: the bar. Because the Palms pooh-poohs reservations, we spent a decent amount of time there, waiting for a table for our admittedly large party. The ladies were feeling frou-frou, if our drink orders were any indication. We started with a round of "Palm-Tinis," dangerously delicious-and potent-pomegranate martinis, before moving on to mojitos, which the Palms mixes with the best of them. But be warned: their cocktails, like their steaks, are huge, with a capital "UGE."
We were seated soon enough, and quickly perused the pared-down menu. Though there are non-beef (and non-DIY) items to be had, we adopted the mantra "When in Rome" and collectively opted for the cow. A couple people went for rib eyes or New Yorks, but the bulk of us, myself included, stuck to the trusty filet. With the waitress gone, we descended upon the salad bar, which is decidedly bare bones: the roughage is limited to lettuce, onion, tomato, garbanzos, and croutons, but this was not entirely unexpected. After all, a Palms diner needs a salad like a fish needs a bicycle. We settled in with our salads just as the wine arrived, and a couple of minutes later, were introduced to the meat.
When the waitress appeared bearing several platters of enormous slabs of raw beef, all conversation ceased. The filets rivaled the size of my head, and were bacon-wrapped, a pleasant-and wildly unnecessary-surprise. And around that time, the ga-ga eyes campaign began, as we of the female persuasion lobbied the men for their fireside labor. Happily, we won, and let the men do their chest-pounding thing: You could practically see the testosterone charging through the air as they jockeyed for position on the grill, and toiled over the task at hand-cooking our dinners to mouthwatering perfection. (It's a lot of pressure: If you want your steak medium rare and your date overcooks it, can you still send it back?)
Before the meat was done, we headed back to the salad bar area, this time to collect our baked potatoes, baked beans, bread, and salsa. (Carb-o-phobes aren't safe here, either). Eventually, the men retrieved the steaks, and while many of my dining companions dug in, making happy coos of perfectly-cooked-steak-lovin' joy, a few of our filets were still moo-ing, and so, back on the grill they went, for just another minute or two. We stuffed ourselves beyond repair, marveled at the tiny bill, and, eventually, waddled out, with enough leftovers to feed an army-or my very, very grateful dog.