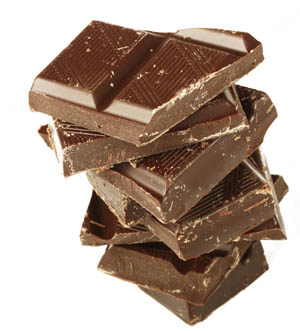 According to Maya, anyone who professes not to like chocolate just hasn't had the good stuff yet. And, with her newly opened shop, Chocolate Maya, she's setting out to change that. Former owner of the Comeback Cafe, Maya Schoop-Rutten sold the restaurant to open a chocolate shop-something, she said, she has always wanted to do. "We go to Europe a lot, and we eat a lot of chocolate there," she explained. "Once I thought, 'That's what I need to do,' so I started traveling around, researching and tasting chocolates."
It took her three years to find a space, because, she said, no one thought a chocolate school would work. Finally, she convinced the Santa Barbara Art Company to rent her its office. A few coats of deep brown and warm orange paint, and the cozy space became home to Chocolate Maya. And her critics may soon be, well, eating their words. She's already attracted a small but growing group of regulars who get their coffee (Santa Barbara Roasting Co. is a few doors down) then stop by for a daily chocolate fix.
Schoop-Rutten has filled the space with everything chocolate-from sauces to truffles to displays of antique chocolate vessels. The majority of the individually filled chocolates, in flavors that range from lavender to champagne to chili, are currently from the U.S. and France, although she plans on importing more from Italy, Belgium, and, of course, her native Switzerland. Despite her European roots, she is most excited about chocolates coming out of America: "In Europe it is more conservative. Here it is like an explosion."
All the chocolates are infused with natural flavors, like garden fresh mint leaves, and have no preservatives or artificial additives. Available for about $2 each, they come in a giftable brown box tied with an orange bow. "They are so satisfying," said Schoop-Rutten, "you don't need to eat very much."
The shop also stocks a wide selection of chocolate bars from all over the world, including many free-trade chocolates, and will soon add chocolate drink mixes and baking chocolate. To ensure quality, she explained, "I try everything I bring in."
And she certainly has the experience. "I've studied food and chocolate for so many years," said Schoop-Rutten, who was a private chef before moving to Santa Barbara in 1982. "I only have to look at something to figure out whether it is good; I can see how much care was put into it." When she was growing up, she remembered, "we had a chocolate armoire," a tradition she's continued in her own home to introduce fine chocolates to her children. "They love it when I bring in different things," she said. "They have learned a lot. When you start exposing kids to food, they learn to recognize quality."
Still, the best part about Chocolate Maya, she insisted, is the clientele: "People are always happy when they come in here." What's more, she is happy too. "This is what I love," she smiled.
4•1•1
Chocolate Maya is located at 15 West Gutierrez Street (entrance on Motor Way). Call 965-5956 or visit chocolatemaya.com.