Living
Summer Camp Guide, 2007:
Enrichment and Academics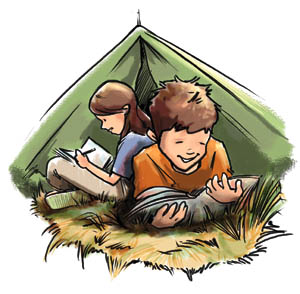 Arte al Sole
Shannon Venable, local expert on Italian history and culture, is launching Arte al Sole: Tuscan Cultural Adventure for International Children. Day camp in the Lucca hills of Tuscany offers enriching, experiential curriculum based on artistic, cultural, scientific innovations that inspired the Renaissance. Serves needs of families traveling in Tuscany, facilitates international cultural exchange through emphasis on arts. Ages 6-12. July 2007. Contact 680-7913, slvenable@cox.net, artealsole.com.
Berlitz Language Programs
Berlitz Kids instructors join with Children's Television Workshop, deliver lessons in French and Spanish. Using a communicative approach, students learn to converse, sing songs, play games, take part in small role-plays. All age-appropriate. Native-fluent instructors give students the opportunity to learn authentic pronunciation and gain a broader cultural awareness. Ages 4-6. Tuesdays beginning Apr. 17, 3:30-4:30pm. $198/$165 RDC. Contact 962-3020.
California Learning Center
In 1984, California Learning Center pioneered supplementary education in Santa Barbara. CLC has helped students of all ages gain confidence and raise grades. Summer is a perfect time to catch up or move ahead academically. Reading, math, standardized testing, writing, and study skills programs are available. Summer classes start June 18. Contact 563-1579.
Computer Quest
Be a computer pro. Ages 6-9: Computer Explorers (week 1). Ages 10-14: Video Game Creation (week 2), Online Design (week 3). Sponsored by Westmont's Gaede Institute for the Liberal Arts. Three 1-week sessions, July 16-Aug. 3, 9am-4pm, daily. $350. Scholarships available. Contact: 565-7247, thinkcamps@westmont.edu, or thinkcamps.org.
Dubin Learning Center
Dubin Learning Center's Summer Program sessions begin July 30, when students are refreshed and can benefit most. Professional staff works individually with students with dyslexia, learning differences, ADD, and gifted, as well as the student who is underachieving and could benefit from review before the new school year. Take advantage of Dubin's experience, knowledge, and caring. Contact 962-7122, dubinlearningcenter.com.
Galilee-By-the-Sea
At Galilee-By-the-Sea, become part of history as you see, hear, touch, taste what it was like to live in Bible times. Joining one of the 12 tribes of Israel, explore authentic marketplace shops, visit the Synagogue, play traditional games, dance to lively Bible music, sample tasty tidbits. God's Word comes alive for all who participate. July 23-17, 9am-noon. Call 964-0536.
Huntington Learning Center
Success in school begins at Huntington. Students build skills, confidence, motivation to attain better grades. Whether a child is struggling or seeking a more enriching academic experience, Huntington's personalized programs make a difference. SAT/ACT programs give students test-taking strategies and show them how to apply their knowledge to questions involving math, comprehension, problem solving, analytical thinking, essay writing. Call 898-3960.
Inside Thailand
Integrates cultural immersion and community service, proudly sponsored by the Cate School in Carpinteria. Eight motivated participants will experience Thai culture from an insider's perspective while bringing English to life in Thai village schools. Grades 9-12. June 22-July 22. $4,200 plus round-trip airfare from LAX. Some financial assistance available. Contact 963-8073, insidethailand.net.
Kumon Math and Reading Centers
After-school math and reading program. Founded in Japan in 1958, uses a systematic approach that helps children develop a solid command of math and reading skills. Through daily practice and mastery of materials, students increase confidence, improve concentration, develop better study skills. Goleta Kumon, 270 Storke Rd. Suite 15, 685-1232. Santa Barbara Kumon, 3230 State St. Suite B, 687-5944. Visit kumon.com.
Learning to Make a Change
For junior high/high school students who want to connect with a wider group of young people wanting to make a change in their community. Learn how to save a life and have a positive influence on a child; receive letter of recommendation, Basic Water Rescue, First Aid certifications. Ages: 11-16. One-week sessions July 9-Aug. 3, Mon.-Fri., 9am-noon. Carrillo Recreation Center. Contact 564-5495, sbparksandrecreation.com/summerfun.
Lindamood-Bell Learning Processes
Lindamood-Bell Learning Processes, an internationally recognized leader in educational research and remediation, has pioneered programs to develop the sensory-cognitive processes that underlie reading, spelling, math, visual-motor processing, language comprehension, and critical thinking. Only local licensed provider. Speak to a consultant and schedule a free info visit at (800) 300-1818, lindamoodbell.com.
Living Like Writers
Explore a world of words in creative writing camp and craft your own memoir. Sponsored by Westmont's Gaede Institute for the Liberal Arts. For those entering grades 7 and 8. One 2-week session June 25-July 6, 8:30am-12:30pm, daily. $295. Scholarships available. Contact 565-7247, thinkcamps@westmont.edu or thinkcamps.org.
Marymount Summer Programs
Provides pre-kindergarten through 8th-grade students with enriching curriculum, experienced and talented faculty, and fun, games, and prizes. Space is limited, register today. Pre-K-2nd Grade: June 18-22 (Big Project 1), June 25-29 (Big Project 2), Mon-Fri, 9am-1pm. Grades 3-5: June 18-29, Mon-Fri., 9am-3:30pm. Grades 6-8: June 18-29, Mon-Fri., 9am-3:30pm. Contact Chris Giles at 569-1811 x122, cgiles@marymountsb.org.
Mind Gains Learning Center
Using personal coaching and computer exercises developed by NASA, kids learn how to pay attention, diminish disruptive behaviors, follow instructions, filter out distractions, and finish homework on time. Also addresses your child's unique academic, behavioral and social objectives. Summer Intensive Courses. New Adult programs. Contact Kathy Yuill, 637-3920, info@mindgainsinc.com, mindgainsinc.com.
Mind Your Manners Summer Camps
Learn the cues and the how-do-you-dos. How to make the handshake take and to shine when you dine. How to give a toast all the better and write a gracious letter. Want to know more about etiquette lore? This camp's no bore. Contact 565-4149, mindyourmanners.biz.
Money Camp
The Money Camp is a unique financial literacy camp that uses interactive games, activities, and accelerated learning techniques to teach kids how to make, manage, and multiply their money wisely. Kids ages 10-18 learn basic time-tested principles wealthy people use to manage their money and create financial freedom. Contact 957-1024, themoneycamp.com.
Montessori Center
Your child's summer of discovery starts here. Programs vary and may include academic studies, arts and crafts, sports, computers, special themes, field trips, and more. Ages 3-12 years. June 19-July 27, 8:30am-2:30pm, after-school care available. Phone Elaine Forester for details, 683-9383 x106.
Safety Town
Sponsored by S.B. Soroptimist International. Trains children in all aspects of safety. Children must be entering or leaving kindergarten. Registration Apr. 28, 8-9:30am, Goleta School District Office, 401 N. Fairview. Camp runs June 18-22, 25-29; July 9-13, 16-20, 23-27; 8:30am-noon. $100. Five sessions located at Foothill School, 711 Ribera Dr. Additional sessions at El Camino, Franklin, and I.V. Schools. Contact 564-7223, sbsoroptimist.org.
Somos Amigos
Spanish language immersion camp. Art, music, games, swimming, all in Spanish. Accredited bilingual instructors. Sponsored by Westmont's Gaede Institute for the Liberal Arts. Ages 5-13. Four one-week sessions, July 9-Aug. 3, 8am-12pm, daily. $200 (+$50 for aftercare until 2pm). Scholarships available. Contact 565-7247, thinkcamps@westmont.edu, or thinkcamps.org.
Summer Sessions Research Mentorship Program at UCSB
Matches high school students with UCSB researchers. Six-week interdisciplinary immersion program provides exposures to university level research in your preferred discipline. Earn 8 UC credits, meet motivated students who are ready for academic challenges and personal growth. June 24-Aug. 4. Visit summer.ucsb./edu/precollegeprograms, rmp@summersessions.ucsb.edu. To support the Scholarship Fund, or a specific student, contact Dr. Fuller, 893-8950.