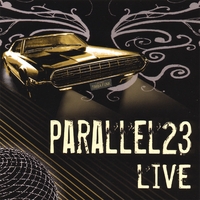 Think hipsters dancing like hippies. Think jazz snobs dancing salsa. Think stumbling upon some dimly lit bar in Barcelona, filled with people in summer clothes laughing and grooving freely, and you have some idea of what to expect from San Francisco's up-and-coming Parallel 23, whose eclectic sound is probably most accurately described as Latin funk. Collectively well versed in Afro-Caribbean folkloric music, jazz, blues, and rock, drummer Colin Douglas, bassist Sam Bevan, percussionist Matt Lucas, and keyboardist Jason Moen have been boldly experimenting with merging their diverse sounds since 2005.
Their debut LP Parallel 23 Live is certain to geographically and numerically expand the quartet's already impressive San Francisco fan base, and has helped land the group gigs throughout the Western U.S., including a dynamic Santa Barbara appearance at Frameworks recently. Recorded live at the Elbo Room in the Mission last summer, the album creatively incorporates the laughter and chatter of happily lubricated partygoers to help set the mood. Although this is decidedly upbeat dance music, the booty shaking drum beats occasionally take the backstage, allowing the keyboard and bass to mellow into trippy melodies more befitting laying back and watching the stars. Enlivened with guest saxophonists, DJs, and rappers, Parallel 23 Live is a testament to the quartet's technical skill as individuals and improvisational audacity as a group.
Let's hope Santa Barbara is due for another P23 pit stop sometime soon.