Film & TV
Edgar Wright's Wild Ride
How the Director Went from Shaun of the Dead to Hot Fuzz.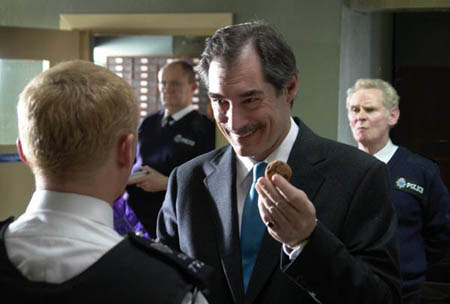 When I met director Edgar Wright, he walked into the room with an unbridled enjoyment that reminded me of a kid on Christmas morning. And why shouldn't he be this way? His film Shaun of the Dead-a kinetic, romantic zombie comedy-became a worldwide sleeper hit in 2004 and now is a cult classic with legions of fans.
For his follow-up Hot Fuzz-an action-comedy-spoof that opens in Santa Barbara on Friday, April 20-he re-teamed with actor/co-writer Simon Pegg and comedian Nick Frost to make what's already the biggest smash of the year in the United Kingdom. The film's killer cast is a who's who of British cinema: Jim Broadbent (Iris), Timothy Dalton (The Living Daylights), Paddy Considine (In America), and Bill Nighy (Pirates of the Caribbean), not to mention unforgettable cameos from Academy Award winners Cate Blanchett and Peter Jackson. And if all this wasn't enough to make Wright walk on air, he also directed one of the trailers in Grindhouse-the double-feature helmed by Robert Rodriguez and Quentin Tarantino currently surprising audiences across the country.
When Wright did sit down for our interview at the Four Seasons in Beverly Hills, he was joined by Frost and Pegg, who explained that "the enthusiasm was overwhelming" for Shaun of the Dead. Understandably, Wright and Pegg wondered what they should do for an encore. They toyed with several ideas before Wright realized he had the power to put on-screen his "boyhood fantasy of the kind of excitement and action that I never saw as a child in a town where shit never happens. Simon and I both grew up in the West Country. I'm from Somerset and he's from Gloucester. After making Shaun of the Dead in North London, it seemed appropriate that we make a British movie in the area where we grew up."
Shaun of the Dead is a send-up of zombie movies like Night of the Living Dead and Dawn of the Dead, but in a startling fashion: Instead of focusing on the flesh-eaters and trying to get the laughs there, it focuses on the living whose conflicts and arguments keep getting interrupted by annoying undead. Shaun filtered a particularly American genre through a distinctly British perspective, with equal parts humor, mayhem, and affection. And now, Wright and Pegg have set out to do for the action movie genre-think Lethal Weapon, Bad Boys, Point Break, and 48 Hours-what Shaun did for zombies.
"There's a great tradition of British crime films with gangsters," explained Wright, "but hardly any British cop movies, so that's what we wanted to address." The movie sets out to deconstruct this American genre and then upend it. You see this right off the bat when the movie opens with Pegg's character Nicholas Angel getting sent to a small country village because his record is too good. "In classic cop movies," said Wright, "the hero gets punished at the beginning because he's made some mistake, killed somebody. So in our movie, Angel has an arrest record of 400 percent."
Subversively, it makes the male cop partners the film's romantic couple. "Originally, we'd written the role of a girlfriend, Victoria, for Angel, but all her lines ended up being given to Nick's character," said Pegg. Added Wright, "The arc of action movies follows the same path of a romantic comedy. At first, the partners in an action movie can't stand each other, and after trials and tribulations, they end up liking each other at the end." There's indeed a homoerotic aspect to the partnering and friendship of two male cops in American action films-and the best example of this would be Lethal Weapon. Hot Fuzz pokes fun at this convention.
The movie's action sequences are muscular shots of adrenaline, resulting in what's best described as a two-hour romp. But it's the acting that grounds it all. Pegg is still astounded that Jim Broadbent approached them to be in the film. He remembered, "Jim came to us and asked us if we would consider casting him in one of our projects!" Frost was in awe of Broadbent, explaining, "I kind of behaved around him how you would behave around an attractive girl that you fancy. I couldn't really look or talk to him at first."
Even more surprising is the casting of Cate Blanchett in a head-turning cameo. She's unrecognizable. "I got Cate to be in my movie, and I only got to use 15 percent of her talent," Wright told me while bursting out laughing. To explain further would ruin the surprise.
Watching Hot Fuzz, it's obvious that director Wright loves and knows film. He pays homage to a vast array of legendary directors in the film-like a hip-hop artist, he "samples" shots and scenes from auteurs like Brian DePalma, Dario Argento, Tony Scott, and even Baz Luhrmann. But he is without a doubt an original who has assimilated the influences from the directors he admires. Explained Pegg, "Edgar's always trying to evolve his style. He's done some fabulous stuff with flashbacks in Hot Fuzz, including that classic Brian DePalma approach where in, say, Dressed to Kill, you revisit a scene you've seen before, but this time you notice something else in the shot that you didn't the first time."
The same could be said for Wright's recasting of the action genre: Seen through his lens, there's plenty for action-film-loving Americans to find anew. Said Wright, already riding the film's enormous British success, "I hope that people in the U.S. enjoy our attempt to take the Yanks on at their own game."
Indeed, Hot Fuzz is the most fun I've had at the movies in a while.
4•1•1
Hot Fuzz opens in Santa Barbara theaters on April 20.