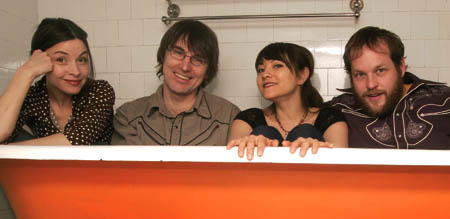 The new season of Sings Like Hell blazes into the Lobero Theatre this Saturday night, marking one of its most eclectic lineups yet. The concerts bring back a host of past favorites, such as Jesse Winchester and Alejandro Escovedo, and also offer a bevy of exciting new inductees, including first-time S.B. visitors the Lovell Sisters and Nathan.
Because the series sold out last season, promoter Peggie Jones-who prides herself on showcasing the best music you've never heard-thought it was time to bring back some old-time favorites for Sings Like Hell's more recent devotees.
"Every time we do a series, naturally there is some degree of turnover within the audience," explained Jones. "About 40 percent of our current subscribers weren't here a few years ago and I thought it would be nice to give these people a taste of some of the shows the original audience was most enthusiastic about. So along with bringing in all these new artists who people really need to hear, for this season, we are also honoring our musical roots."
Two of those new artists will be opening the new season. Edmonton's favorite cow-pokes Corb Lund and the Hurtin' Albertans-whose latest album is scrumptiously titled Hair in My Eyes Like a Highland Steer-will provide the perfect musical foil to the darker ponderings of Winnipeg-based four-piece Nathan. With both acts hailing from north of the border, it will be an evening of Canadian kinship.
Kith and kin loom especially large in the musical life of Nathan; its soulful blend of Americana delves deeply into heart and home. Fuelled by the surrounding prairies, the band is fond of contemplative narratives that explore life on the plains, yet somehow remains oblivious to the constraints of time or temper. Although Nathan's craft typically presents an alluring embrace of the sullen, it seems life for the band couldn't be brighter.
Resulting from the cross-pollination that typifies the Winnipeg music scene, Nathan was born from the union between songwriters Keri Latimer and Shelley Marshall. The inclusion of Devin Latimer and Damon Mitchell rounded out a rhythm section and Nathan's musical foray began to blossom. With recordings, awards, and even children being spawned, it just keeps flourishing.
"We take our kids on the road with us," said Latimer. "It adds a new dimension to things because you are way less self-absorbed. But with children and diapers and strollers as well as all the instruments, it does make the experience at the airport very interesting."
The kindred feel of the new season by no means ends with the first show. May 19 sees hometown luminary Tom Rush joining Jesse Winchester as they make a much-requested return to the series. Maintaining the retrospective theme, June 23 marks the return of the irrepressible Jimmy LaFave, who this time around teams up with San Diegan Joel Rafael.
And if family ties run deeply within Nathan, then they define the Lovell Sisters. The three siblings from Georgia-who join Britain's Michael Weston King on July 7-might not be old enough to enter a bar, but their bittersweet harmonies can certainly turn one upside down.
But Hell will burn most fiercely when A.J. Roach joins the Alejandro Escovedo Band on August 18. While Roach's high, lonesome yearnings are destined to ignite the room, Escovedo and his entire band will surely own the stage. And when the John Cowan Band join Jed & Kelley on September 15, you can rest assured that the series will close out as dynamically as it started.
While it is requests and suggestions from the series' subscribers that influence who Jones chooses to return to the series, it is her unwavering allegiance to live music that brings her to the doorstep of emerging talents. This year's Folk Alliance Conference, which took place in Memphis, Tennessee, proved to be a particularly fertile ground from which to pick. "I actually dragged my feet about going this year," confided Jones, "because it can be a bit too folky. But I am so glad I went because there were all these really amazing artists like the Lovell Sisters and A.J. Roach and Jed & Kelly who I slotted in immediately. And there are a whole lot more yet to come that I couldn't fit into this series." So enjoy your fill of the fruit of Jones's labor and stay tuned to find out what the blessed Hell series has for us next.
4•1•1
Sings Like Hell kicks off with Corb Lund and the Hurtin' Albertans and Nathan this Saturday, April 21. All Sings Like Hell shows start at 8 p.m. and are at the Lobero Theatre (33 E. Canon Perdido St.). Visit singslikehell.com for more information.