Au Courant:
Voulez-vous couchez avec moi: TriVina purveyor of all things naughty and nice, Purrmission (18 W. Calle Laureles) is quivering with excitement over the arrival of French line Chantelle Lingerie, and is now S.B.'s exclusive retailer of the Elle Boudoir Collection, ¼ber-sexy underpinnings perfect for a night in. And speaking of the boudoir, Caressa Allen recently launched her first collection of graphic duvets and pillow shams, Luxury Lab Linens (www.luxurylablinens.com). The supple bedding is made using 300-thread count Egyptian cotton that is then hand-screened using large-format silk screens and water-based ink, so they're super soft to the touch.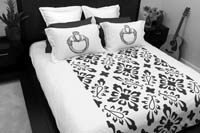 Keeping up with the Jeanses: Blue Bee's buzzing with new additions to its denim family: Blue Bee Jeans (913 State St.) welcomes Diesel's women's line, while Blue Beetle (925 State St.) has Ksubi, as well as the Diesel-branded goods for the guys. BB Jeans is also excited to announce the arrival of Rich & Skinny by Joie Rucker, formerly of Joie. If we can't all be rich and skinny, I suppose the rationale goes, at least we can wear the jeans.
Springtime for Haute-lers: The mercury's rising, and the usual suspects are at it again: Dressed (1253 Coast Village Rd., Montecito) has Roberto Cavalli's hottest new dresses, as well as jewelry from Stella McCartney and Robert Lee Morris. DIANI Shoes (1324 State St.) has Chloe's latest-platforms and heels boasting that signature buckle-and a wild line from Gwendolyn Carrie, made of fish skin. Meanwhile, Vanessa Bruno's tops and dresses have hit the shelves at DIANI, as have brocade and leather clutches from Marc by Marc Jacobs.
Earth Angel: Wendy Foster's Angel (1221 Coast Village Rd., Montecito) welcomes the arrival of a new buyer, Amara Bessa, who's got some great goodies lined up for spring, including Freedom of Choice, a new denim line from the designer of Joe's Jeans, and flowy, vintage-inspired dresses and blouses from Jenny Han that'll have you looking like the angel you are.
SPOTLIGHT ON: Kelly Scott
S.B. born and bred, UCSB educated, and Vogue-vetted fashionista Kelly Scott knows a thing or two about style. The go-getter graduated from UCSB in 2002 and then skipped town, heading for the bright lights of New York, where she attended the prestigious FIT (Fashion Institute of Technology). From there, she made the pilgrimage to that mecca of fashion, Vogue magazine, earning her stripes as an assistant to the accessories editor, before moving on to a managerial role at Intermix's Fifth Avenue boutique. But she'd always wanted a shop of her own, and this January, she threw caution to the wind and headed west, with Isla Vista in her sights. She landed a space, above International Market and Bagel Cafe, and her shop, Miss Behavin', opened for business last week, just a couple weeks shy of Scott's 30th birthday. Modern and glamorous, Miss Behavin' features a wide range of fun, funky clothing and accessories that run the gamut, price-wise. Current standouts include Yumi Kim's graphic dresses and Alternative Apparel's casual basics, but there are tons of gems to be found. And while Trigo Road may be a far cry from Fifth Avenue, Scott is happy to be back, and S.B. stylephiles are happy to have her. Miss Behavin' is located at 6551 Trigo Road, Suite #6 in Isla Vista. Call 968-2840 or visit shopmissbehavin.com
Shop this:
Sustainable Shopping: As part of Soul Majesic's Earth Day benefit for Art from Scrap, a silent auction will feature companies and artists including Joe Curren, S.B. Sailing Center, Paddle Sports of S.B., El Capitan Canyon, Haggerty Ceramics, Branden Aroyan, S.B. Outfitters, Island Seed & Feed, and LoaTree Artwork. Get a jump on the silent auction bidding by stopping by Art from Scrap (302 E. Cota St.) today; tomorrow, April 20, all the items will be moved to SOhO for the benefit show and the close of bidding. : Nice little earth-friendly shoe company Simple Shoes has created a special edition Toepeeka flip-flop to benefit StopGlobalWarming.org, the virtual march on Washington started by eco-activists Laurie David, John McCain, and Robert F. Kennedy Jr. The cute little kicks feature the StopGlobalWarming.org logo printed on 100 percent organic cotton, and $5 from every pair sold goes to benefit the cause (simpleshoes.com/stopglobalwarming).
Check Out: Lotus Botique
Last November, S.B. girl and longtime jewelry designer Erica Forbes-Ortiz opened the Lotus Boutique in the space her dad used as his office for 34 years. She has amassed an awesome inventory of shockingly affordable jewelry, art, clothing, and accessories well worth checking out. (637 Chapala St., 452-2929, Mon.-Fri., noon-5 p.m. and by appointment.)
1) Accessories galore! Adorable, beachy totes from Spicy Tea, Erica Om's handcrafted abalone jewelry, and DAC Leather's handmade leather belts.
2) Goods for the home like the beautifully affordable (and affordably beautiful) silk duvet covers from Suji & Dhara, and Debra Louise Designs' hand-crafted, shell-framed mirrors.
3) Adorable bibs and kimonos for the kiddies, Skateful Dead tees and hats for the skaters, and dresses, tees, and Feisty Swimwear's quintessentially cool bikinis for the ladies (and the men who love them).