Briefs
Planning Commission Gives I.V. Master Plan Another Month
Potential Renovation Plans to Be Revisited May 23
One more month-that's how long the Santa Barbara County Planning Commission decided to let the fate of the Isla Vista Master Plan hang in the balance. The process, which has already taken years to come this far, will be revisited by the commission at its meeting on the tentative date of May 23 before its proponents and opponents will know whether to cheer or jeer. Because two of the five members of the Planning Commission were out sick at a meeting this morning, the rest of the commission said they felt they were not ready to give the Master Plan the go-ahead to the County Board of Supervisors, which will give the plan the final review before giving it a thumbs-up or thumbs-down.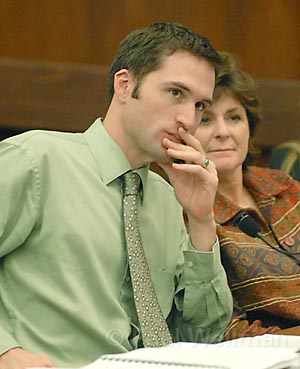 Today's meeting, for which the commission had allotted six hours, ended after just two hours. And although concerned I.V. residents and business owners were present to re-explain why the Master Plan will either save or destroy the unincorporated area of Santa Barbara County near UCSB, the overall turnout was noticeably smaller than previous meetings on the subject. Commission Chair C. Michael Cooney himself admitted that he expected a larger turnout. If the commission had put the matter to a vote, today's meeting would have marked the last opportunity for public comment.
Those who did show, however, voiced the range of opinions typically heard at meetings addressing redevelopment in I.V. Among them, Dianne Conn, a boardmember of the Isla Vista Recreation and Parks District (IVRPD) and longtime I.V. resident, spoke from her personal experience with the community. On the subject of a parking plan-which had been part of the Master Plan until a vote by the California Coastal Commission nixed it altogether-Conn said that planners must look into the necessity of accommodating I.V.'s residents and their cars. "I don't think that will go away," she said. "When [UCSB dorm complex] Manzanita opened, it shifted parking down a full block," she said. Conn said she felt freshmen and sophomores at UCSB should be prohibited from bringing cars to school. Conn also noted that planners should pay more attention to rehabilitating the parts of I.V. farthest from UCSB, which she described as being mostly former summer homes now inhabited by eight to ten people. Janet Stitch, an I.V. resident since 1999, said she questioned the wisdom of making El Colegio Road-one of the main arteries into UCSB and the only one leading into I.V.-vary from four lanes to two lanes and back to four lanes over the course of its one-mile stretch, citing the many traffic jams that already exist on the road. To this, I.V. Master Plan Deputy Director Jamie Goldstein noted that the brief bottleneck was more a result of funding restraints than anything else.