Sports
Swimming Strong
S.B. High's Kami Craig Scores for Gold-Medal Winning Polo Team
She's big, she's powerful, she plays center on the world's best team, but don't come to a water polo game expecting Kami Craig to score a ton of goals. Her role on offense is to occupy as many defenders as possible and create openings for other shooters. In six games with the gold-medal winning U.S. women's team at last month's FINA World Championships in Melbourne, Australia, Craig was credited with three goals.
"Our offense is always focused on the center position, but teams are playing strong zone defense against us," said U.S. coach Guy Baker. "They make it hard to get the ball to our centers."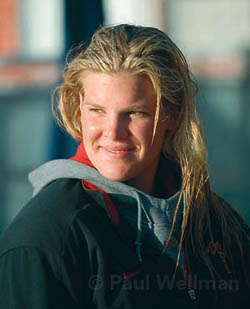 Just two years out of Santa Barbara High and several months short of her 20th birthday, Craig shares playing time on the national team with USC graduate Moriah van Norman. "You can mention Kami among the notable centers in the world," Baker said. "Other coaches are amazed how young she is. She's incredibly strong. She has to improve her defense to be the best center we've ever had."
Craig came up with two steals in the world semifinals, a 10-9 U.S. victory over Hungary. In the final, the Americans beat host Australia 6-5, squaring the championship score between the rivals. The Aussies won the 2000 Olympic title on a last-second goal.
"It was an awesome experience," Craig said last Friday after helping USC score a 17-6 victory over UCSB's women. "There's no other team I'd rather play than Australia in their own packed venue. I waited for the silence, for us to put in a good goal and quiet them down."
Craig came home from Australia with gold, red, and black souvenirs. "I got bitten by an Italian girl in a friendly game," she said. "I got a black eye in practice. I sit in the hole and get beat up. I touch the ball less and less in games. I want to get in the action, but I know I can open things up for my team."
Craig was closely guarded Friday by UCSB senior Aimee Stachowski, who had been Craig's teammate on the U.S. junior national team in 2004. "She's always a huge challenge," Stachowski said. "I try to use my long arms on her."
Held scoreless through three quarters, Craig got loose early in the fourth, and UCSB paid the price. Her close-range shot almost lifted the goal cage out of the water. Moments later, her former Santa Barbara High teammate Miranda Nichols scored to give USC a 16-6 lead. "Kami is so good," said Nichols, a junior. "I've been lucky to play with her for a long time. This might be the last year we ever play together."
After the college season ends with the NCAA championships May 11-13 at Los Alamitos, Craig is expected to take the year off from school in 2007-'08 while the U.S. women compete internationally in preparation for the Beijing Olympics.
AQUAMANIA: Jason Lezak (UCSB '99) and Mark Warkentin (San Marcos High '98) competed in swimming events at the world championships. Lezak, a two-time Olympian, swam a blazing 47.32-second anchor leg as the U.S. men won the 4×100 freestyle relay. Superstar Michael Phelps led off the relay in 48.42 seconds. In response to a pre-race comment by Australia's Eamon Sullivan tha t his team would whip the Americans' "arses," Lezak told Sports Illustrated, "You know, my arse feels pretty good right now." Warkentin, frustrated in his bids to make the Olympic team as a distance freestyler, has found a new opportunity in open-water swimming. The Santa Barbara Swim Club athlete finished fourth in the grueling 25k, a race that took more than five hours.