Living
Bush Veto Incites Protest Over 101
Anti-War Activists Elicit Honks of Support, Police Lectures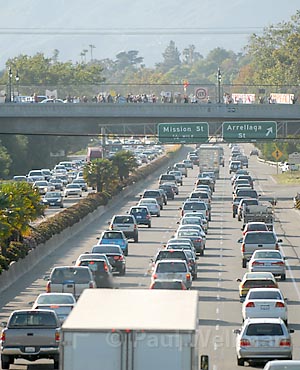 At the very least, Santa Barbara residents opposed to the current U.S. war in Iraq learned that a surprising number of truck drivers are leaning to the left these days, judging by the number of air horns that sounded.
Planned by MoveOn.org, a rally on the Micheltorena overpass Wednesday evening allowed about 80 activists to vent their frustration about President George Bush's recent veto of congressional legislation that would have set a date for a pullout of American troops from Iraq.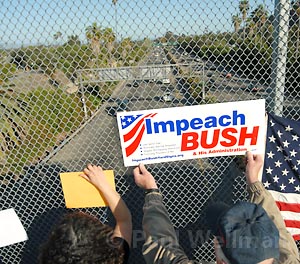 The gathering also allowed those present to gauge public sentiment about the war, as it occurred during rush hour, when many county residents were either leaving or entering Santa Barbara on the 101. Lois Hamilton – coordinator of the Santa Barbara unit of the Operation Democracy Council, a wing of MoveOn.org – said she was pleased with the turnout, noting that the rally was organized in a scant 24 hours. "All across the nation, these kinds of protests are happening," she said. "We're out here letting the president know that we don't agree with him." Hamilton also said she was hoping the event would show support for the elected officials who had pressed the president to end the war in the first place.
Aside from blowing some air horns of their own, those in attendance also waved signs and banged together pots and pans in disregard to the fact that people in cars probably could not hear them. Juliana Hydanus, who also helped organize the rally, said she was told by a California Highway Patrol officer that those waving signs could be held responsible for any traffic accidents that occurred as a result. Furthermore, Hydanus also said that the officer asked for her identification. When Hydanus said she hadn't brought it, she said the officer claimed that anyone over 16 years old waiving a sign as part of protest must carry identification. A Santa Barbara Police Officer observing the rally could not confirm whether the law exists. When pressed as to whether the protesters could be in violation of other laws, he simply said that they were exercising their right to free speech.
Though some protestors admitted that police presence was expected and even welcomed, given the dangerous nature of protesting on a bridge during rush hour, others said they felt some interactions overstepped a line. "I feel they were trying to intimidate us," said Je Goolsby, a member of Veterans for Peace. Bill Smiley, another protestor who said the CHP officer informed him of the potential risk of distracting drivers, said he was happy to attend the rally in order express his dissatisfaction with the Bush administration. "Before, I liked him. I thought he was a cool guy," Smiley said. "But he's taking money away from soldiers and giving it to oil companies."
The event also drew Alain Bayet, a resident of Toulouse, France, currently visiting relatives in Santa Barbara. Bayet said he was happy to see Americans opposed to the war. Bayet also admitted that the bad blood between French and Americans following the war is two-sided, with some Americans foolishly resenting the French for refusing to participate and with some French looking down on Americans, but still enjoying the benefits of U.S. culture. "It's a love-hate relationship. The French say the Americans are arrogant. They say Americans want everything. And yet they take all the junk Americans will sell them. Coca-Cola, McDonalds, all the junk food. It's hypocritical."