Theater
Hamlet at the Rubicon Theatre.
The Enigma of Hamlet Lives On
Hamlet has been performed many times since Shakespeare wrote his famous tragedy in 1600. Now the Rubicon Theatre joins the ranks of companies that have produced the world's most famous play with a stellar production directed by Jenny Sullivan, and with Joseph Fuqua as Hamlet.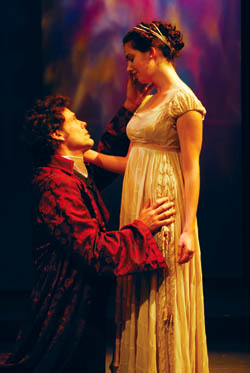 Instead of the original medieval historical setting, this production unfolds in an early-19th-century setting. Exquisite period costumes reflect the grandeur of the Danish royal court in the era of the Napoleonic wars. At the center of the stage, tall panels adorned with chess figures accentuate the craftiness of Claudius and the play's theme of moral corruption. The staging of the ghost of Hamlet's father is handled practically, with a metallic voice suggesting something modern from outer space. During his appearance, thunderous sounds fill the intimate theatre space, leaving a feeling of awe in its wake that continues throughout the production.
Joseph Fuqua is superb in the complex role of Hamlet. Initially stone-faced as a grief-stricken son, he pounces on Claudius and his mother with sarcastic puns that reveal his anger. Hamlet accuses Gertrude of being common, and he reviles his uncle Claudius, who has not only remarried his mother in haste, but has also usurped Hamlet's right to the Danish crown. In Fuqua's interpretation, Hamlet is a witty, absurd hero whose ability to see through false appearances and pretenses receives more emphasis than his melancholy indecision. This production's finest scenes include Hamlet's lucid mockeries of the sycophants Rosencrantz and Guildenstern, and the quick repartee he makes with a bewildered Polonius (Rudolph Willrich). In the nunnery scene, Hamlet rages at Ophelia (Alison Brie), who is equally lost in a vortex of lies and treachery. Brie delivers a deeply moving performance as Ophelia, an innocent girl "divided against self and her own judgment."
The second act is a tour de force. Efrem Zimbalist Jr. plays the dignified Player King with great pathos, and Remi Sandri expresses Laertes' hot tempered, vengeful spirit precisely. James O'Neill's nuanced portrayal of Claudius presents a villain with a remorseful, penitent side. Leonard Kelly Young (also the Ghost) evidently cherishes the role of the gravedigger in a lighter, comedic scene. The quick pace observed in the soliloquies and dialogues ensures the audience's complete absorption in this three-hour modern performance of a drama that continues to stir our minds and hearts now, some 400 years after its composition.