In the search for a perfect night of jazz, one need look no further than the Lobero Theatre on Saturday, May 5, when Grammy nominee Tierney Sutton will be performing with her band. Sutton recently released the highly acclaimed On the Other Side on Telarc Records, and she clearly looks forward to performing this material for her beloved Santa Barbara audience. Highly articulate and always thoughtful and responsive, this expressive singer touched on a range of subjects with passion and humor during a recent discussion.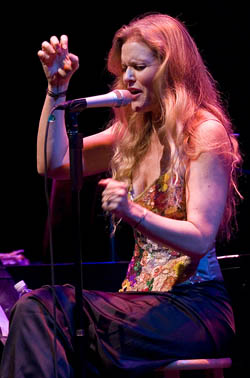 On the Other Side has a very tangible, beautiful spirituality throughout. Is there a spiritual or religious element to the making of it you'd care to comment on directly? That's a lovely thing to say, and there's definitely an answer to that from my perspective. I'm a member of the Baha'i faith, and part of my motivation in having a band that works in the ways this band works comes from my Baha'i belief in the oneness of all people and the need for greater communication and empowerment between people.
On a musical level, there's a fluidity to the interplay between your vocals and the other instruments, so much so that one truly feels your voice is literally one with the backing arrangement. For example, during "Haunted Heart," your vocals embody the groove so completely and seamlessly that when your voice comes back in from the bridge, it's as if you had never left. How do you bring yourself to such a seemingly effortless oneness with the music? That's so beautiful how you said that, and I appreciate so much that that's how you hear it because that's exactly what the goal of the band is, and probably the reason why we've stayed together for so long. The other thing is that it really is for us nothing less than meditation for us to play together and it has become kind of a spiritual addiction. For me, and I think for everyone in the band, it's become kind of a spiritual practice to play. I never expected my artistic life to be such an exact mirror for my spiritual beliefs. I wish the rest of my life was as cohesive and united.
When we first got together as a band, we just wanted to make the best music we could together and that's what this path has been. There's a high level of listening going on. You often will experience it with one or two people, but it's rare to have this with a whole band. I give a lot of the credit to Ray Brinker. The way he listens and responds is different and more sensitive than any drummer I've ever heard. I think having him and having [pianist] Christian Jacob, whose touch and musicality and lyricism are so exceptional, it's really been a profound thing and it's changed the way all of us play. I sing differently because of the experience of the band.
As a fellow Wesleyan University grad and as a musician myself, I've got to ask you: How did your experience with the jazz culture there affect you musically and personally? Wesleyan created my life as a jazz singer. When I arrived, I was a Russian Language and Literature major, but the World Music program at Wesleyan attracted so many great jazz people and Bill Baron, Kenny Baron's late brother, brought in Betty Carter, the Heath Brothers, and Sam Rivers, and seeing those concerts changed my life.
How would you describe the relationship you have with your devoted Santa Barbara audience? Well, we take a real special pleasure in coming to Santa Barbara. I guess it's self-serving to call the jazz audience in Santa Barbara "sophisticated" because it means we're sophisticated, too [laughs]. Anyway, we really appreciate the Santa Barbara audience.
When your audience comes to the Lobero show, should they expect a lot of material from On the Other Side? We'll definitely have some things from On the Other Side. We'll have Jack Sheldon coming in and playing a few songs with us, and that will be unique because he's not performing with us in other shows. So this is going to be a first, and it's something we wanted to do specially for Santa Barbara.
4•1•1
The Tierney Sutton Band will be at the Lobero Theatre (33 E. Canon Perdido St.) on Saturday, May 5 at 8 p.m. Tickets and information are available at the Lobero or by calling 963-0761.