Living
Homeless Brawl on Eastside
Two East Coasters Bring Booze, Start Brawl, and Cut Man on Thursday Morning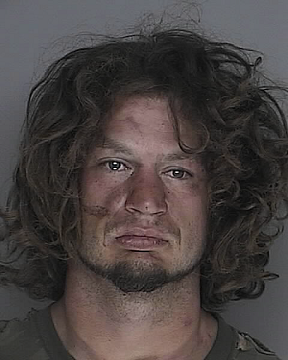 A drinking party among transients turned ugly Thursday when two men allegedly began bickering and, shortly thereafter, began fighting with others drinking in the group.
Santa Barbara police responded yesterday morning at 11:45 a.m. to reports of a large fight at a transient encampment near Milpas and Carpinteria streets. Police were pointed up a path running next to the northbound Highway 101 off-ramp, where they came across two suspects, Jonathan Slyck (pictured below) and Daniel Katz (pictured above), who had blood on his hands and clothes, according to Lt. Paul McCaffrey.
After an investigation, police determined that Slyck and Katz made a visit to the camp, bringing with them bottles of beer and whiskey. Everything was fine for awhile as the two sat with the group, but the two eventually began to "bicker," as McCaffrey put it, at first to themselves and then to the whole group. William Hunt, 23, eventually stood and asked to two to leave. But rather than leave, they allegedly attacked Hunt, kicking him to the ground. Katz then began yeling at Cynthia Maurier, 44, whose boyfriend Randolph Foster, 42, attempted to defend her.
A fight between Katz and Foster ensued, with Katz allegedly pulling a pocket knife and trying to stab Foster, who disarmed Katz. But Katz had more weapons, this time in the shape of a razor-edged box cutter. With the cutter, Katz allegedly cut Foster in the back, as well as several times on the neck and face. Katz forced Foster to hand over rings he had on his fingers, which he did. Maurier attempted to intercede by hitting Katz in the head with a milk crate, and when Katz wasn't fazed by the force, she ran to call police.
Slyck, 20, was arrested for assault with a deadly weapon, and Katz was arrested for two counts of assault with a deadly weapon and armed robbery. Katz was taken to Cottage Hospital, where he refused treatment and chewed through his EKG wires. Hunt was treated at Cottage for a broken collarbone, bruising, and minor cuts. Foster is in stable conditions for the knife wounds and blunt force trauma.
Police believe Katz and Slyck are from the East Coast, and both are new to Santa Barbara.