HAWAI'I'S VOCAL GODDESS: Hawaiian songstress Paula Fuga-who first found fame as a rejected contestant on American Idol and recently collaborated with neighbor Jack Johnson-is embarking on her first stateside tour this month. She'll grace Santa Barbara with her presence on Monday, May 14, at SOhO with the Culver City Dub Collective. Fuga's debut album Lilikoi, which came out last May, is a soothing blend of reggae-tinged tunes beautifully adorned with her hauntingly smooth voice. Reggae, which she considers the "pop music of Hawai'i," is dear to Fuga because "it's so soulful."
But Hawai'i is the root of her music: Fuga plays the nose flute and ukulele, sings in Hawaiian, and dominates the stage with her distinctly Polynesian frame. So how do traditional Hawaiian instruments go with reggae? "Music is music," she explained. "You can take any instrument and play any kind of music with it. That's the beauty of being able to have no horizons for yourself."
Jack Johnson, also a North Shore native, found out about Fuga during an annual kickball tournament for pro surfers. That led to their recent collaboration on the stirringly soulful song "Country Road," which she recently sang with Johnson onstage at his Kokua Festival. Jack's now a big fan, too.
The feeling is mutual. Said Fuga, "Jack's truly an inspiration to me as a musician and just as a person. He doesn't let all this scene and attention carry him away. He's still grounded. He rocks slippers!" -Matt Kettmann
Click Here to see the full interview with Fuga.
ONE-NIGHT STAND: Perfectly stated on his Web site are the four things most important to G¼nther: champagne, glamour, sex, and respect. Since I'm sure most of us agree with him on this, we can also probably agree that we cannot get his "Ding Dong Song" out of our heads. The 29-year-old Swedish musician is transforming the world with his sexual revolution and brings his army of Sunshine Girls to UCSB's local hot spot, Storke Plaza. The handsome honey will not only sexually arouse the weakest at heart, but hopes to awaken the rest of our bedroom community to the overpowering prowess of G¼nther, the global citizen. The seduction goes down Friday, May 11, at 9 p.m. Call 893-2833 or visit aspb.as.ucsb.edu for info. -Nicole de Ayora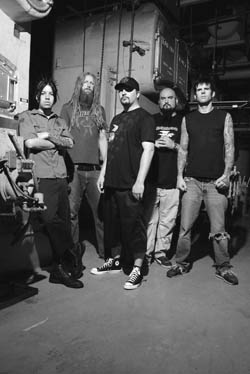 HARD HITTERS: Adema is a hard rock outfit from Bakersfield with a new record in the pipeline. The band's self-titled debut, released in 2001, went gold and Adema rode the nu-metal craze to national popularity and high-profile gigs. That ship sailed long ago, but Adema has kept at it, diversifying its sound and refining its approach. The band's best tracks combine an aggro Depeche Mode flavor with the finer elements of Faith No More-inspired riffage. Their show is tomorrow night, Friday, May 11, at Velvet Jones. Doors open at 8 p.m. Atomic opens-and it'll cost you a cool 15 bucks. -Max Burke
MYSPACE MLANGE: SOhO welcomes a veritable cabal of MySpace-promotin' young singer/songwriters this Tuesday, May 15. Isaac Hayden is a Wyoming native with a few self-released records under his belt and an understated playing style that is perfectly earnest-myspace.com/isaachayden. (Pow!) Local gal Lisa Goe will be rocking the house with a full band set and a repertoire of clever, dynamic tracks from which to choose-myspace.com/lisagoe. (Boom!) And headliner Mike Burns heads up from Los Angeles to knock out some tunes. He's also rolling with a full band-myspace.com/mikeburns. (Kapow!) Pathos is the new emo; don't miss out. -MB
FEELING BLUE? For 30 years, Little Charlie and The Nightcats have been taking the oxymoron out of "upbeat blues." The music is rooted in Little Charlie Baty's acrobatic guitar playing, which Blues Revue ranks as the very best there is. Layer that sound with the double threat of Rick Estrin's hot harmonica and stirring voice, and you've got something that's undoubtedly soulful, more than a little ironic, and, if nothing else, appealing enough to reach both rowdy night clubs and huge concert halls. The Santa Barbara Blues Society hosts the band at the Earl Warren Showgrounds on Saturday, May 12. Doors open at 7:30 p.m. and all ages are welcome. Visit sbblues.org for ticket info. -Greg Nichols
DRINKIN' IT OLD SCHOOL: For a little down-home fun, check out The Mercury Lounge this Saturday, May 12, where an S.B. native-presumably named Mark-will be spinning an assortment of throwback tunes (rock, mod, vintage punk, bubblegum, surf/drag) under the pseudonym djmark. Not one for subtlety, djmark has dubbed the event a "Big Fat Rock 'n' Roll Party." So go shake a tail feather and get your drink on; tunes start at 9 p.m. -GN