Food & Drink
Off the Vine
Perfect Tomatoes Grown in Your Garden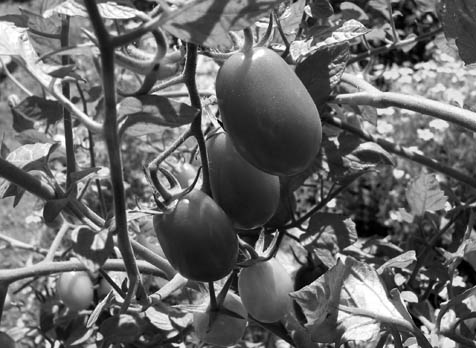 Probably the most popular vegetable crop grown in home gardens is the tomato. Surely one of the reasons is that while store-bought tomatoes bear a passing resemblance to tomatoes from the garden plot, they fail miserably to come anywhere near them in flavor and juiciness. The number of varieties of tomatoes is also orders of magnitude greater than the handful to be found at the grocer's. Here's everything you need to know about growing these luscious fruits yourself.
Start with a site with full sun and amend the soil with plenty of organic matter dug in deeply. The next thing you need to know about the tomatoes you want to plant is whether they are determinate or indeterminate in their growth pattern. Determinate tomato vines more or less stop growing once they set fruit. They will continue pulling water and nutrients out of the soil to ripen those fruits and then die. Indeterminate tomatoes continue to put out growth both at the apex and by sending out side branches that will flower and fruit as long as environmental conditions are right. Tomatoes are sprawling vine-like shrubs and if allowed to crawl across the ground may be susceptible to pests or rot. Here are three ways to stake tomatoes depending on which type they are and what size and volume of fruit you want to harvest.
Indeterminate varieties can reach awesome heights and one method to accommodate them is to erect a 6- to 8-foot trellis of hardware cloth or hogwire fencing (cement-reinforcing mesh). Stake the fencing approximately every 2 feet so that it is sturdy enough to support the crop. Plant tomatoes at suggested intervals along the trellis and as vines grow, weave them in and out of the wires of the trellis. If you prune out most of the suckers leaving two or three main stems, you will have abundant harvests of good-sized fruits. If you don't want to fuss with the plants at all, use those manufactured tomato cages or create your own with a 6½-foot length of 5- or 6-foot-wide hardware cloth rolled into a tube and staked to the ground around each plant. The plants will grow up and out through the holes of the cage without further tying, pruning, or tweaking. Be advised that the fruits will probably be more numerous but smaller than those on plants that have been pruned to reduce branching.
Both determinate and indeterminate varieties can be staked individually for champion-quality fruits. Drive a sturdy stake (up to 8 feet high for indeterminate varieties) in the ground near each plant and as it grows, pinch out all side branches and tie the trunk to its support. Once indeterminate vines get to the top of the stake, stop pinching out side shoots and, if the tops keep growing, tack horizontal slats between adjacent stakes to support their floppiness. Resulting fruits will achieve the ultimate size for their type, but be fewer in number than either of the earlier methods.
A tip to encourage good strong plants is to bury transplants deeper than their original soil level when planting in the garden. Remove a couple of the bottom pairs of leaves and firm the soil next to the stem. New adventitious roots will grow from the stalk for more vigor. Use a balanced organic fertilizer to encourage both flowers and leaves; too much nitrogen will just result in nice leafy plants with few flowers. Tomatoes are mostly wind-pollinated and each flower is self-fertile. In spite of this, they sometimes don't set fruit just because the air is too still. Only minor vibrations are needed to give a helping hand with this process. One old-time method is to give the tomato stake a couple of whacks with a hammer in the middle of the day when the air is dry to shake them up. Several companies sell a tomato bloom spray formulated from a natural growth-regulating hormone that may help, too.
Tomatoes may be subject to a variety of problems ranging from some debilitating fungi to extreme temperatures or calcium deficiency. Look for resistant varieties, especially if you live near the coast, to foil the fungi. Choose cool-season types if nighttime temperatures in your area remain near 50° at night or grow crops early in summer and again in fall if summer temps stay above 105° during the day. Fruits may develop blossom-end rot if the soil is deficient in calcium. Either correct at planting time or use an easy-to-absorb foliar spray later. If all this sounds like too much work, just imagine sinking your teeth into a perfectly sweet/tart tomato in a few months and you may reconsider.
Virginia Hayes, curator of Ganna Walska Lotusland, will answer your gardening questions. Address them to Gardens, The Independent, 122 W. Figueroa St., S.B., CA 93101. Send email to vahayes@lotusland.org.