Film & TV
Sci-Fi Surfing
Invasion! From Planet C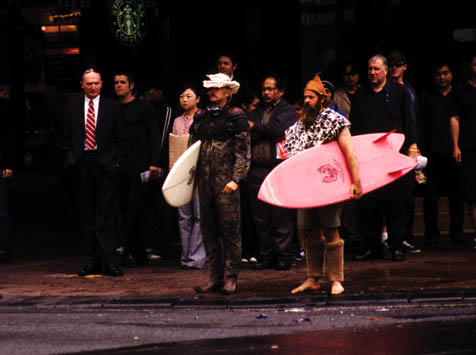 It's easy to forget these days, but at the core of the surfing experience is a proud past of counter-culture antics and hilarious prankster precedent. Long before surfboards started being shaped by uncalloused hands in landlocked Asian factories and the "surf-style" became a fashionable way to dress for just about everybody this side of Paris, there was a tradition of good, clean, laugh-out-loud fun that began in the water and carried over seamlessly to the shore with stink bombs in movie theaters, parking lot hijinks, and radical Vietnam draft evasions. It's not that the colorful characters responsible for these acts have faded, it's just that they have become watered down by the cult of cool that currently hordes our beaches and surf shops.
Luckily, from the distant reaches of the universe, a savior has arrived. It's called Invasion! From Planet C, the world's first-ever sci-fi surf film which premieres this Saturday at Victoria Hall Theater. (There's also a raffle with a Steve Brom Fish Surfboard and breakfasts at Esau's in Carpinteria up for grabs.) Complete with laser-toting trolls, spaceships, puppets, aluminum foil-covered control panels, and perfect peeling empty point breaks from all over the world, this feature-length film is a wicked ride of satire, smooth surfing, and stoke-inspiring fun. And who knows? You might even cry a little, too.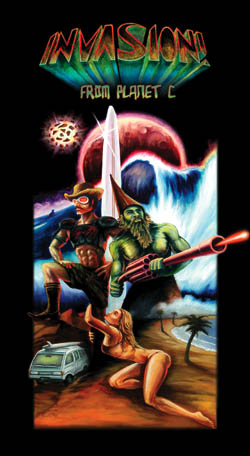 Hatched in the head of former UCSB graduate student Mike Black, the concept of Invasion! came to him while standing in front of a classroom of high school Algebra II students in Long Beach. Shortly thereafter, Black enlisted the services of his roommate and good friend Matteo Plummer and San Francisco-based mad genius director David Potter. Together, they hit the road for six months of filming in Costa Rica, Fiji, New Zealand, Australia, and, of course, Santa Barbara. But before you go thinking this is your average surf film, let Black explain the process: "Basically I gave up everything. We had a script-sort of-but we embarked on the journey with no cast to speak of. I really just had faith in the film."
And it is that faith that makes their decision all the more impressive, once Black explains the premise for the film. "Basically, our planet has run out of waves and is going to implode, so we go to earth to harvest the stoke and save Planet C," he explained in a perfectly serious tone. "We land, start surfing, get weapons, steal a van, meet women, fall in love, and-well, I don't want to ruin it for anybody-but it has what I consider a tragic ending."
For the most part, though, this sci-fi surf flick is a blast. Not only is the acting downright funny, but the surfing is a lesson in old-school glide and timeless flow. The protagonists Gnar Gnar and Casanova use their single-fin longboards not only to harvest stoke for Planet C, but also to entertain us humanoids. "We may not be the best surfers in the world" said Black, "but are we in the pocket and riding perfect empty waves and having fun? Fuck yeah! Come on people, this is planet earth. Get out there and do it!"
4•1•1
Invasion! From Planet C screens at Victoria Hall Theater (33 W. Victoria St.) on Saturday, May 12, at 7 and 9 p.m. Tix are just $5. See invasionfromplanetc.com.