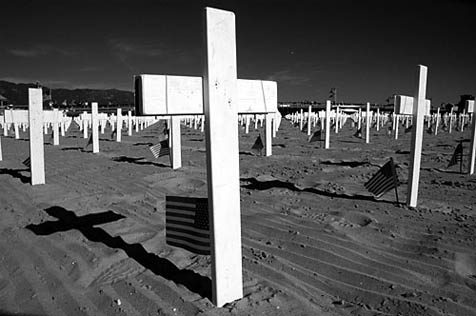 Whether it's environmental awareness, the death penalty, or the Iraq War that gets your fire burning, there are social movements in town for protesters and do-gooders of every stripe:
Join the S.B. Chapter of Death Penalty Focus in its weekly vigil to abolish the death penalty. The group collects signatures for a moratorium on executions every Tuesday from 4-5 p.m. at the State Street Farmers Market. Visit ncadp.org for more info.
The members of the S.B. Antiwar Organization invite any and all to join them each Saturday to discuss President Bush's war on terror and unite in peaceful protest. Come with or without signs to the Cota Street entrance of Farmers Market at 11:30 a.m. Visit sbantiwar.org.
Every Sunday, a team of volunteers meets with Veterans for Peace to erect a memorial at Stearns Wharf for America's fallen soldiers. The memorial is available for viewing from 7 a.m.-4 p.m., and volunteers are needed to help set up and take down. Call 893-2488.
During the month of May, the S.B. County Water Agency hosts a Water Awareness display in honor of Water Awareness Month. The exhibit is up for viewing through May 31 at the County Administration Building (105 E. Anapamu St.) from 8 a.m.-5 p.m. Call 568-3541.