Every so often, Santa Barbara plays muse to an artist on the verge of major stardom. Tierney Sutton, a Los Angeles-based singer who had a Grammy nomination this year, maintains a special relationship with our city through annual shows at the Lobero Theatre. Sutton was back on Saturday, leading her usual band and accompanied by long-time friend and associate, trumpeter Jack Sheldon. The show confirmed Sutton's reputation as one of the best straight-ahead female vocalists working today and gave everyone present a night to remember when Tierney Sutton becomes even more of an international household name.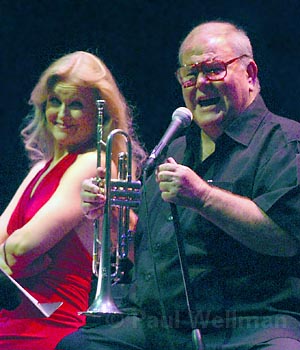 The evening began with a hypnotic rendition of "You Are My Sunshine." Sutton specializes in transforming happy, loveable standards into powerful dirges replete with modal harmonies and jagged edges, and this "Sunshine" was a great introduction to her technique. Cascading drum rolls echoed and swirled like eddies in a stormy ocean, all while Sutton carried the tune high above the instrumental tumult. Sutton sits when she is onstage; all the better to show off the flashy gold heels she wore with a revealing red dress. This woman is every inch the seductive chanteuse, and she sends a siren's message with no qualifications. Her band, with Kevin Axt on bass, Christian Jacob on piano, and Ray Brinker on drums, is a taut and sympathetic unit that knows just when to pick up the tempo or lay back deep in the pocket. Due to a major windstorm outside, some loose pieces of the Lobero were banging around on and off throughout the evening, at times creating a disconcerting counterpoint to the drums, but the band shrugged it off and continued charging ahead.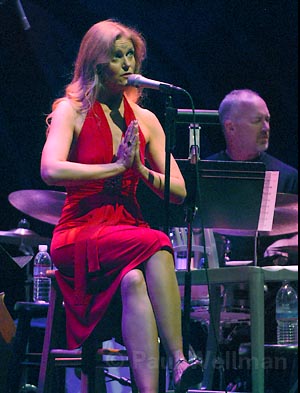 Sutton brought on Sheldon for several numbers, including a final medley of songs from the musical My Fair Lady. Sheldon has a warm and fluid approach to improvisation, and his trumpet solos fit the music and the setting perfectly. Sutton was at her best on some searching ballads associated with Frank Sinatra. "Only the Lonely" was stunning-complex, dramatic, and saturated with sophisticated melancholy. The band stretched the outer limits of its approach with a Coltrane-esque reading of "The Lady Is a Tramp," which offered Sutton the opportunity to sail away on seas of crashing cymbals and modal chords. The fact is that California is hardly ever "cold and damp," as she sang, but what does it matter when the music takes us so far from shore?