Food & Drink
Janet Wolf Talks Health, Food, and the Psychology of Eating
Out to Lunch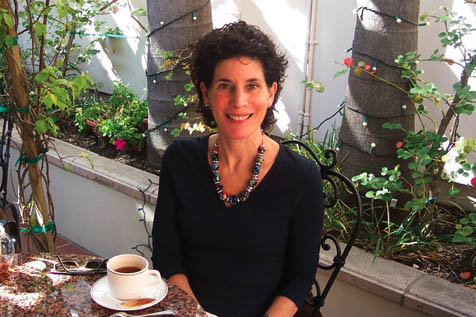 I used to be a cheerleader," Janet Wolf said when I asked her to tell me something people would be surprised to learn. That seemed to fit the criteria.
I recently met Wolf for lunch at Arts & Letters Cafe to talk about her new role as 2nd District supervisor. I'd never eaten at Arts & Letters before; to find it, you need to walk through the Sullivan Goss art gallery, perhaps a surreptitious way to entice your love of art as well as food. Once there, you find yourself in an open-air courtyard with a fountain punctuating your conversation, surrounded by watercolors and photographs.
"I love food, the whole social aspect of eating," Wolf said, something she learned from her Greek family where food was abundant and celebrated. Wolf and I opted for salads. The grilled lamb tenderloin over baby spinach with roasted peppers, feta, and basil dressing ($15) caught my eye; Wolf ordered the warm mushroom salad on baby arugula with candied walnuts, Humboldt Fog goat cheese, and truffled balsamic vinaigrette ($14). Both meals were superb, providing the necessary protein without feeling full.
Wolf became the 2nd District supervisor-replacing Susan Rose and beating out Dan Secord-in last fall's run-off election. Though she served on the Goleta School Board for nearly 12 years, the jump to supervisor of Santa Barbara County is daunting. But, I discovered, Wolf likes challenges.
Her choice of meal, her focus on a new job, and her Mediterranean diet were brought about by the heart attack she suffered several years ago. "I almost died," she said matter-of-factly. (Nationwide, cardiovascular disease kills more than 480,000 women each year. The American Heart Association has a simple online test to check your heart health; visit goredforwomen.org.)
So she heeded her doctor's advice and dropped 35 pounds. "I knew I wasn't going to lose the weight in a minute, which was what I wanted. I needed patience," she said. She also cut down her portions and sacrificed one of her loves, cheese. "That used to be my big thing," Wolf admitted. "But now I try and only eat feta, goat, and parmesan cheese." She works out at the gym regularly and she eagerly accepted her doctor's orders to "have a glass of red wine every night." (Studies have shown that flavonoids in red wine provide an anti-clogging effect on blood.) "I'd always loved merlot and syrah," Wolf said. That is, until she saw the movie Sideways. After the movie, Wolf and her husband, Harvey, went to Opal for dinner. "I looked for pinot noir on the menu and realized I really liked this wine," she said, smiling broadly. Not that she doesn't enjoy other red wines, but, "I stick with what I know."
The best evenings, she said, are when she and Harvey start out at Joe's Cafe for a martini ("the best," she told me), and then move on to dinner at Opal, The FisHouse, or Paradise Cafe where, she said, "I love the onions and mushrooms on the trout." A glass of Foley's pinot noir rounds out the meal.
Wolf has been wine tasting in Paso Robles and the Santa Ynez Valley, and I'm curious if, now living in somewhat of a fishbowl, she feels encumbered by people who might disapprove of her visiting a winery on a weekend. "I think one of the reasons people elected me was because they saw me as a regular person," she explained, "as someone who goes to the gym without makeup, goes out to restaurants. So the wine tasting wouldn't be a problem."
It's always an issue of balance, something she learned while raising three girls, running her own business, and playing on adult soccer and roller hockey teams. Well, balance and coffee. "I used to be a coffee addict. I had a running order every day at Coffee Bean & Tea Leaf." But she found she was drinking too much java and her doctor suggested she cut that, too. "I figured if I could make it through the campaign without coffee, I could make it through anything." She has switched to tea and implies that, if she can keep the coffee to one cup a day, she might bring it back into her daily routine.
The changes in her diet reflect "the psychology of eating," as she put it. We discussed the idea that too many people consume large portions of food, don't exercise, and then feel guilty about it. "Why not have smaller portions and eat what you like and feel good? I still love to eat and I don't feel like I'm deprived," Wolf said. That's due in part to the heart attack, and the fact that she knew her daughters were watching her behavior. "What message would it send to my daughters if I ignored the advice of my doctor and didn't take care of myself? I wouldn't want to put them through that again." She still indulges in favorite haunts, like Cold Spring Tavern and Del Pueblo Cafe, but doesn't eat to excess. She also reads the Los Angeles Times health section each Monday and she just ran the Roses to La Playa 5K in about 35 minutes.
The wakeup call has paid off, Wolf said. Her life is different now, better. With her three daughters all in college, it's the perfect time to take on the wrangling of Santa Barbara politics. She's still just as competitive as when she played sports in school and that competition will help her on the Board of Supervisors. Sports taught her a valuable lesson early on, which, she said, she applies to her life and her future in representing the 2nd District. "I learned the value of teamwork. To get things done, you have to work together," Wolf said. The cheerleader's now becoming the leader.