Living
Schneider Kicks Off Re-Election Campaign
Despite Support, Several SB Politicos Are No-Shows
Santa Barbara City Councilmember Helene Schneider's kickoff to her re-election campaign event at SOhO restaurant and bar started out slow Thursday, but quickly grew into a party. More than 100 friends and supporters waltzed through the door – past the same purple and white signs used during her 2003 campaign taped along the walkways up to SOhO – and enjoyed munching on appetizers and hors d'oeuvres, as well as schmoozing with local politicians and community activists.
Schneider addressed the crowd a little more than an hour into the party, telling them it "warms [her] heart" to have their support. "It says a lot about what we're trying to do," she said, adding that public safety, homelessness, youth issues and making the city sustainable – from the clothes people wear to the cars they drive – are all areas of concern for her, she said. "We need to do all that while trying to balance the budget and be fiscally responsible," she said, adding that the budget was balanced for the first time in years. "You get seven democrats on the council and see what happens to the budget."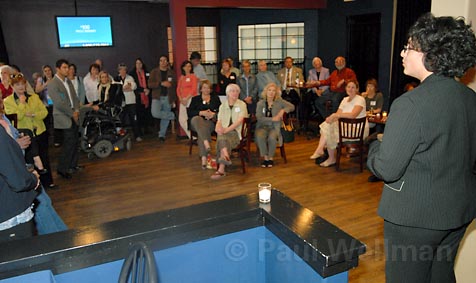 Fellow Councilmember Das Williams was busy passing out glossy blue cards announcing his own re-election campaign kickoff event next Tuesday at the Arroyo Burro Estuary restoration site, along with a reception later in the day at Arnoldi's Cafe. Councilmember Brian Barnwell was also there, having recently sent off invitations to his kickoff party next Thursday at Brick's Cafe on State Street.
Iya Falcone and Grant House, also councilmembers, were noticeably absent from the party, although Schneider said she has been endorsed by both of them. Falcone was in Sacramento, Schneider said. Also missing were representatives from the Police Officer's Association, Firefighter's Association and Rep. Lois Capp's office. Neither Salud Carbajal nor Janet Wolf – two area democrats on the County Board of Supervisors – were in attendance, although Carbajal's executive staff assistant Jeremy Tittle, who ran Schneider's campaign last time around, was there. Schneider speculated none of the supervisors would make endorsements until the filing period had ended in August. Tittle was unsure about whether Carbajal had made up his mind on who he would endorse.
Some speculate that this year's election will be slower and will involve fewer candidates because the next one will give political newcomers a better chance at getting a seat, as current councilmembers Falcone and Horton can't run again. The presumption seems to be proving true. Even though the deadline to file isn't until August, the necessity of fundraising means that any serious contenders will have to file soon. Despite no other announced candidates for the council race, Schneider said she "cannot imagine no one's going to show."
When asked if she might eventually position herself for a run at mayor when Marty Blum's job is up for grabs in 2009, Schneider deferred, saying she was taking it one thing at a time. And with a potential charter amendment changing city elections from odd to even years, a mayoral election could still be three years away, she added before noting. "I'm not saying no."