Band: Myridian is Richard Metcalfe, Kalvin Keller, Patrick Duffy, Scott Smith, and Bud McCanless
Albums: Prime Myridian, released February 2007 on Ojai's Euterpe Music Label. The album is available on iTunes, and the band's website.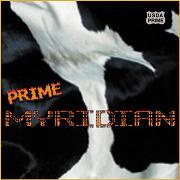 Style: Original, classic rock 'n'roll
Influences: The Beatles, Pink Floyd, Tom Petty, Steely Dan
The Skinny: Drawn together by the challenge of performing original rock music in today's age of revolving tribute bands and canned reality show covers, these Ojai men have been living their dream for the past three years, producing a classic rock sound with provocative, topical lyrics – and people are starting to take notice. Their original song, "Gunshots" was voted top-ten out of 1700 submissions on Neil Young's "Living with War Today" website lyric contest.
In 2006, they won the Ventura County Battle of the Bands, which entailed a contract with the independent Euterpe Music Label. After the release of their first full-length album, Prime Myridian, the boys toured Southern California and are now back in Ojai for a round of local shows. Myridian says their music, "hearkens to a more free-wheeling, less stressful time, and hopefully lets people unwind." But don't let that fool you; said music rocks hard enough to draw nine cop cars to a private gig just last week in Ojai – who then booked the band for a police party. Now that rocks.
Upcoming Shows: June 3 at the Ojai Skate Park Benefit at 3 p.m. June 8 at the Ojai Valley Athletic Club Friday concert series at 6:30 p.m. June 30 at the Lake Casitas Classic Rock Festival.