FREEDOM HITS THE ROAD: Trying to wrap your mouth, let alone your brain, around the synthetic word pfMENTUM is a challenge. In some way, it belongs to the catalog of absurd utterances, like the "pshit" of Alfred Jarry's Ubu Roi, suitable for meaning whatever you care to bring to it. What better handle to give a record label and general cultural worldview such as those maintained by Jeff Kaiser?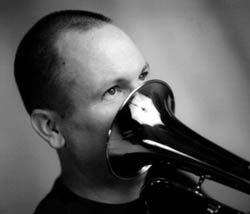 Alas, although the iconoclastic Venturan (and "angry vegan"? That's the name of pfMENTUM's sister label) has become a cottage industry off to the left of normal in the extended neighborhood since the early '90s, we may not have Kaiser to kick around anymore. The enterprising trumpeter/composer/computer musician/record label mini-mogul-and general avant-impresario-Kaiser is moving up and moving down south, to take a position at the noted experimental music safe house of UCSD. To pay respects and also get a hefty dose of great new music, check out his Farewell, Ventura! concert this Saturday night at Ventura City Hall. On the bill are the Jeff Kaiser Quintet, which he calls "my take on a free jazz rock band," and his Ockodektet, or "my take on a BIG band."
As a label, pfMENTUM has grown by leaps, bounds, and sidesteps in recent years, as Kaiser has taken on a wide range of adventurers, mostly from the Southern California area. Santa Barbara's own gifted musical mayhem manager Jim Connolly has just released his third project on the label, by his rangy Gove County String Quartet (which performed recently at Center Stage, in the Iridian Arts series). To get the skinny on Kaiser, read up on him in a generous feature in the new issue of Cadence magazine. This extended town's gonna seem mighty quiet and boring without Kaiser. Hopefully, he'll make his way back up now and again and figuratively trash the joint a bit.
JAZZ ON THE DANISH HORIZON: This just in : thanks to the efforts of former Crusaders drummer Stix Hooper's Universal Guild for Jazz and Progressive Music (UGJPM)-sounds good to us-and cooperative forces up Santa Ynez Valley way, the jazz festival drought in the area will be getting some much-needed relief. The first annual Solvang Jazz Festival, also being facilitated by Tales from the Tavern concert series promoter Ron Colone, will take place September 28-29. Details and lineup are sketchy at this point, but the very idea breathes hope. Mark your calendars, start your engines.
AMEN, WORLD MUSIC WITHOUT END: UCSB's MultiCultural Center's little theater packs a cultural wallop, refusing to accept as the norm tedium or empty fashion, one of the afflictions facing modern mainstream American culture. No wonder so many people are fleeing mainstream, terrestrial culture sources in cyberdroves. Soapbox pronouncements aside, the MCC wrapped up its official academic season with the traditional Armenian sounds of the Chookasian Ensemble recently. It's been a great year so far, the highlight being the mind- and soul-blowing all-female Tuvan ensemble Tyva Kyzy, deeply of this planet, but also otherworldly.
The MCC season ends with a garden party, when Very Be Careful plays Isla Vista's Anisq'Oyo' Park on May 31 at 8 p.m. The band, Los Angeles-based purveyors of the exotic, accordion-fueled Colombian genre of vallenato, sizzled in their appearance indoors at the MCC a year ago, first onstage and then in dance mode in the reception room. Their music is good and good for you-both your feet and extra-U.S. cultural awareness.
TO-DOINGS: Some music journalists actually also make music, or so I'm told. One of them is Robin Tolleson, the drummer who has written extensively on jazz, drummers, and other things musical for various publications. By night, Tolleson-a North Carolinian with San Franciscan roots and band members-keeps and tweaks beats as the drummer in the funk-cum-jazz-cum-psychedelic jammy trio Hip Bones. Following up their latest CD, Threedom, they'll pay one of their periodic visits to SOhO on Monday.
(Got e? fringebeat@independent.com.)