Living
Nuke Protesting Students End Fast
Claim They Gained Enough Ground in the Fight for Disarmament
The hunger strike is off.
After more than a week of not eating to protest the University of California's management of the Los Alamos National Laboratory in New Mexico and the Lawrence Livermore Nation Laboratory in Northern California, two laboratories used to develop nuclear weapons. Near a tent city which had sat for the past 15 days on the lawn in front of Cheadle Hall, a press conference was called on Wednesdays to talk about what the students deemed a successful hunger strike.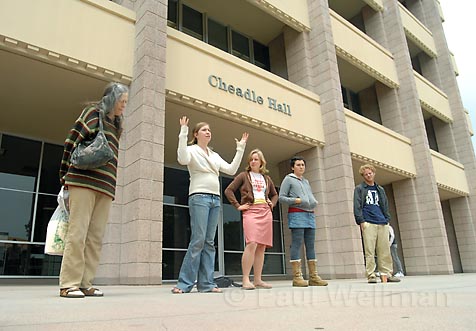 The students originally intended to fast until the University of California agreed to stop "engineering, testing and manufacturing nuclear weapons," but broke their fast last weekend, after seeing their concerns wouldn't be addressed at a recent regents meeting in San Francisco. However, the protestors claim their cause gained some ground.
Two members of the UC Board of Regents – Odessa Johnson and Ben Allen – agreed to meet with some of the students to try to address the concerns, according to a gathering of students, although no date has been set. Increased awareness among students and faculty has also resulted, the students claim. UCSB's academic senate may even pass a resolution in support of the group's main objective. "This is something being talked about on campus now," said Natalie Rose, one of the protestors. Another protestor, Carleigh O'Donnell said the group's ultimate goal is to change the "destructive nuclear weapons policy" of the UC system and return it to academic integrity. "They're here to instill knowledge, not destroy society," O'Donnell said. The groups is also in the initial stages of organizing a campaign geared toward alumni, urging them not to give money to the UC system schools until the system cuts its ties.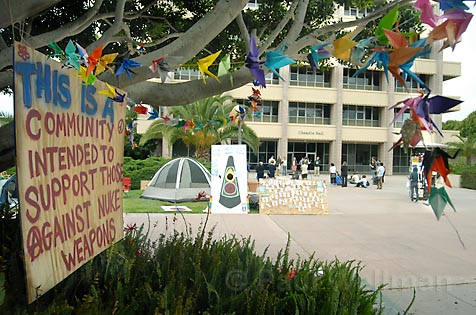 The group also praised the U.S. House of Representatives Energy and Water Development subcommittee, which voted to not build any more nuclear weapons and to downsize the stockpile the country currently has. "Given the serious international and domestic consequences of the U.S. initiating a new nuclear weapons production activity, it is critical that the administration lay out a comprehensive course of action before funding is appropriated," wrote chair Peter Visclosky. "Given the track record of mismanagement at the agency for projects that have a plan, I don't think it is asking too much for a comprehensive nuclear strategy before we build a new nuclear weapon."