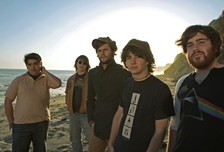 Band: The Snake The Cross The Crown is Kevin Jones, Franklin Sammons, William Sammons, and Mark Fate
Albums: Cotton Teeth, released March 2007 and Mander Salis, released 2005 on Equal Vision Records
Style: Indie folk-rock
Influences: The Band, Radiohead, Bob Dylan, the Beatles, and "anything you can tap your toe to."
The Skinny: This Alabama-bred quartet started out as a junior high cover band before moving to the West Coast to live and play music. In 2003 they produced their debut EP, Like a Moth Before a Flame. After signing with Equal Vision and recording the well-received full-length, Mander Salis, TSTCTC embarked on a slew of national tours with the likes of mewithoutYou and Mae, before returning to Santa Barbara's shores to try and create their own sound for a new album – the last they recorded here before moving back East.
With the just released Cotton Teeth, The Snake The Cross The Crown have molded themselves into an novel folk-rock band. They are currently picking up a national following as they make their way across the U.S. on a tour with mewithoutYou, Piebald, and Manchester Orchestra. The Snake The Cross The Crown's folk-rock influences are layered between experimental electronica, banjos and keyboards, and earnest, moody lyrics that speak of a musical maturity and originality beyond their years.
Upcoming Shows: Monday, June 4th at SoHo with The Hero and The Victor, and Le Meu Le Purr.