In 1997, big things were set in motion for a very little guy when his parents couldn't find him a babysitter and had to bring him along to music class, which his mother, Winnie, taught at Hope School. Then just three years old, Harrison Swalley sat in each week and listened to the band, in which his older brother played the euphonium. Eventually Swalley developed a hankering to play. "I suggested to him that he try the piano or a cello," said Winnie, "as you can get mini versions of those; but, nope."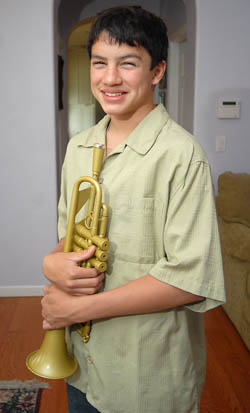 Swalley was already determined to play a brass instrument, like his brother, so his mother asked around and managed to locate a pocket trumpet for him; he was allowed to sit in with the band of big kids, way far away in back, as fourth chair.
But that status would change. Today, Swalley, 13 years old and a seventh grader at La Colina Junior High School, is an advanced trumpeter who has been accepted into the prestigious Special Music School at Kaufman Center in New York City. He is set to attend in fall 2007, and Swalley and his mother will thenceforth be New Yorkers. Meanwhile, Swalley's father and brother plan to fly out regularly for visits.
When asked what he plans to make of his future as a musician in the fantastic jazz and classical music scene of New York City, Swalley answered sagely, "I'll have to let destiny decide that."
Speaking of destiny, it was in June 2000 that Swalley's developing career as a musician took a turn toward the heavens when he met trumpeter and jazz legend Wynton Marsalis during a family trip to Manhattan. In fact, the Swalleys, all of them accomplished musicians, actually visited Marsalis at his apartment, and when Swalley blew off a few fancy scales in the living room on his toy-sized horn, Marsalis looked to the Swalley parents and said, "That's the most natural jazz musician I've heard in years."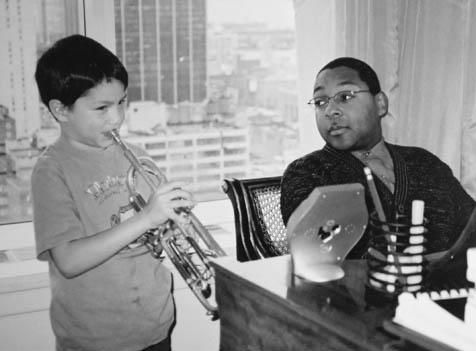 Marsalis volunteered to give the first grader a few private lessons and ultimately saw to it that Swalley receive the attention of other masters. Soon thereafter, the boy played his first paid gig.
Swalley has filled his decade as a trumpeter with more achievements than most musicians twice his age: summer jazz sessions, a member of numerous bands, a guest performer at S.B. and national sporting events, and gigs in Boston, San Francisco, and, of course, New York. He even consented to play last year for the regal Gisle Ben-Dor, then conductor of the Santa Barbara Symphony, when the maestra asked if Swalley would be kind enough to perform a solo rendition of Haydn's Trumpet Concerto in E-flat.
"I really feel like this is the instrument of angels, and that playing the trumpet is a blessing," said Swalley, who is eagerly awaiting life and school on the East Coast. Swalley touts New York City as his favorite major metropolis, but he still harbors a soft spot for the sunny seaside slopes of Santa Barbara. "California is my home," he said simply. "It's my favorite state. It's warm in Santa Barbara."