Bianca was eliminated after the June 24 polls closed.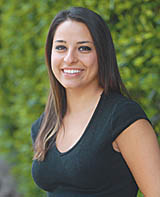 IN-PRINT SAMPLE #1 (from Positively State Street, Independent vol. 74)
FORGET THE ALAMO: The one thing to come out of San Antonio that's worth remembering is the punk-pop trio, Girl in a Coma Their brazen attitude and lead singer Nina Diaz's amazing vocal range sucker-punch listeners on Girl's debut album, Both Before I'm Gone. That steady talent lives up to Girl in a Coma's Smiths shout-out. (Hint: Smiths song "Girlfriend in a Coma"). Still not sold? Just ask Joan Jett, who has the ladies signed to her Blackhearts label. If you can't get in touch with Jett, check out Girl in a Coma at Muddy Waters on Tuesday, June 12. And heads up: Don't forget to rock.
ONLINE ESSAY #1: Why I want to be a Music Writer
During my typical and avid reading of The Independent, I saw an ad for a pop/rock writer's contest. It had been a long time since I had been sucker punched with something I wanted so badly. The demons of self loathing and self doubt crept over me and I was paralyzed in fear of my dreams. But the sweeping feeling of "No you can't!" dissipated and self doubt had an escape route. That route is turning up the volume and picking up the damn pen again.
Whether I am singing country music loud in a bar, working on my fitness to hip hop and all things pop, or bartending at Velvet Jones while jumping to guitar rifts and screams, it all feeds the soul. But my love is not perfect. Yes, I am guilty of letting my boyfriend program my iPod because I am too lazy to take the time to figure it out. Yes, I do have a pink razor with the latest trendy Top 40 song on it. And yes, I am addicted to the "I'm From Rolling Stone" reality show on MTV.
As I hang my head in shame at these admissions, I know why I want to be a music writer. Because the boyfriend decided not to stick around but the iPod did. Cocktails get spilled on pink razors but you can download Gwen again. Reality shows get cancelled but pop/rock writing contests live on. And when it hits, I feel no pain.
IN-PRINT SAMPLE #2 (from Positively State Street, Independent vol. 75)
Rebelution
Courage to Grow
Independently released; June 2007Santa Barbara music lovers cheer: Rebelution's first full-length album has arrived. This month, the Santa Barbara-based band hands over the reggae/hip-hop/rock sound that has captured the upbeat energy fans have long been jamming to at live shows. And with the band's compass pointed to the bold independence of the soul, now the group's energy is organized. Rebelution's new release embraces the love jam, "Ordinary Girl," and preserves the fan favorite sing-a-longs, "Safe and Sound" and "Attention Span." With loyal groupies at their back, Rebelution's sound is confident. The result is the delivery of a lion-hearted package tied with a rebellious reggae-rock bow.
ONLINE ESSAY #2: My first concert experience
I was a late bloomer, or perhaps slightly overprotected by my parents. Either way, I stand firmly by the theory that 17 is far too old for a teenager to go to their first concert. I was more than guilty of collecting tapes-as an elder of this contest, I must acknowledge and be proud of my tape collection. (I played Atari, too.) And then, of course, came CDs, which therapeutically held my hand through the teen angst. But to be bestowed the irreplaceable gift of live music, well that is a humbling blessing.
I was late. I am always late. But I had a good excuse. My poor little 5'2″ body had just been traumatized with a knee injury and I was on crutches. Struggling, I stumbled into Cox Arena in San Diego and made my very difficult way down the very difficult stairs to meet my friend in the third row. The third row!
It was the Dixie Chicks. Ha-ha, yeah, I know. No matter how silly it might seem to some, the guitars, harmonies, and Natalie Maines' voice belting out emotion straight from gut, all of it hit me hard enough to dance with my crutches all the way to the encore.
IN-PRINT SAMPLE #3 (from Positively State Street, Independent vol. 76)
SOLAR POWERFUL: As the sun sets on the solstice celebration this Saturday night, free spirits will still be flocking to hit SOhO for the solstice bash featuring the Dancing Drum Community Ensemble and Matthew McAvene. Aside from the sun, Dancing Drum will celebrate its seventh year of bringing exotic drumming lessons and groovy musical talent to Santa Barbara. The vast creativity of the talented McAvene complements the ensemble by bringing to the stage his catchy mellow guitar rock jams. Both performances will no doubt soar while reminding folks to keep their feet planted firmly on the Earth. Cover charge: $12. Celebrating summer's longest day: Priceless.
ONLINE ESSAY #3: My dream interview
To have the honor of interviewing anyone in music, either alive or dead, would be simply overwhelming. When I first reviewed the question, of who I would interview and what I would ask them, my instincts scattered. John Lennon? Sure, I mean obviously he is a legend and has had a huge personal influence in my life. Jimi Hendix? Yes, he's definitely uniquely talented and what a thrill it would be to come up with some insightful ways to pick his brain. But none of it seemed right to me.
What seems closer to my own truth is a joke I have with my friends. My joke is that I would cut off my arm if I had to in order to see Sublime play live. So the obvious choice is to would interview Bradley Nowell of Sublime. This is what I would want to know:
1. It's pretty apparent in your lyrics that you suffered some turmoil and yet the delivery is always in an upbeat tempo. For me, that's always been comforting; the bad news with the good news. Is that the intention?
2. Sublime has managed to blend musical genres that didn't seem to make sense but made for excellent live shows. This translated to Sublime's popularity through their reputation alone. Without a major label deal, how important was that for your success?
3. In your now famous letter to fans now dubbed We Are Not Selling Out, you tried to emphasize your intention to stay true to the music and remain independent of dominating labels. Why is that important?
4. The fusion of Spanish into your music is both interesting and entertaining. Is that the SoCal in you coming out and in what other ways does it surface in your music?
5. Last but not least, how come you named your Dalmatian Lou Dog?
Click here to vote for your TWO favorite contestants this week. (Note: YOU MUST VOTE FOR TWO or the poll will not compute your vote.)