Stephanie was voted off Almost Independent island when the the June 11 polls closed.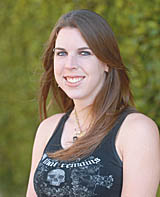 IN-PRINT SAMPLE #1 (from Positively State Street, Independent vol. 74)
DEATH METAL, ANYONE? A substance stronger than glue is needed to hold a young metal band together these days. This is an impressive testament to Waking the Destroyer, a metal band formed three years ago in Santa Barbara. Despite a brief separation after being just a few months old and some deviations from their original lineup, Destroyer reformed in May 2005 to beat the odds and create a tighter, more brutally melodic death metal sound. They will be showcasing this sound on Thursday, June 7 at Velvet Jones and hope to release a new album by the end of summer.
ONLINE ESSAY #1: Why I want to be a Music Writer
There's always an elevated sense of excitement that comes with an unopened CD case. After the seemingly endless battle with the crackling plastic that is always unusually difficult to break though and those damn stickers holding the sides together to the point that you're about ready to take a hammer to it, there's a moment when, breathless, covered in glue and plastic, you open the CD case, pop the music into a player, and devour the glossy pamphlet from cover to cover.
But, I have found that in the midst of the plastic cutting frenzy and musical ecstasy that ensues, there always seems to be something missing. I want more than the catalogue of lyrics, the goofy band pictures, and tidbits that are revealed on the laminated paper. That's where the music writers come in. We are the ones who dig, elbows deep, into the band's psyche and give readers that something extra we've all been looking for. I want to know the drummer's middle name, who wasn't wearing underwear to the last show, how that intricate design on Aunt Mildred's couch somehow influenced their latest hit. There is so much more that musicians have to say and share than what is written in their lyrics; I want to be the one to let people know exactly what that is.
IN-PRINT SAMPLE #2 (from Sound & Fury, Independent vol. 75)
The Used
Lies for the Liars
When Bert McCracken, lead singer of The Used, hands in his well-known, ground-breaking scream for a more subdued growl, we have to admit the truth: Angst just ain't what it used to be. Though some songs such as "Hospital" or "Wake the Dead" exert the lyrical and musical enthusiasm of that old, passion-driven sound, Lies for the Liars pushes the hazy border between melodic rock and pop on more than one occasion. Between "Pretty Handsome Awkward"a song whose intro less than subtly reminds the listener of Rage Against the Machineand the overly melodramatic sing-song tune "Smother Me," The Used exerts clear symptoms of a band in the midst of an identity crisis.