Columns
Don Miller's Sycamore Canyon Road Crusade
Trying to Make the Road Safer for Kids; Hacks and Flacks Toast Outgoing Editor Guillaume Doane
The traffic along Sycamore Canyon Road speeds by as Don Miller takes photos of some school kids trying to navigate deep ditches while walking to Cold Spring School. Miller, a Cold Spring parent, has been trying to help pedestrians, especially children, navigate the safety hazards along Sycamore Canyon – aka State Highway 192 – since September of last year. He has contacted the county, Caltrans, and others to discuss improvements but, with summer vacation on the horizon, Miller is searing with frustration.
"I can honestly tell you I never would have dreamed when I started on this campaign that I would have to literally walk, take over one thousand pictures, conduct surveys, saw off hedges myself, and then talk and talk and talk," he told Montage. "I've talked to neighbors, public works, Supervisor Carbajal, almost every employee in the San Luis Obispo [Caltrans] office complex, and then met with Westmont and Lotusland. It's like watching a glacier: sometimes it moves, and then for long periods of time it just sits there."
This week, Miller expressed his disappointment by sending a somewhat icy email to Scott McGolpin, interim director of County Public Works. "I hope people don't mis-interrupt my frustration for lack of gratitude," Miller told McGolpin, "but my biggest fear is just talking, meeting and discussing and planning is not getting too much accomplished. I have heard about plans to create a sidewalk and bike path down along San Ysidro Road with a split rail fence. Those drawings and plans were done over seven years ago and now sit in a file drawer down at the Montecito Association office. Yet, here we are again, trying to rehash stuff that has been discussed, planned and worked on and never done. Of course I get frustrated by the process."
"I never thought for a minute that getting a tree trimmed or a road repaired would take surveys, committees, and trying to find funding. I can tell you, it feels great to just be able to get out my ole chain saw and just do it," said Miller, referring to his move last month, when he personally sawed off two blocks of 192's roadside overgrowth.
In an attempt to prevent another chainsaw massacre, McGolpin responded to Miller, listing nine actions that Public Works has accomplished or is in process of implementing. Of particular note, McGolpin said, was the May 4, 20-plus person site-visit that Carbajal arranged and that included the Caltrans district director, Rich Krumholz. "In my experience over the last 20 years, I have only seen the District Director come to our county for a site visit twice. Both of these visits related to major regional type freeway projects," McGolpin said.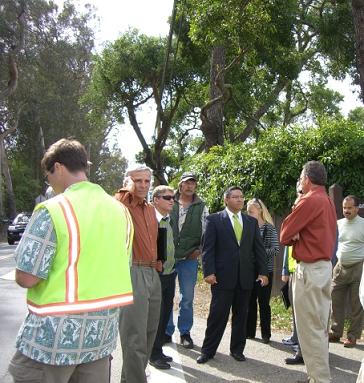 He also said Public Works staff is working on engineering issues along Paso Robles Drive, an important walking route to Cold Spring School. And today, June 3, the Board of Supervisors passed a resolution approving a stop sign at Paso Robles and Barker Pass. It should be installed later this week.
McGolpin added Public Works will "coordinate with Caltrans regarding the stop sign at Cold Spring School and 192." To facilitate this end, Cold Springs parent and Safe Route to School activist, Tracey Willfong Singh, is circulating a community petition, seeking parents' and residents' support for a four-way stop at this busy intersection.
"Caltrans is looking for public response," Singh said. "They will consider the results of a petition to see how many people are truly interested in having a four-way stop at Barker Pass-Sycamore Canyon." Those interested in signing or collecting signatures can contact Singh at flyer1@cox.net.
McGolpin said Public Works has also moved a street sign at Cold Springs Road and 192, allowing for pedestrians to avoid the child-swallowing culvert previously photographed by Miller. And a pedestrian crossing at 192 and Cold Spring has been repainted. McGolpin reported Public Works is looking at several possible "No Parking" zones, which, if installed, could allow for better pedestrian access to the roadway paths.
Contacted by Montage about the Safe-Route process progress, Supervisor Salud Carbajal said he feels things are on target. He is hopeful a $50,000 engineering study, addressing all Montecito's routes to schools and due to be released in July, will clarify priorities and allow for grant funding that will bring safe route ideas into realities.
"Creating safe routes to school in Montecito and throughout the county is a top priority for me," Carbajal said. "While we cannot wave a magic wand and implement all the extensive improvements that have been discussed overnight, I am proud of the significant progress we have made on safety efforts around both schools in Montecito over the past few months, and look forward to continued progress on these efforts in the near future."
And Public Works' McGolpin concurred. "As you can see, in a matter of months the county has stepped up to work with you and other concerned parents in the Cold Springs area on school/pedestrian safety issues," he said in concluding his email to Miller. "Please keep in mind that we do have 40 schools in the unincorporated areas of the county that we work with as well."
It's a safe Montage bet, however, that few of those other schools come equip with frustrated, chainsaw-toting parents, standing eagerly ready to trim the bureaucratic process down to its roots!
HACKS AND FLACKS TOAST DOANE: The 10-year-old Montecito communications network, appropriately called Hacks (journalists) and Flacks (PR-types), convened last Thursday to bid farewell to Guillaume Doane, the departing editor of the Montecito Journal.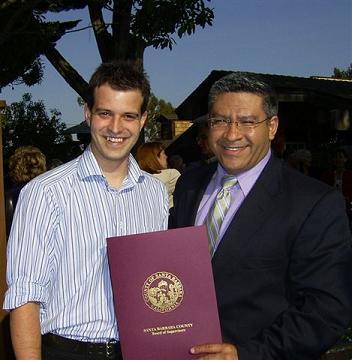 With more than 60 communicators indulging on wine and beer, the conversation was raucous, racy, and ribald, and the din only rested momentarily to allow Supervisor Salud Carbajal to honor Doane with a Board of Supervisor resolution. The resolution noted in Doane's three years at the Journal, he assigned and edited more than 2,000 stories. He also served as a reporter, personally writing over 500 local stories.
The guest list included journalists who have written about Montecito, many of them current or past reporters who worked under Doane at the Journal. The Montecito Journal's Jim, Tim, and Helene Buckley toasted to Guillaume's future success, and some 30 other Journal reporters hailed their departing editor.
After a summer vacation in Atlanta, Doane plans to travel to France to seek a job as an international journalist. Born in France, he speaks the language fluently and said he looks forward to returning to his roots.
The PR sector was well represented at the bon voyage. Joe Cole – publicity chair of Montecito Union School PTA (and former News-Press publisher whose resignation would later spark the newspaper's ongoing meltdown) – acted as party photographer, while Mo McFadden poured ale and Erin Graffy dished up buzz. Montecito Planning Commissioners Sue Burrows attended along with Claire Gottsdanker, who was musing about her circa 1967 photo in the current Santa Barbara Magazine. Gottsdanker, known then as Claire Marx, is seen on page 167 happily buffing at a potter's wheel in the buff. "I believed in living with the environment," she said. "I did then, and I do now."
Fully clothed, two other planning commissioners, Bob Bierig and Michael Phillips, nonetheless created a fashion frenzy of their own. Their unplanned, but almost identically matching outfits seemed to indicate a like-minded bias. However, fresh from a MPC Planning and Development retreat about Brown Act protocols, Montage can assure you matching outfits are not a Brown Act violation! (They're seen here with Jim Garcia, who also went with the popular tan and green for his ensemble.)
Breaking away from the army camouflage affect and donning break out air force blue were E-stars Craig Smith (of Craig Smith's Blog) and Peter Sklar (of edhat fame), making a Montecito appearance. (They're pictured here with Montage herself, J'Amy Brown!) The ever-aware Doane mused, "I wonder if those guys know how high they are on Santa Barbara's media totem pole?"
As Montage can attest, the Montecito media pole is a tall, competitive, and sometimes slippery. But at this event, all the Hacks and Flacks pow-wowed and concurred: Doane will always have a niche at our totem top.
MARK YOUR MONTECITO CALENDARS: Here are some meetings that everyone in Montecito should know about.
MERRAG Training: A course in what to do in an emergency, offered by MERRAG. Thursday, June 7, 3:15 p.m., Montecito Fire Station, 595 San Ysidro Road.
Montecito Association: The board will consider making comments to the MPC regarding the proposed Music Academy Cut Through Reduction Plan and they will discuss efforts by the Montecito Community Foundation to facilitate archiving of the Montecito Association History Committee's records. Tuesday, June 12, Montecito Hall, 1469 East Valley Road.