Theater
Lit Moon Theatre Company Presents the Midnight Sun Festival
Northern Exposure
Westmont College chair of theatre arts and Lit Moon Theatre Company director John Blondell has always been drawn to progressive, experimental drama. So, when in 2005 Blondell received an email from Finnish theater director Mikko Viherjuuri asking to visit Santa Barbara to discuss new Finnish plays, Blondell accepted immediately. Two years later, Lit Moon is about to launch the Midnight Sun Festival: seven days of dramatic productions and staged readings of plays by contemporary Finnish writers. The festival marks the first time a repertory of contemporary Finnish plays has ever been staged in the United States, as well as the first time a Finnish director has directed a play for a professional American company. In addition to Viherjuuri, three Finnish playwrights will be in residence in Santa Barbara for the festival, and two of Finland's leading movie stars will appear in one of the featured performances.
On the world's stage, Finland may have a tiny population, a remote geographic location, and a relatively obscure language, but it also has a vibrant cultural life, boasting the highest per capita theater attendance in the world. The annual Tampere International Theatre Festival draws an international audience.
Over the past decade, the focus of Finnish theater has shifted from reinterpretations of classics by writers like Shakespeare and Chekhov to the work of modern Finnish playwrights. Finnish writers like Laura Ruohonen, the author of the Midnight Sun Festival's opening play, Queen C, are finding their work embraced as never before, and recognized as more than literature-work that must be staged as well as read.
Last week, I spoke to Blondell and Viherjuuri, both in Santa Barbara preparing for the festival's launch, and to Ruohonen in Helsinki. I also spoke with Finland's consul general in Los Angeles, Manu Virtamo, who has seats reserved for opening night and hopes the festival will launch further cultural and artistic exchanges between Finland and the United States.
John Blondell, artistic director of the Lit Moon Theatre Company
Two years ago, I got an email out of the blue from Mikko Viherjuuri, the resident director of the Tampere Theatre. He said he wanted to organize a tour of the West Coast to talk to theater directors, and he gave me some plays to read. As soon as I read Queen C, the play I'll be directing in the festival, I fell in love with it. It's unusual, hard to categorize, bizarre, and funny-right up my alley. The idea for the Midnight Sun Festival grew from there.
The festival consists of two fully staged plays and two staged readings, all in English. Mikko will be directing a play called For Sheer Love of Me, by Anna Krogerus, which premiered in Finland in 2006. It stars Peter Franzen and Irina Bjorklund, two of Finland's most prominent TV, film, and stage actors who moved to Los Angeles in 1999. There will also be readings of the new Finnish plays Panic and The Finnhorse, and a showing of Ambush, a film starring Franzen and Bjorklund.
I take very seriously wanting Santa Barbara to become a destination for world theater, so that kind of exchange and dialogue is woven into our life here. I'm committed to exposing our audiences to what the world is doing.
Mikko Viherjuuri, director of For Sheer Love of Me
The whole thing started in 2005, with Find a Fine Finnish Play, a project sponsored by Finland's Minister for Foreign Affairs, the Minister of Education and Culture, and the Finnish Theatre Information Center. The project's aim is to have a major American theater take a Finnish play into its repertoire. What's happening with Lit Moon is a giant step toward that dream.
The play I'm directing handles the process of growing up from a child to a teenager. It looks at the speed of modern life, when you think that you must have everything, and people are intelligent but not wise. We see this kind of surface life-too fast, too shallow-from the point of view of a growing human being who is hearing too much too soon. There's a curious way in which the adults in the play behave more immaturely than the child.
The last ten years have been a very energetic period in Finnish playwriting. The plays aren't just Finnish-they're really universal. Either a play is really interesting and has some quality-more than just the charm of the country it comes from-or it doesn't. I believe these plays have that quality.
Laura Ruohonen, author of Queen C
There was a period in Finnish theater in the '70s and '80s when staging a new play was not considered very interesting. Interpretations of classics were the thing to do. Around that time, some young playwrights-graduates of the Finnish Theatre Academy, myself included-started to direct their own and each other's work. We wanted to give our writing a fair chance.
I have not been very interested in the naturalistic, relational style of drama that's very strong in Finland. I have been more interested in dramas about ideas. To me, Finnish-ness in itself is not the most interesting issue. It's more about how people are, and right away, that makes a play more universal.
With Queen C, I'm not trying to paint a picture of the historical queen so much as to discuss questions of individuality: how far an individual can go who wants to have total freedom, and what happens to her or him. Queen Christina of Sweden has intrigued me since I was a child. Very seldom do you have women in such positions of power, and so why did she abdicate; why would a person so ambitious give up the throne? I couldn't find an answer anywhere-there's a real mystery to her personality.
People who produce a play from Finland do it exclusively because they want to. Finnish drama is not a brand as easily sold as our Scandinavian design, and professionals who want to work with your writing are often people you want to meet. You like them, and hopefully something new grows from this meeting.
Manu Virtamo, Finnish consul general in Los Angeles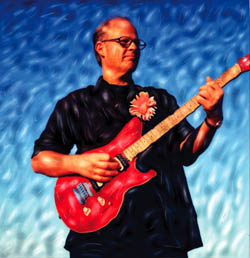 Two years ago, Mikko Viherjuuri called me and told about his grand plan of bringing Finnish theater to the West Coast. I remember him asking me, "Do you think this is a crazy idea?" And I remember saying, "Yes, it definitely is, but I love crazy ideas."
The Finnish government is currently discussing a comprehensive program of cultural exports for 2007-2011, covering eleven different areas of culture including theater, music, cinema, design, dance, and even circus. Our support for the Midnight Sun Festival is part of this effort.
4•1•1
The Midnight Sun Festival runs from June 8-17, with all performances at Center Stage Theater. For a complete schedule or to purchase tickets, call 963-0408 or visit centerstagetheater.org".