Living
Ancient Channel Islands
Lecture Series to Focus on Historical Ecology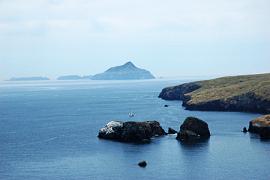 Take another look at the Channel Islands, because out there are some of the most important and well-preserved archeological sites in the world. Those Islands aren't just for environmentalists and campers, they're also home to some major hot spots for students of early human history. Take Arlington Springs, for example, where the oldest human remains in North America were discovered.
Few people can claim to know more about the ancient history of the Islands than Dr. Torben Rick, an Assistant Professor of Anthropology at Southern Methodist University and UCSB alumnus. Having spent the last 12 years studying the archeology of the Islands and writing a book on the historical ecology of San Miguel, he's now coming to Santa Barbara to educate the Islands' mainland neighbors about the deep history that lies just off the coast.
In the lecture series, titled "From Shore to Sea," Dr. Rick will spread understanding about the primordial Channel Islands and the waters that surround them. The first lecture will be held on Tuesday, June 12 at 7pm at the Maritime Museum, and the second will be on Wednesday, June 13 at the Channel Islands' National Park Robert J. Lagomarsino Visitor's Center. Both are free to the public.