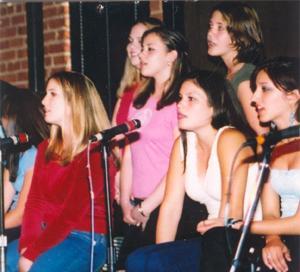 Vocals by Locals, a young womens' singing group led by Lessia Bonn based out of Santa Barbara, has all the ingredients for a movie blockbuster: a great cast of vivacious, relatable teenage girls, a killer soundtrack full of original tunes sung by the cast (and not some overpaid pop star), a beautiful Santa Barbara coastline setting, and a wonderfully heartwarming tale of friendship and fun. The only minor detail that Vocals by Locals is missing – and hoping some talented Santa Barbaran can provide them with – is a script.
What started as a gathering of a few high schoolers in Bonn's family room has turned into a bona fide singing group. Currently, the 20 girls are busy recording original songs in a barn-like studio in Montecito; a location that is lovingly featured in the song, "Barns Burnt Down, Now We Can See the Moon." Girls showed up from all over the county every Sunday morning to hang out with friends and sing positive songs about making a difference in the world, self-confidence, and how to ignore "the monkeys in your head." Take, for example, the lyrics in "Einstein":
"I'm not Einstein but go ahead 'n quote me / We're all here to make a difference / We can change the world with a little more lovin'."
They came in pajamas, with pet iguanas, bringing friends to sit in on the informal, giggle-filled sessions. Over the course of a few years, Vocals by Locals has created a soundtrack of original songs, sold out multiple nights at SOhO, been featured in the Montecito Journal and The Santa Barbara Newspress, and sung for the Unity Telethon, all the while gathering a huge fan following that includes The Big Lebowski himself, Jeff Bridges – whose daughter is also in the group.
Hoping to create an organic village project that will show the world what a wonderful, talented place Santa Barbara is, Vocals by Locals is reaching out to the community and asking for help in writing the script that will be their ticket to success.
"Wouldn't it be awesome to have a village project – a movie that the whole town could be proud of? A movie that shows girl singers banding together. And it's a true story. We've even got a barn and a great soundtrack. But what we really have, I know it deeply from growing up here, is a town with a lot of heart. We just gotta get it pumping!" Bonn says.
So if you want to be a part of a project that proves that teenage girls can use talent and intelligence – rather than hard partying and rehab-hopping – to succeed in the biz, the girls urge you to get in touch with Vocals by Locals via their myspace page or by emailing Lessia Bonn at lessia@vocalsbylocals.com.